25 Best PayPal Business Alternatives for 2021
From Stripe to 2Checkout and beyond, learn about the 25 best PayPal alternatives for businesses.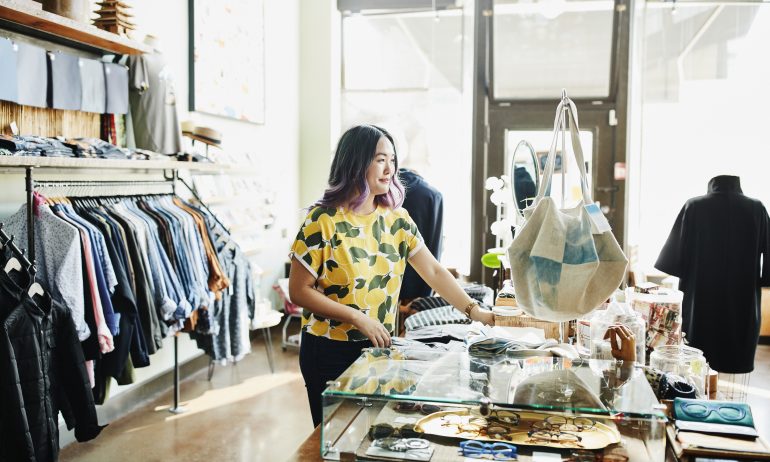 Many or all of the products featured here are from our partners who compensate us. This may influence which products we write about and where and how the product appears on a page. However, this does not influence our evaluations. Our opinions are our own. Here is a list of our partners and here's how we make money.
When it debuted in 1998, PayPal was the first service that made electronic payments available to the masses. However, since then, many more businesses have launched as merchant services payment processors.
There are a number of reasons why you might be looking for PayPal business account alternatives, including:
You want a dedicated merchant account. PayPal aggregates all its customers' funds into a single merchant account.

You're looking for greater point-of-sale functionality. PayPal's POS technology is limited compared to other providers.

You sell digital goods or services. PayPal does not offer seller protection for digital goods or services.

You're interested in lower fees. PayPal fees will vary based on the product you use; however, some payment processors will charge lower credit card processing fees or waive fees for instances like chargebacks.

You need specific or better features than what PayPal offers. Although PayPal has a number of payment solutions, certain providers, like Stripe, will offer more advanced online payment customization.
If you're looking at PayPal or one of these 25 options, you'll want to consider factors such as your budget, the features you want, the types of payments you're looking to accept and more to decide which platform is right for your needs.
Best for: International businesses looking to process payments in multiple currencies and work in multiple languages.
2Checkout is an online payments processor designed for e-commerce businesses. 2Checkout comes with a range of features, including the ability to accept payments from all over the world, host your own checkout page, set recurring transactions, compile reports on your payments history and more.
To use 2Checkout, you must sign up for one of three product plans which range in price from 3.5% plus 35 cents per successful sale to 6% plus 60 cents per successful sale, with a mid-tier plan for 4.5% plus 45 cents per successful sale. Although this may seem expensive, you will get a range of features besides payment processing (especially for international merchants), making it a nice choice for certain e-commerce businesses looking for a PayPal alternative.
Best for: Omnichannel payments, international businesses and a dedicated merchant account.
If you're wondering what the PayPal alternative for eBay is, your answer is Adyen. Even beyond eBay, some of the biggest names in tech — like Spotify and Etsy — rely on this PayPal competitor for its online payment processing.
Although it's transparent about pricing — providing a long list of how much any given payment would cost your business to process — its pricing can get complicated, so be sure to read up on the details before deciding on this option. In terms of features, Ayden subscribers will enjoy the ability to accept payments from anywhere in the world and a suite of security features.
Best for: U.S.-based, online businesses that already use an e-commerce platform; businesses that already have an Amazon seller account.
Amazon Pay is a payment gateway that allows your customers to check out online using the information they have stored in their Amazon account. To enable Amazon Pay, you will set up an Amazon seller account and then use their customizable API to integrate the plug-in with your existing e-commerce platform.
Amazon Pay will cost you 2.9%, plus 30 cents per transaction, though cross-border fees will be 3.9%, plus 30 cents. Note that Amazon Pay does offer lower fees to charitable organizations.
Best for: Straight-forward payment gateway for e-commerce businesses with focus on security and customer support.
With Authorize.Net, you get a highly reputable all-in-one option with a payment gateway that will allow you to process online transactions at a rate of 2.9% plus 30 cents. You'll also pay a $25 monthly gateway fee.
You must have a merchant account to use Authorize.net, but it gives you the option to purchase a merchant account through its providers or use your own. Features that come with Authorize.Net include fraud detection, recurring billing, a QuickBooks integration and an invoicing suite.
Best for: Tech-savvy online businesses looking for a versatile, highly customizable payment solution.
Another popular payment gateway option, BlueSnap caters to a wide range of e-commerce businesses, offering 100 currency types and a payment experience in 29 languages. BlueSnap provides an API that allows you to customize your checkout page, as well as build subscription plans. This PayPal alternative also includes a virtual terminal and functionality specifically for marketplace payments.
BlueSnap will charge you varying transaction fees based on what kinds of transactions you process. BlueSnap pricing in the U.S. ranges from as low as 2% plus 30 cents per transaction up to 3.7% plus 30 cents. Additional features you can expect with BlueSnap include chargeback monitoring, fraud prevention and a reporting suite.
Best for: PayPal features and capabilities, but with a dedicated merchant account.
Although Braintree is a PayPal company, the product and services they offer differ slightly. Whereas PayPal only provides aggregated merchant accounts, Braintree offers dedicated merchant accounts. With a dedicated merchant account, you can expect fewer account freezes and terminations.
For both a merchant account and a payment gateway from Braintree, you'll have to pay 2.9%, plus 30 cents per transaction. You'll also enjoy the ability to accept magstripe, chip card and contactless forms of payment, plus the ability to convert over 130 different currencies. Braintree can also be integrated with PayPal Here, turning it into a mobile POS.
Best for: Simple, low-cost processing with dedicated merchant account.
If you're looking for one of the most affordable PayPal alternatives possible, then you might consider opening a merchant account with Charge.com, which will cost you a little as 0.25%, plus 15 cents per transaction.
Charge.com gives you the ability to accept all types of credit card payments — whether using a POS terminal, virtual terminal or an online shopping cart. Overall, Charge.com won't offer many additional features, but for affordable, simple payment processing, this option will be hard to beat.
Best for: Businesses that only need to accept and receive ACH payments.
If you only need to accept and send ACH payments, then look to Dwolla as a go-to PayPal alternative for your business. Dwolla allows you to correct directly with the ACH network and provides white-label service — meaning you can incorporate its technology into your platform so that it looks like your own — which is great for user experience.
Dwolla offers three pricing plans: Pay-as-you-go, Scale and Enterprise. For the pay-as-you-go plan, you'll face no monthly fees and only pay a low 0.5% transaction fee on standard ACH payments.
9. Stax (formerly Fattmerchant)
Best for: Subscription-based, low-fee payment processing services; high-volume e-commerce businesses.
Stax is a subscription-based, flat-rate, payment processor for e-commerce businesses. The cost to use the Stax Starter Platform is $99 per month plus a per-transaction interchange fee, which varies depending on which platform you are using Stax with (e-commerce store, EMV terminal, virtual terminal).
There is also a Stax Enterprise Platform that costs $199 per month with corresponding transaction fees. Stax comes with some useful features, including chargeback monitoring and a QuickBooks integration.
Although Stax has higher monthly subscription fees, its transaction fees are priced at the true cost of interchange (the lowest cost of accepting credit cards), making it a particularly affordable option for higher-volume businesses.
Best for: Consumer payments; free, simple payment integration.
Google Pay is a virtual wallet that allows you to request and pay money with your phone in person and online. Although Google Pay is typically used as a consumer payment tool, it can be a simple solution for smaller-scale payment processing needs, similar to Amazon Pay.
In this case, you can use an API integration to add Google Pay to your website or POS, allowing customers to choose any payment method saved in their Google account to check out quickly and easily. Google Pay is a completely free PayPal alternative, but it will require that you have an existing payment solution, such as Adyen, Authorize.Net, Braintree, etc., to function within your website or POS system.
Best for: Offering unique payment methods, such as customer financing and installments.
Klarna offers payment processing, merchant accounts and payment plan options for your customers. With Klarna, you can set up simple online checkout, in-person checkout or more unique payment options — such as pay in 30 days, customer financing or four installments.
Unlike some of the other PayPal alternatives, on this list, Klarna's pricing will largely vary based on where your customers are shopping from, as well as the specific solution you implement for your business.
This being said, however, some unique features Klarna provides are the ability to integrate with e-commerce platforms, apps and social media sites, as well as the ability to utilize a messaging interface during payment.
Best for: Affordable, all-in-one merchant service provider that includes a dedicated merchant account.
If you're looking for in-person payment processing, online payment processing or both, then Payline Data is a viable PayPal alternative for you to consider.
Depending on your needs, you can select one of the Payline plans available, from Payline Start to Payline Connect. With Payline Start, pricing starts at $10 per month, plus interchange, plus 0.2%, plus 10 cents for transaction fees. Payline can also provide you with additional payment tools, including a virtual terminal or credit card terminal.
Best for: Sending and receiving free bank payments; B2B payments.
Through Payoneer, you'll be able to send and receive payments for free, so long as your customer or vendor is also a Payoneer member. For this reason, Payoneer is one of the best PayPal alternatives for B2B payments, especially considering that you can send and receive payment at no cost.
However, if you want to accept payments directly from non-Payoneer customers, it will charge you 3% for credit card transactions and 1% for e-check payments. Payoneer offers tax administration tools, invoicing and a debit card.
Best for: Businesses outside of the U.S.
For European-based businesses, Paysera is one of the top PayPal alternatives. For its customer checkout services, you will simply need to pay 1.1% of every card transaction processed to accept payments, so long as the card was issued in the EU.
For processing payments from cards issued outside of the EU, you'll have to pay 2.3%. Paysera can also facilitate currency exchanges and global transfers at very low rates — only 0,20 EUR for Euro and instant transfers.
In terms of additional features, Paysera offers a contactless debit card, mobile payment app, a business bank account and other customizable payment solutions.
Best for: Smaller B2B and service-based businesses; low-fee ACH payments.
Similar to Payoneer, if you only need to be able to send and receive ACH payments, then Popmoney could be one of your best PayPal alternatives. For this service, you'll simply have to pay 95 cents per payment to send money from your debit card or bank account. To receive money, you'll pay 95 cents to send a request and no fee to pay a request.
It's important to note that Popmoney does have both daily and monthly limits, so this option will only be viable for smaller, lower-volume businesses.
Best for: Businesses looking for multiple ways of accepting payments through one service.
One of the most comprehensive PayPal alternatives — ProPay offers in-person and online payment processing for card payments and bank transfers. For this comprehensive setup, you'll need to pay more for ProPay, though — pricing starts at $39.95 for the setup cost, $39.95 for the yearly cost and $10 for a card reader, plus transaction fees that range from 2.4% to 3.55%.
With any of the ProPay plans you'll be able to accept credit card payments through an online terminal, mobile application, mobile website, touch-tone phone, buy now button, donate now button and using stored cards. ProPay account holders will also receive a prepaid MasterCard debit card for free.
Best for: QuickBooks users looking for an integrated mobile payment solution.
If you're looking for the best PayPal alternative for syncing with your QuickBooks accounting books, then look no further than Intuit's very own QuickBooks GoPayment. GoPayment is an app that allows for mobile payment processing.
You'll simply have to pay 2.4%, plus 25 cents per magstripe, chip and contactless payment, and 3.4%, plus 25 cents per keyed-in payments, including camera-scanned payments with this service. Plus, all of the payments you accept using QuickBooks GoPayment will sync seamlessly with your existing QuickBooks account.
Best for: E-commerce businesses using Shopify.
Shopify Payments allows you to accept online payments for your e-commerce store. It only makes sense to use Shopify Payments if you also have an e-commerce store with Shopify.
If you do, you'll get access to affordable payment processing rates starting at 2.9% plus 30 cents for online transactions for subscribers to the Basic Shopify plan ($29 per month). That rate drops to 2.4% plus 30 cents for Advanced Shopify subscribers ($299 per month). It's important to note that if you have a Shopify store and don't use Shopify Payments for payment processing, Shopify will charge you an additional transaction fee on top of the rates you'll pay from your payment processor.
Best for: Businesses with occasional payment needs; consumer payments.
The PayPal alternative Skrill typically addresses consumer payment needs, but if you need to make an occasional bank payment to a vendor or partner, you can do so with Skrill at no cost.
Additionally, if you'd like more from Skrill, you can sign up for a business account, which will give you access to over 100 card and local payment methods, simple integration and over 40 currencies. You'll also receive advanced reporting and analytics, fraud management and chargeback protection.
Skrill does not specify the rates for its business account on its website, so you'll have to contact them directly for more information on these fees.
Best for: Brick-and-mortar businesses looking for a full-service POS with integrated payment processing.
Square rivals PayPal in popularity, and for good reason. It offers a variety of payment processing solutions, including the ability to accept magstripe, chip cards and contactless forms of payment.
It also sells some of the most popular payment processing hardware, including the famous Square magstripe reader and Square Register. Additionally, with its free POS software, Square is one of the best PayPal alternatives for brick-and-mortar businesses.
Square's payment processing rates are also affordable: 2.6% plus 10 cents for in-person transactions and 2.9% plus 30 cents for online transactions.
Best for: Larger e-commerce businesses looking for greater payment customization; tech businesses.
Stripe powers the checkout processes of some of the biggest companies in the world, like Amazon and Google. But that doesn't mean its price tag is correspondingly large — Stripe will only cost your business 2.9%, plus 30 cents per transaction.
Stripe is a good option for large online-based businesses, as its API allows those with some technical background to customize their payment solutions to fit their business's needs. Additionally, Stripe offers advanced reporting, billing and invoicing tools.
Best for: International businesses looking to make B2B payments across borders.
A more globally focused PayPal alternative, TransferWise offers a cheaper way to process international payments. Although well-known for its consumer accounts, TransferWise also offers a business account, which allows you to receive international payments for free.
To send payments, you'll pay a fixed fee of $1.40 (which varies by currency). You'll also be able to hold over 50 currency balances for free and utilize features such as Xero integration, batch payments, open API and more.
Transferwise is a great option for international businesses looking to transfer money across borders at the lowest possible cost.
Best for: Sending and receiving digital, international wire payments with no fees.
With no fees for most payments, Veem is one of the best PayPal alternatives for making affordable wire payments. Veem uses blockchain to process digital transactions, allowing you to send and receive payments at no cost.
The only time you'll pay a fee for using Veem is if the recipient of your payment opts to receive an international wire outside of the U.S. in U.S. dollars. In this single scenario, you'll pay a $20 fee.
This being said, Veem operates in more than 60 countries, automatically syncs with both QuickBooks Online and Xero and is extremely user-friendly.
Best for: SaaS businesses looking for their own hosted payment solution.
If you're looking for a payment system to integrate into your business's online checkout experience, you might consider using WePay. Unlike most PayPal alternatives on this list, WePay is designed specifically for businesses that operate software platforms and want to allow their users to send and receive payments.
Therefore, instead of using a third-party processor and integrating it with your own platform, you can use WePay to create a payments solution hosted within your own system. Unfortunately, WePay doesn't provide much pricing information on its website. It does state, however, that for WePay Link, its basic plan option, you'll pay 2.95% plus 25 cents for credit card processing.
Best for: Full-service payments solution for growing and international businesses.
Last, but not least, you might look into Worldpay as one of the top PayPal alternatives. Through Worldpay, you'll be able to access WorldPay U.K., WorldPay U.S. or WorldPay Global for your business's payment processing needs.
Each of these offers online card payments, gateways services, data and analytics and more. WorldPay doesn't offer pricing information on its website, so you'll have to fill out an application to access necessary details on fees and costs that come with this service.
However, if you need a fully comprehensive payment solution with a dedicated merchant account, Worldpay will be worth considering.
A version of this article was first published on Fundera, a subsidiary of NerdWallet.