4 Best Prepaid Business Cards
The best prepaid business cards can help you organize your finances and employee spending without charging significant fees.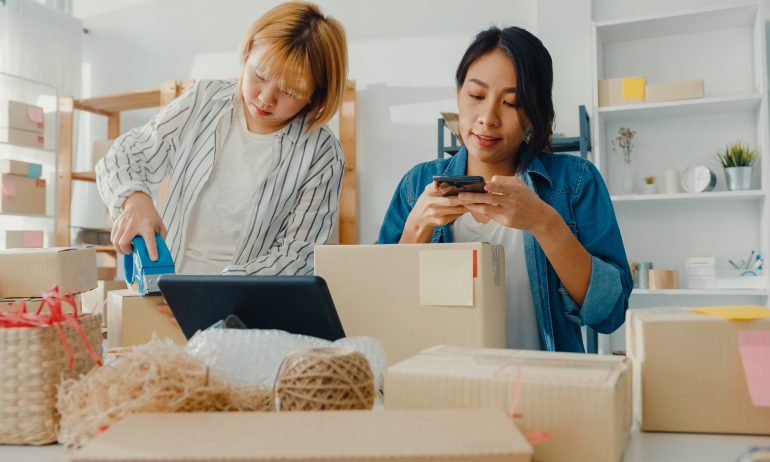 Many or all of the products featured here are from our partners who compensate us. This influences which products we write about and where and how the product appears on a page. However, this does not influence our evaluations. Our opinions are our own. Here is a list of our partners and here's how we make money.
Prepaid business cards are a great solution for business owners who need to manage employee spending but don't have strong enough credit to qualify for a traditional business credit card. Simply preload funds onto these debit cards and you're ready to go.
The best prepaid business cards are easy to apply for, user-friendly and offer financial management tools — all without charging hefty fees. Here are our picks, plus information on how prepaid cards work and differ from credit cards.
Best business prepaid cards
Bento for Business Visa® Debit Card: Best overall prepaid business card.

Dash Prepaid Mastercard: Best for no-fee prepaid debit cards.

PEX Prepaid Visa: Best for businesses with high monthly spend.

Emburse Prefunded Visa: Best for businesses with remote employees, off-site contractors.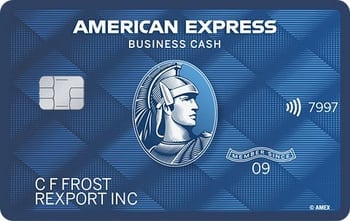 American Express
The American Express Blue Business Cash™ Card
Rates and Fees
Bento for Business Visa® Debit Card: Best overall prepaid business card
The Bento for Business prepaid card stands out by being a feature-rich debit card with multiple spending controls and easy integration with popular accounting tools. Plus, business owners have the option to withdraw cash, if needed (not employees, though).
Bento prepaid cards be used anywhere that accepts Visa debit cards, and the company offers virtual cards, as well as physical cards, so you can quickly add and distribute cards to other owners or employees.
You can sign up online by providing basic information about yourself and your business, including the registered company name, employer identification number and Social Security number. Bento doesn't perform a credit check as part of the application process.
Bento also offers a 60-day free trial when you can have up to 50 prepaid business debit cards (physical or virtual) at no cost.
Six different parameters to control spending, including setting spending limits and restricting spending to certain merchants or only during workdays.

Monitor spending, manage your budget and organize transactions via the Bento Dashboard (desktop and mobile).

Capture and automatically categorize receipts using the Bento mobile app.

Option to use Bento Pay for vendor payments.

Business owners can withdraw cash from an ATM using their card with no fees charged by Bento. Employee cards cannot withdraw cash.
Starter plan: $29 per month for up to 10 cards.

Team plan: $69 per month for up to 25 cards.

Professional plan: $149 per month for up to 100 cards.

Enterprise plan: Quote-based solution for more than 100 cards.
Verify your bank account to deposit funds to your Bento account.
Only the business owner can withdraw cash from an ATM with their card.

You need a bank account to fund a Bento prepaid business debit card.
Dash Prepaid Mastercard: Best for prepaid debit cards with no fees
Dash allows you to create an unlimited number of prepaid debit cards for your small business — without charging monthly or per-card fees. You can manage your account funds, employee cards, transaction history and accounting information using the Dash mobile app, making this card an appealing option for business owners on the go.
To sign up for an account, fill out an inquiry form on the Dash website and a representative will contact you with more information on how to apply.
Dash Prepaid Mastercards can be used everywhere debit Mastercard is accepted.
Manage your funds using the Company Vault (your main account) and send money to employee cards as necessary. Set individual approval limits and give employees the ability to request additional funds through the Dash app.

Track and categorize transactions, capture digital receipts and get daily account summaries.

Set up automatic account reloads and low balance notifications, freeze lost or stolen cards and export accounting records in multiple formats.
Expedited shipping fees: $35 per company card fulfillment.

Paper statement fee: $10.99 per month per account requesting paper statements (no charge for electronic statements).

Foreign transaction fee: 3% of the purchase value for transactions made outside the U.S.
Send ACH transfers from your business bank account.
You cannot fund your Dash prepaid business debit cards with cash deposits or direct deposit.

You're subject to a maximum limit of $100,000 in your Dash account at any time. Each card is subject to a maximum limit of $10,000.

Dash cards cannot be used to withdraw cash or check balances at any ATMs or POS systems.
PEX Prepaid Visa: Best for businesses with high monthly spend
The PEX Prepaid business debit card has no maximum balance limit on the main account — a feature not offered by most prepaid business cards — so businesses with high monthly spending aren't restricted by account limits.
You can sign up for a PEX Prepaid business debit card online in just a few minutes. Be prepared to provide personal and business details, including your company's legal structure, average monthly spend and the Social Security number of the primary account holder.
Your account will typically be up and running within three business days. At that point you can request cards for your employees, which can take 8 to 10 business days to arrive.
Monitor spending and greenlight purchases from the PEX mobile app.

Designate spending limits by department or limit spending to a certain time of day or type of merchant.

Mobile receipt capture via the PEX app.

Transactions reported in real time and automatically assigned to the proper department for reporting purposes.

PEX integrates with accounting software for easy budget reconciliation.

No balance limit on the main PEX account. Maximum balance of $25,000 on employee PEX cards.

Free trial for the first 60 days.
PEX offers four subscription options. Special pricing is available for nonprofit organizations.
Base plan: $0 per month; up to five cards.

Core plan: $75 per month; up to 20 cards.

Pro plan: $200 per month; up to 100 cards.

Infinite plan: $300 per month; up to 150 cards.
Monthly subscription costs on Base, Core and Pro plans are waived when you spend more than $50,000 in a given month.
Card expedite fee (receive in up to four business days): $45.

Card rush fee (receive in up to three business days): $55.

ACH transfer from PEX account to business checking: $5.

International transactions: Up to 1.5% of total amount.
ACH transfer or wire transfer from your company's business checking account.
You cannot withdraw cash using a PEX prepaid card.

Account can be funded only via ACH or wire transfer.
Emburse Prepaid Card: Best for remote employees
Emburse lets you issue virtual cards instantly. The use of such cards makes it easy for account managers to create, fund and send cards to employees around the country. And you can turn off cards just as easily.
To get started with Emburse, request a demo online and work with a sales representative to set up an account. Plan to provide your business name, business banking information, company address, and Employer Identification Number, along with the Social Security number and other information for the person in charge of the account.
Automatically categorize expenses.

Set budgets and spending limits per card; designate when and how funds can be spent.

Employees can request funds, which are received instantly upon approval.

Can be combined with other Emburse products, including tools for time tracking and automated expense reporting.
Business: No monthly fee; up to 100 employees.

Enterprise: Customer pricing for businesses that need more than 100 employee cards.
Connect your Emburse card to your business checking account via an integration with the technology platform Plaid.
Cannot be used at an ATM.

Doesn't integrate with QuickBooks or other popular bookkeeping software.
What are prepaid business cards?
A prepaid business card is a type of debit card that requires you to preload money onto the card in order to use it — unlike regular business debit cards, which pull funds for payments directly from a linked business checking account.
Prepaid business debit cards are available from banks and credit card companies, as well as other financial service organizations.
These cards don't usually require a credit check, often include digital tools for managing your finances and typically have low fees. Most companies price card services on a monthly basis — ranging from $0 a month to over $100 a month for more features or enterprise solutions.
Are prepaid cards the same as business credit cards?
Prepaid business debit cards differ from business credit cards in a few key ways. Prepaid debit cards don't require a credit check and are funded from a linked bank account. You can only spend the money you add to your prepaid business debit card.
With a business credit card, however, approval is based on the business owner's personal credit score, among other factors. The card issuer assigns a credit limit, which you can spend up to without having the cash on hand.
Secured business credit cards function similar to prepaid business debit cards — you prefund the card, which is your de facto credit limit, and need to replenish the balance to continue spending. One key difference: Payment history on secured business cards is reported to business credit bureaus, making them a great tool to build your business credit score.
Alternatives to prepaid business cards
Although prepaid debit cards can be useful for organizing your finances or managing employee spending, they may not be the best financial tool for your business needs.
Prepaid business debit cards don't usually require a credit check, which means that they neither improve personal credit nor build business credit. If you're looking for a financial product to help you achieve either of these goals, you might consider some of the alternatives below.
To improve business credit
If you can qualify for a business credit card, you might use one of these products in tandem — or instead of — a prepaid business debit card. In addition to allowing you to build business credit, business credit cards can offer a variety of rewards, as well as employee cards or other perks.
The Chase Ink Business Unlimited® Credit Card, for example, earns 1.5% cash back on all purchases, has a $0 annual fee and allows you to get employee cards at no additional cost. You can set individual spending limits on these cards — each of which also earns cash back rewards.
Regular APR

18.49%-26.49% Variable APR

Regular APR

18.49%-24.49% Variable APR

Intro APR

0% intro APR on purchases for 12 months from the date of account opening

Intro APR

0% intro APR on Purchases for 12 months
To improve personal credit
If you need to improve your personal credit, you'll want to opt for a credit card that reports your payment history to the consumer credit bureaus. The Capital One® Spark® Classic for Business is a good option — you can qualify with fair credit (FICO scores from 630 to 689), and Capital One reports activity to both the consumer and the business credit bureaus.
On the other hand, if your credit score is preventing you from qualifying for a business credit card entirely, you might want to look into secured credit cards to improve your personal credit before applying again in the future.
Best Banks for Small Business
Product

Monthly fee

APY

Min. opening deposit

Learn more

Basic Business Checking

$0

 
N/A
$0

Grasshopper Business Checking Account

$0

 

2.25%

 

With $0 min. balance for APY

$100

Chase Business Complete Banking℠

$15.00

 

Waived with $2,000 minimum balance

N/A
$0