Rippling vs. Gusto: Why Gusto Comes Out on Top
The payroll software products offered by Rippling and Gusto are similar, but there are some important differences.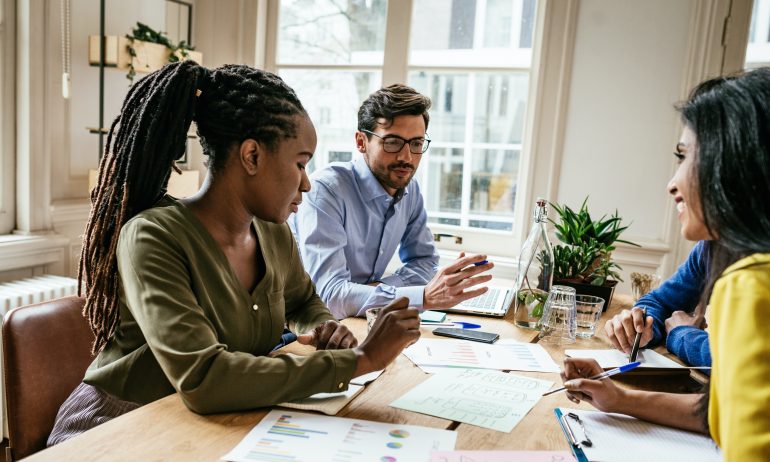 Many or all of the products featured here are from our partners who compensate us. This may influence which products we write about and where and how the product appears on a page. However, this does not influence our evaluations. Our opinions are our own. Here is a list of our partners and here's how we make money.
Rippling and Gusto offer cloud-based payroll software and also partner with brokers to offer employee benefits. In a direct comparison, Gusto finishes first by offering full-service payroll features plus health benefits administration and onboarding tools at a price that is simple and affordable.
Rippling does stand out when it comes to an all-in-one platform that manages payroll, benefits, HR and IT. It's well-suited for businesses that are looking for an integrated system that can manage more than just payroll.
Simple: $40/month plus $6 per person. Plus: $80/month plus $12 per person. Premium: Quote-based pricing.

Payroll service: Starting at $35/month plus $8 per person.

Pricing for additional services is quote based.

Yes. With each payroll run, taxes are calculated and paid to government agencies at no additional cost.

Yes. Federal, state and local payroll taxes are calculated and filed automatically.

Ability to manage employee benefits

Good. You can manage medical insurance, health savings accounts, flexible spending accounts, 401(k)s and more, with payments automatically deducted from payroll. (Health benefits not available in all states.)

Excellent. You can manage health insurance, 401(k) plans and other benefits. Rippling PEO (or professional employer organization) offers access to health insurance plus 401(k) plans, health savings accounts and flexible spending accounts.

Employee access to portal

Excellent. Employees have lifetime access to their own account to view pay stubs, obtain W-2 forms and change personal information.

Good. Employees can view their pay stubs and W-2s and request time off from a mobile device or online. Employees also have access to view and update benefits.

Good. Offers live customer support by phone, email or chat at all plan levels. Support is not available on weekends.

Good. Support is available by live chat, in-app video call and email during weekdays only.

Excellent. Numerous apps in a wide range of categories are included for accounting, hiring and onboarding, time tracking and more.

Excellent. Syncs with a large variety of apps from accounting to time tracking including QuickBooks Online and Xero.
Gusto's offers three plan options to select from depending on the needs of your business. Each tier provides additional features at an increased price.
All plans include the following features:
Employee self-service features.

Health insurance administration.
Additional benefits and tools can be added to your plan, some free and others at a cost. This includes the following:
Research and development tax credits.

529 college savings plans.

Health saving accounts and flexible spending accounts.
Rippling's all-in-one platform offers a combination of HR and IT services. Each product is sold separately so you can customize your plan.
Rippling HR software can be used for businesses with two to more than 2,000 employees and includes the following products:
IT features are also available through the Rippling platform and include:
Why Gusto is a better choice
Gusto offers full-service payroll with the bonus of benefits administration and HR tools at an affordable price. Its setup options and live phone support are also important factors that move it ahead of Rippling.
Full-service payroll with a little extra
Gusto offers full-service payroll at the lowest-tier plan for a monthly cost of $40 plus $6 per person. That includes unlimited payroll in all 50 states, calculation and filing of payroll taxes, garnishments, direct deposit and more. Health benefits administration and standard hiring and onboarding tools are available at the Simple level for no additional cost. Rippling provides similar payroll features, but services for benefits and HR are each billed on a per-employee, per-month basis.
Live phone support for customers
Gusto offers customer support at every plan level via email, chat or phone, Monday through Friday. You can speak with a representative who can answer questions about setting up payroll, running payroll or managing benefits. Gusto's help center is available to both the employer and employee. Live chat and email are offered by Rippling, but customer phone support isn't. However, a virtual call option is provided for urgent issues where you can share your screen with a representative.
Gusto offers you a choice on how you set up payroll. Get free payroll assistance when creating your first payroll account or opt to do it yourself by following a 10-step guide that includes a short video. At Rippling, you'll work with an assigned implementation manager, and the setup process takes three to eight weeks. There's no option to set up Rippling yourself.
When Rippling might be a better fit
Full integration of payroll, benefits, HR and IT
Businesses looking for full integration of payroll, benefits, HR, time and attendance, talent management and IT would find Rippling appealing. You'll have the ability to manage employees and their data on one platform. Rippling also integrates with a large variety of apps so you're not limited to the ones provided on its platform.
Manage employees and devices remotely
Rippling has features that can help a business manage employees, from basic time and attendance options to more advanced features such as overtime alerts and automatic labor law compliance. Employee computers and other company devices can also be managed remotely. This allows you to load software, encrypt hard drives, wipe and reassign devices and identify and block viruses.
Because Rippling is a fully integrated platform, you can purchase each service separately to create a customized package. For example, you can begin with full-service payroll and a few benefits, then add other services such as app management, device management and inventory management as your needs change. Typically, services are billed on a per-employee, per-month basis and will also include a monthly base fee. And if you want more than standard benefits administration, Rippling PEO offers health plans, 401(k) plans, HSA and FSA options.