Shopify vs. Etsy: Which Is Best for Your Business?
The more you sell, the better fit Shopify is likely to be. Etsy is a better choice for part-time side hustles.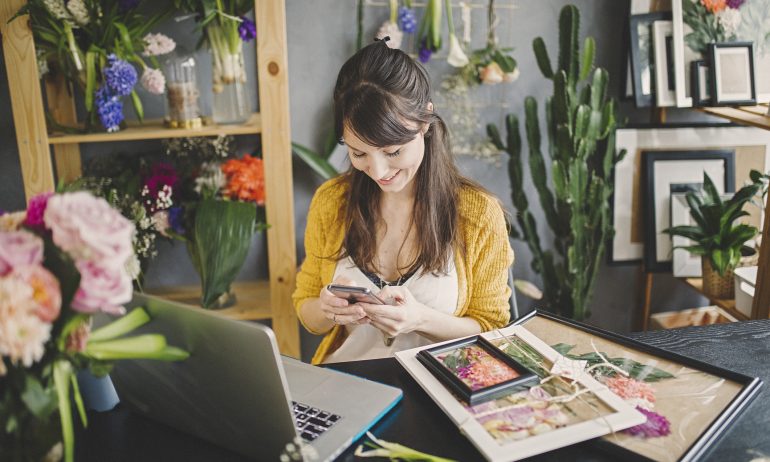 Many or all of the products featured here are from our partners who compensate us. This influences which products we write about and where and how the product appears on a page. However, this does not influence our evaluations. Our opinions are our own. Here is a list of our partners and here's how we make money.
Shopify and Etsy host millions of online stores. The key difference is that Shopify is an e-commerce website builder, which means you can use it to build a standalone website and run an independent store. With Etsy, you'll be tied to its platform — which may be less work upfront, but comes with higher transaction fees.
Shopify is the better choice for e-commerce businesses that sell manufactured goods, since Etsy's niche is handmade goods and handicrafts. Shopify is also a better fit for high-volume sellers, since its transaction fees are quite a bit cheaper than Etsy's. But if you're a hobbyist selling small numbers of products, Etsy may be able to help you reach a ready-made audience enthusiastic about your work.
Here's how Shopify and Etsy compare on features, price and more.
Shopify vs. Etsy: Deciding factors
| | | |
| --- | --- | --- |
| | Shopify's cheapest website builder plan, Basic, costs $29 per month when billed annually or $39 per month when billed monthly. Shopify Starter is just $15 per month but doesn't come with your own website. | No monthly fee unless you choose a paid plan. Etsy charges 20 cents to list each product, then takes a 6.5% transaction fee on each sale. |
| | Shopify Payments takes a cut of 2.9% plus 30 cents per online transaction. Shopify charges Basic customers an extra 2% if they choose a different payment processor; that fee drops to 1% and 0.5% for the two more expensive pricing tiers, respectively. | Etsy Payments takes a cut of 3% plus 25 cents per transaction on top of the transaction fees above. You can also use Square to accept payments; you'll pay Square's transaction fee of 2.9% plus 30 cents but no additional fees to Etsy. |
| Online marketplace integrations | Native integrations with Facebook, Instagram, TikTok, YouTube, Google and Walmart. Amazon integration requires an app that has free and paid plans. | Sellers can create social media posts and add their listings to Facebook and Instagram shops. |
Shopify is an online store builder that you can use to create your own website. Then, you can use Shopify to accept orders on your website and list products on other platforms, like Instagram and Amazon. Setting up your store and reaching customers will require time and energy — but once established, you'll spend much less on transaction fees than you would with Etsy. Read NerdWallet's review of Shopify.
Lower transaction fees than Etsy
If you use Shopify Payments to accept credit and debit cards, you'll pay a transaction fee of up to 2.9% plus 30 cents. If you choose to use a different payment processor, you'll pay up to 2% in Shopify transaction fees on top of whatever that provider charges.
Etsy charges 3% plus 25 cents per transaction, but tacks on an additional transaction fee of 6.5%. Plus, you'll have to pay 20 cents each time you list a new product; listings stay active for four months. The more sales you make, the more advantageous Shopify becomes.
Your own customizable website
You can use Shopify to build your business a unique home on the internet, including buying a domain name and customizing the look and feel of your site with themes. Shopify's plans also include web hosting.
With Etsy, on the other hand, most users will be locked into stores that live on Etsy.com. Etsy Pattern users can set up their own website separate from Etsy.com — but Etsy Pattern costs $15 per month in hosting fees, plus Etsy's steep transaction fees. Shopify is likely a better choice for users who want their own domain.
Integrations with other online shopping platforms
In addition to listing on their website, Shopify sellers can list products on third-party shopping platforms like Instagram, TikTok, YouTube, Walmart and more — while still managing all their orders from one Shopify dashboard. It's a powerful tool for businesses pursuing omnichannel commerce. You can even use a third-party app to post your Shopify listings on Etsy.
You can create social posts from your Etsy dashboard and add listings to Facebook or Instagram shops. But to sell on other platforms, you'll need to create listings manually.
Etsy is an e-commerce platform known for homemade goods and handicrafts. While it comes with significantly higher transaction fees than Shopify, it may save you some store setup work — making it a good choice for craftspeople and makers who sell their wares as a side hustle but not as a full-time gig. Learn how to open an Etsy shop.
Built-in audience for handmade goods
Etsy has a strong brand known for arts and crafts. Users searching for handmade products — from wedding favors to dishware to jewelry — may start their shopping journey on Etsy's homepage. If that's the audience you're trying to reach, listing your products on Etsy makes sense, since those shoppers are already there.
With Shopify, you'll have to reach potential customers in much more crowded spaces, like Amazon and search engines. That may be an uphill battle for solopreneurs or small teams without online marketing resources.
While Etsy's transaction fees are higher than Shopify's, its monthly subscription fees are lower. Low-volume users may be able to achieve their goals using the free plan. The Plus plan, which costs $10 per month, comes with $8 in monthly credits on listings and ads. And the highest-level plan, Pattern — which you'll need if you want your own website — costs just $15 per month.
Shopify doesn't offer a free plan. Users who want their own website will pay a minimum of $29 per month in subscription fees. Shopify does offer a low-cost plan — Shopify Starter, which costs $15 per month plus 5% transaction fees using Shopify Payments — but you won't get your own storefront, just links that you can share with potential customers.
Easy store setup for new businesses
You can set up an Etsy store before you have a strong brand or even a business name. There are only a few ways to customize your Etsy shop — you can write an introduction to your shop and add a few images as banners and icons — so you don't need a full suite of colors, logos and information about your brand. It's also easy to change your shop's name.
Creating a full website with Shopify requires a lot more work on the back end. Building the website might be simple, but your business needs to be far enough along that you can commit to a domain name and brand identity.
Shopify vs. Etsy: Pricing
The more you sell, the cheaper Shopify becomes compared to Etsy.
There's no free version of Shopify. You'll pay at least $29 per month to build your own website, plus a transaction fee of up to 2.9% plus 30 cents if you use Shopify Payments.
Etsy's monthly fees are much lower — it's either free or $10 per month for the Plus plan — but transaction fees and payment processing fees add up to more than 9% per transaction. Plus you'll pay 20 cents each time you list a new product.
Let's say you use Etsy's free version and Shopify Basic. If you sell five $30 products per month — generating $150 in revenue — Etsy's fees will add up to $16.50. With Shopify, you'll spend $29 on your subscription plus $5.85 in payment processing fees, for a total of $34.80. Etsy is cheaper.
But now let's say you sell 30 of your $30 products per month, generating $900 in revenue. With Etsy, you'll spend $99 on listing, transaction and payment processing fees. With Shopify, you'll spend $29 on your subscription plus $35.10 in payment processing fees, for a total of $64.10. Shopify is cheaper.
Free: Standard. All Etsy users have access to the seller dashboard, where you can track orders, communicate with customers and see notifications about pressing issues, like listings that are about to expire. You can also see stats like how many people have viewed your shop and how much revenue you've generated.

$10 per month: Plus. Etsy Plus comes with 15 listing credits (a $3 value) per month, a $5 Etsy Ads credit, and discounts on shipping boxes and business cards. You can also offer shoppers restock alerts and customize your shop page with banner images and featured items.

$15 per month: Pattern. Pattern lets you set up your own website with a unique domain name but still list items on Etsy and power your store through Etsy's dashboard.
All Etsy plans require sellers to pay the following fees:
New listing fee: One-time fee of 20 cents. Listings expire after four months.

Payment processing fee: 3% plus 25 cents per transaction.
In other words, you'll pay 9.5% plus 45 cents in fees on each sale.
$15 per month: Starter. This low-cost plan doesn't include a website or online storefront. Instead, you'll get links to each product listing that you can share in social media posts or via chat apps. You can still access Shopify's seller dashboard, though.

$29 per month when billed annually: Basic. Shopify's introductory website builder plan comes with shipping label printing, inventory and order management tools, online marketplace sales and other basic features. You'll get two staff accounts. Payment processing costs 2.9% plus 30 cents per transaction.

$79 per month when billed annually: Shopify. At the next level, you'll get a total of five staff accounts, along with discounts on shipping rates and more advanced performance reports. Your payment processing fees fall to 2.6% plus 30 cents per transaction.

$299 per month when billed annually: Advanced. This plan comes with 15 staff accounts, the ability to charge import taxes, and the ability to display dynamic shipping rates to your customers. Payment processing fees fall to 2.4% plus 30 cents per transaction.

$2,000 per month and up: Plus. Shopify Plus pricing is quote-based, so you'll need to schedule a conversation with Shopify to discuss your needs. This plan includes business-to-business sales features, and you can choose a payment processor other than Shopify Payments and pay no additional fees. 
If you make monthly payments instead of one annual payment, Shopify's subscription prices increase to $39 per month for Basic, $105 per month for Shopify and $399 per month for Advanced.
Shopify vs. Etsy: Which is right for your business?
Shopify is best for businesses that:
Sell several dozen products or more per month — enough that Shopify's monthly fee is offset by its low transaction fees.

Want to customize their website and sell on different platforms.

Already have a strong brand or are ready to establish one.
Etsy is best for businesses that:
Sell a relatively small number of products.

Sell crafts, art or other handmade goods.

Aren't yet ready to commit to a strong brand identity.

Are willing to pay higher transaction fees in exchange for more convenience and a built-in audience for homemade products.
A version of this article was first published on Fundera, a subsidiary of NerdWallet.