Square vs. QuickBooks: POS Systems Comparison
Square is an excellent, low-cost POS system for most business owners. QuickBooks POS has high upfront costs.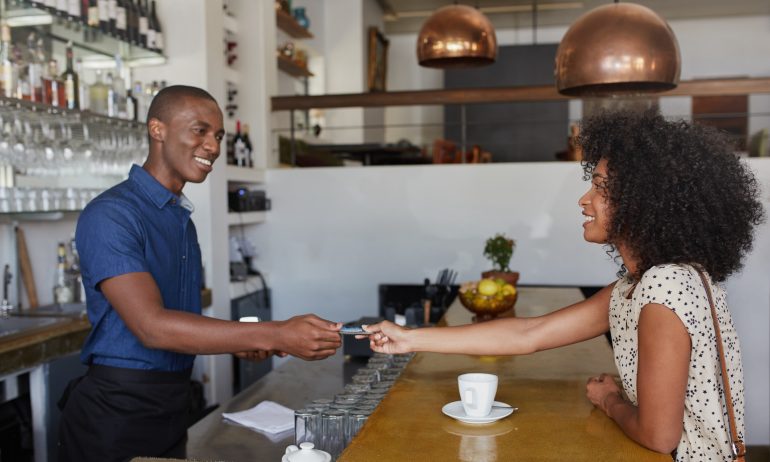 Many or all of the products featured here are from our partners who compensate us. This influences which products we write about and where and how the product appears on a page. However, this does not influence our evaluations. Our opinions are our own. Here is a list of our partners and here's how we make money.
» This page is out of date
QuickBooks is no longer selling its Desktop POS. QuickBooks has partnered with Shopify to create QuickBooks Desktop Connector, an app to help businesses transition from QuickBooks Desktop POS to Shopify POS.
---
If you're in the market for a point-of-sale system, you've almost certainly heard of Square. This affordable POS is easy to use, affordable and highly customizable for several different retailers and professional services.
You may also be familiar with QuickBooks, which offers a POS system that integrates well with QuickBooks Desktop accounts. This system may be a good choice for a specific group of business owners who prefer locally installed software on their computers instead of relying on a cloud-based system.
Here's what you should know when comparing Square to QuickBooks.
Square vs. QuickBooks: Head-to-head comparison
$0 for Square POS, Restaurant, Retail and Appointments Free plans.

$29 for Square Appointments Plus plan.

$60 for Square Restaurant and Retail Plus plans.

$69 for Square Appointments Premium plan.

$1,200 one-time fee for POS Basic.

$1,700 one-time for POS Pro.

$1,900 one-time for POS Multi-Store.

2.6% plus 10 cents for in-person transactions.

2.9% plus 30 cents for online transactions.

3.5% plus 15 cents for manually keyed transactions.

3.3% plus 30 cents for invoices.

Point-of-sale transactions:

Pay as you go: 2.7% for in-person transactions; 3.5% per keyed transaction.

Pay monthly: $20 per month; 2.3% plus 25 cents for in-person transaction; 3.2% plus 25 cents per keyed transaction.

For QuickBooks Online users

2.5% for in-person payments.

2.99% for online and invoiced payments.

3.5% for manually keyed payments.

For QuickBooks Desktop users

Pay as you go plan (no monthly fee):

2.4% plus 30 cents per swiped transaction.

3.5% plus 30 cents per keyed-in or invoiced transaction.

Pay monthly plan (monthly fee):

1.6% plus 30 cents per swiped transaction.

3.3% plus 30 cents per keyed-in or invoiced transaction.

$0 for Square magstripe-only card reader ($10 for each additional reader) or if using Tap to Pay for iPhone (iPhone not included).

$49 and up for Square Reader contactless and chip card reader.

$149 for Square Stand iPad POS or Square Stand Mount (iPad not included).

$299 for Square Terminal mobile card reader with built-in printer.

$799 for Square Register two-screen system.

$39 for QuickBooks charging stand.

$49 for QuickBooks card reader.

$79 for QuickBooks card reader with charging stand.

Free users: Support available between 6 a.m.-6 p.m. PT.

Paid users: 24/7 phone, email, live chat and social media support.

Online chat support available Monday to Friday, 6 a.m. to 6 p.m. PT. Support calls require paid plans: $79 per month, $589 per year, or $59 for a one-time support call for a single issue.
Square is one of the most popular point-of-sale systems on the market, used by more than 2 million businesses worldwide. NerdWallet's choice for best overall POS system, this popular solution offers many valuable features, accessible customer support and a mobile-friendly interface that's easy to set up and use.
Industry-specific features
Square offers a free basic plan that's robust enough to support many small businesses. Merchants looking for a little bit more functionality can upgrade to paid plans with more functionality and 24/7 customer support.
Retailers and restaurateurs will particularly appreciate some industry-specific features. For example, the retail-specific version of Square Plus lets business owners manage vendor relationships, inventory, process returns and exchanges, in addition to other features.
Restaurant owners can utilize another customized Plus plan that shows floor plans, timing for multi-course meals, alerts for open tables, kitchen reporting and several other crucial features for eateries. Square is also compatible with food delivery software that may already be in use.
All Plus plans include 24/7 phone support, which can be helpful for emergencies or general learning purposes.
Square is an excellent choice for restaurants, cafes and retail and professional services businesses that value straightforward pricing and transaction fees.
In contrast, QuickBooks POS may not be the best fit for many restaurants, bars and coffee shops because the system does not offer restaurant-specific reports. Instead, business owners who want this functionality will have to research and install third-party software that integrates with QuickBooks POS to generate these reports.
Square offers complimentary customer support via phone, chat, email and social media for all merchants. Users on free accounts can reach out for help between 6 a.m. to 6 p.m. PT, while customers on paid plans have access to 24/7 support.
Meanwhile, QuickBooks makes it clear that customers are meant to be self-sufficient after purchasing the POS. While chat support is available for free, QuickBooks POS clients will need to pay a steep fee for phone-based customer assistance: $79 per month, or $59 for one-time help on a single issue.
Ease of use: Mobile-friendly, compatible with many devices
Square's various ways to collect customer payments make it adaptable to various business situations. You'll get paid whether your customers swipe or dip their cards at a brick-and-mortar location, pay online, via invoice or if you manually key in their card information.
Meanwhile, the QuickBooks POS system is clunkier. The POS usually runs on tablets running on Windows 10, which you'll have to purchase separately from Intuit's hardware offerings. If you want to go mobile, you can buy a separate mobile card reader and link it to your QuickBooks POS to process transactions that sync directly into your accounting books.
Square and QuickBooks are relatively equal when it comes to transaction and payment processing. Both brands process their payments from end to end instead of outsourcing to a third party, and transaction fees are within the same range, although some Square rates skew slightly higher.
Why QuickBooks POS stands out
If you already use QuickBooks Desktop to manage your books, you may appreciate QuickBooks Desktop POS, which syncs your sales, inventory and customer data directly into your accounting records. (You can make the POS sync with QuickBooks Online, but it isn't a guaranteed process.)
Direct integration with QuickBooks Desktop accounting software
This feature may offer the strongest draw for current QuickBooks users. However, QuickBooks POS only links directly to the desktop version of this popular accounting software program. If you want to link your QuickBooks POS to QuickBooks Online, you'll need to use a third-party application to connect the two systems.
One-time fees instead of monthly payments
QuickBooks POS is a good option for business owners who prefer paying once instead of making monthly payments.
You'll pay a flat fee for your POS software plan, tiered depending on the functionality you need. You'll also pay for each complementary piece of equipment you need, such as a mobile card reader, cash drawer and barcode scanner for every checkout point that needs one. In this way, calculating your upfront expenses can be very straightforward.
If you choose to use QuickBooks Payments to process payments, you can select from a pay-as-you-go model or pay a low monthly fee for slightly discounted transaction rates.
Square vs. QuickBooks: Which one is right for your business?
Square is a great option for business owners who want a single solution for point-of-sale transactions and payment processing. The system allows you to try it out with no financial commitment beyond paying individual transaction fees. At the same time, the system can adapt and expand with you as your business grows.
QuickBooks can be a good fit for small businesses outside of the restaurant industry who want a POS system that integrates well with the desktop version of QuickBooks accounting software. But outside of that specific profile, most business owners would do well to consider Square over QuickBooks POS.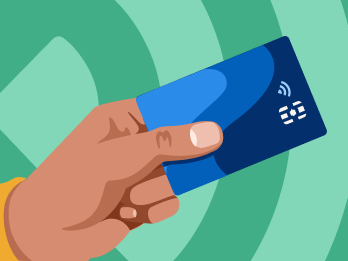 Accept payments, avoid surprises
Answer a few questions to match your business with our selected payment partners.
Best Payment Processing Companies
Product

Payment processing fees

Monthly fee

Learn more

Helcim

0.40% + 8¢

 

plus interchange, in-person; 0.50% + 25¢ plus interchange, online.

$0

 

Square

2.6% + 10¢

 

in-person; 2.9% + 30¢ online.

$0

 

Starts at $0/month for unlimited devices and locations.

Stripe Payments

2.7% + 5¢

 

in-person; 2.9% + 30¢ online.

$0