Starting a Business in Virginia: The Ultimate Guide
Our guide covers the steps for starting a business in VA, including registering your business and securing funding.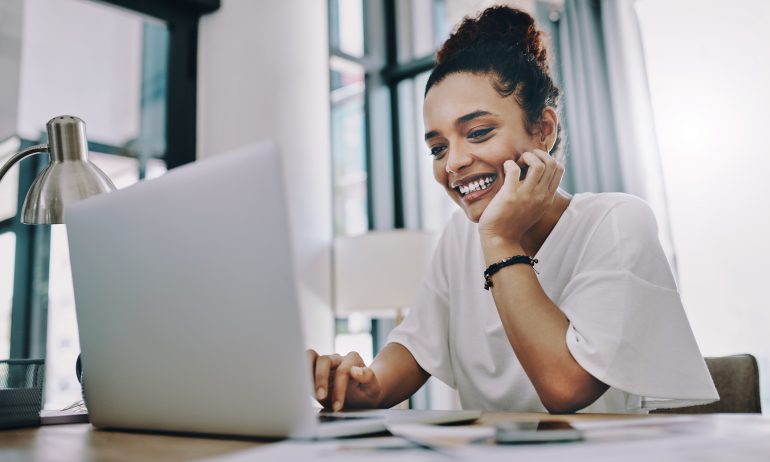 Many or all of the products featured here are from our partners who compensate us. This may influence which products we write about and where and how the product appears on a page. However, this does not influence our evaluations. Our opinions are our own. Here is a list of our partners and here's how we make money.
Virginia's a great place for small businesses. If you're thinking of starting a business in Virginia, you're already ahead of the game simply by basing your venture in the Mother of States: In their annual study, CNBC deemed Virginia the top state for business in 2019, taking the top spot in a methodology that weighed and compared the quality of each state's workforce, economy, infrastructure, cost of doing business, quality of life, education, technology and innovation, business friendliness, access to business capital and the overall cost of living.
With all those crucial elements of a nurturing business environment in place, Virginia is clearly fertile ground for aspiring entrepreneurs. If you're among them, start by reading our guide to entrepreneurship in the Mother of States before you take the plunge.
ZenBusiness: Start Your Dream Business
Start today for as low as $0 plus state fees
How to start a business in VA: A step-by-step guide
As you read our step-by-step guide on starting a business inVirginia, keep in mind that the order of these steps is mostly a suggestion; you'll likely need to fulfill a few of these steps in tandem, or you may end up swapping them entirely. It's not a terrible idea to come up with a marketing plan even before you've obtained business insurance, for example, or to gather some startup cash before you've decided on a business entity.
With that said, the following eight benchmarks are ultimately necessary to tick off in order to officially start a business in Virginia (or any other state, for that matter) and set your business up for the most possible success. So let's get to it.
While it's possible to launch a business without a business plan, we wouldn't recommend skimping on this step: As you move forward with starting your business in Virginia — and the steps and stakes become increasingly more complicated — you'll thank yourself for mapping out your plan ahead of time. And in reality, your "business plan" doesn't need to be as complex or detailed as you might think. Even the most bare-bones plan is better than none.
For some guidance, aim to answer as many of the following questions in your preliminary business plan as possible:
What is your business's purpose? What is the problem your business aims to solve?

What is the service or product you're delivering and how is your offering different from your competitors?

What are your competitors doing successfully? What are they doing poorly, and how can your business do it better?

Who is your target audience? How will you reach that audience (i.e., which kinds of marketing strategies will you implement)?

How are you selling your products or services (i.e. online, in a brick-and-mortar store, from your home, making house calls)?

How much money do you currently have, and how much do you need to launch?

What kinds of startup funding are you eligible for?

How long will it take for you to break even?

How long will it take to make a profit?
Remember that nothing in your business plan needs to be set in stone, either. Feel free to return to your plan whenever you want or need to flesh out the details, or to change course altogether as you gain experience and traction.
2. Choose a business structure
The type of business entity you choose will determine how you're taxed and the legal protections you do or don't have as the business owner. It's also necessary to determine your business entity in order to move onto naming and registering your business, so this is a crucial early step in starting a business in Virginia (or anywhere).
There are several types of business structures, but the six most common among small-business owners are sole proprietorships, general partnerships, limited partnerships, limited liability companies, C corporations and S corporations. We'd recommend taking a look at our guide to types of business entities to understand the nuts and bolts of these and other business structures so you can decide which of them makes the most sense for your business.
3. Name and register your business
The process of naming and registering your business can get a little tricky, so it's a good idea to consult the State Corporation Commission website — this is your most complete and official guide on forming your entity and naming your business. This site also provides information on your annual and ongoing responsibilities after you form your business. Keep in mind that the process depends on the type of business entity you choose, too, so it's always a good idea to consult a lawyer if you're confused about your particular requirements.
That said, all businesses other than sole proprietorships will need to register with the SCC.
If you're a corporation, then you'll first need to ensure that your desired business name isn't already in use by conducting a Business Entity search on Virginia's Secretary of State website. Then, when you're ready to form your business, LLCs and stock corporations can register online via the website's SCC eFile option.
If you're neither an LLC nor a stock corporation, or if you'd prefer not to register your business online, you can also download, print and fill out a formation document to send to the Clerk's Office for review.
The Clerk's Office typically processes formation submission within one to three weeks, but you can pay an additional fee if you'd like expedited service.
4. Obtain your EIN, tax information and licenses
When you're starting a business in Virginia, we recommend getting an employer identification number. EINs are like Social security numbers for your business, and most businesses are required to have them. Even if your specific business doesn't need an EIN (such as sole proprietorships with no employees, which can get by with just the owner's SSN), it's a good idea to apply for one, as you may need it to open a business bank account or apply for a business loan. Luckily, applying for an EIN is easy: Once you've registered your business, you can apply for an EIN number through the IRS or through Business One Stop, Virginia's online registration tool.
Also know that Virginia doesn't issue one business license that all enterprises need in order to operate. However, certain professions are regulated by licensing boards, all of which are overseen by the Department of Professional and Occupational Regulation. If your business is one such regulated profession or occupation, then you'll need to obtain your required licenses and/or ensure you've fulfilled the necessary education, before you can open your doors.
5. Obtain business insurance
If you're starting a business in Virginia, know that not every business needs business insurance right off the bat — for example, service-based freelancers with no employees or new ecommerce merchants likely don't need to get insured right away. But for many small-business owners, getting insured is critical in protecting themselves, their employees and their general businesses from potential legal claims.
Keep in mind that the right type (or types) of insurance for your business depends on several factors, and certain types of insurance are legally required — workers' compensation insurance, unemployment insurance and disability insurance, for instance, are required for most businesses with employees. Other common types of business insurance include general liability insurance, commercial property insurance, professional liability insurance, employment practices liability insurance and key person insurance. Take a look at our guide to types of business insurance for more details about each.
6. Open a business bank account and get a business credit card
Both opening a business bank account and getting a business credit card are important steps in starting a business in Virginia, since that will help separate your business and personal finances. This separation is recommended (if not legally required, depending on your business entity) for a host of reasons: It'll make your bookkeeping and tax filing a lot easier, it'll protect your personal assets from legal trouble and it can make applying for a business loan much easier, for instance.
Opening a business bank account is pretty easy; and while the vast majority of brick-and-mortar banks require you to open an account in person, you do have the option of opening an online bank account. If you're happy with the bank that houses your personal bank account, you can consider opening your business account with the same institution; otherwise, take a look at our guide to this year's best business bank accounts to find the account that would work for you.
Getting a business credit card is even easier than opening a business bank account since most card companies allow potential customers to apply for a business credit card online. Plus, if your business is too new to provide financial information, you can simply use your personal financial statements, instead. Once you have your business credit card, you can use this valuable (and easily accessible) form of short-term business financing to pay for your business's smaller, daily expenses. We recommend that you make sure to keep your spend well below your credit limit and repay your bills in full and on time. Healthy spending habits are crucial for upping your credit score, which in turn is a major element in qualifying (or not) for more substantial business financing down the line.
7. Secure startup funding
At some point in their pre- or just-post-launch phase, the vast majority of new businesses need to spend money before they make money — hence the necessity of securing some form of startup funding.
As you may know, however, obtaining a loan from a bank or even an online lender is very difficult for the newest of businesses, who don't have the strong financial history that banks need to feel comfortable extending debt. For that reason, most new businesses lean on a combination of less traditional financing methods that don't have those ultra-stringent requirements to obtain.
Lots of entrepreneurs dig into their own (or neighboring) pockets first, using either their personal savings, a personal loan for business, or loans from friends and family to get their businesses off the ground. Depending on the nature of your business or project, you might also be a good candidate for crowdfunding, which aggregates lots of small donations from a digital audience that believes in your venture. Others may leverage their networks to find an angel investor or another form of equity financing and, still, others might try their luck with a business incubator or startup accelerator. If you're curious about state-specific funding programs, take a look at the Virginia Small Business Financing Authority, the state's financing agency that can provide loans directly to small businesses.
Lastly, while it may not seem like it, that business credit card we recommended you sign up for is actually a type of business loan — and because they're relatively easy to qualify for, it's an ideal form of startup funding. Plus, if you sign up for a card with perks — like a long 0% intro APR period, cash back, or points — then you'll be garnering valuable rewards for your business as you spend.
As you complete steps one through seven in this list (in whatever order works best for you), we hope you're also thinking seriously about your small-business marketing strategy — since no customers means no business to launch! But because of the wealth of free marketing ideas and social media marketing tactics, you hardly need to hire a CMO or have an enterprise-sized budget to get the word out about your new business.
To start, it's crucial that you build a business website; and thanks to website builders like Squarespace and Wix, it's easy and affordable to do so. With these or other website builders, you'll be able to personalize and outfit your site however you want or need: You can use it simply to display an "About" page and your store's location and opening hours; integrate an appointment scheduling software so clients can book in with you online; or even build an e-commerce store from top to bottom, either to supplement your physical location or to act as a standalone online store (we'd recommend using Shopify for this). Lots of website-building platforms are also built-in with SEO best practices, which can help boost your business to the top of search engine results pages.
Also non-negotiable? Creating some kind of social media presence for your business. Depending on where your target audience hangs out online, you might also consider setting up your business with a Twitter, Pinterest, Snapchat, Tumblr, or an account on another social platform that's specific to your customer base. Truth be told, social media marketing can get a little tricky, and you may find it useful to hire a dedicated social media marketing expert if and when your budget allows for it down the line. But in the meantime, even posting a few times per week on each of your chosen social platforms can be surprisingly effective in drawing in customers.
For more ideas about how to market your business, both digitally and IRL, take a look at our comprehensive guide to small-business marketing.
This article originally appeared on JustBusiness, a subsidiary of NerdWallet.