Stripe is a pay-as-you-go payment processing platform with flat-rate, transaction-based fees. Overall, you'll pay 2.9% plus 30 cents per transaction to accept card payments online and 2.7% plus 5 cents to accept in-person payments with Stripe. It does not charge monthly or annual fees. In general, the only costs you'll incur will be transaction fees, otherwise known as credit card processing fees.
Stripe's flat-rate fee structures are generally easier to understand than more complicated interchange-plus pricing, where fees vary based on card type. Because it's a payment service provider, it's also fast to set up. But like other PSPs, account holds or closures are more of a risk than with merchant account providers.
Volume discounts, multiproduct discounts, country-specific rates and interchange pricing are available for large-volume businesses or companies with unique business models.
Stripe processing fees
The main cost to use Stripe comes from flat-rate processing fees. Generally, your business will pay the same rate on every transaction regardless of the size of the transaction, type of card that's used or the network that issued the card. Your rate may vary based on your country, though; services are available in more than 30 countries around the world.
Standard fees for businesses operating in the U.S. include:
Cards and digital wallets

Online:

Debit and credit cards, Apple Pay, Google Pay, Alipay, Click to Pay and WeChat Pay

2.9% plus 30 cents per transaction.

In-person:

Payments through Stripe Terminal

2.7% plus 5 cents per transaction.

$1 per ACH credit payment.

0.8% per transaction (maximum ACH fee of $5).
Additional fees
Card, digital wallet and bank transactions may be subject to the following additional fees:
1% for international cards.

1% for currency conversion on international cards, if required.

$4 for failed ACH direct debit transactions.

$15 per disputed ACH direct debit transaction.

$15 per disputed transaction on issued cards.

$15 per returned (bounced) check.
Ask your Stripe sales representative to explain any other fees that might apply, such as automatic reconciliation for wire transfers, minimum monthly requirements for checks and additional fees for ACH credit transactions.
International transactions
Stripe supports popular payment methods from around the world, including Bancontact, EPS, Giropay, iDEAL, Multibanco, pre-authorized debits in Canada, Przelewy24, SEPA Direct Debit and Sofort. Pricing varies by payment method, and an additional 1.5% fee applies for international payment methods plus 1% fee for currency conversion.
Stripe also accepts Afterpay and Klarna transactions. These two global payment methods provide your customers with the options to buy now, pay later or finance their purchases.
Stripe Terminal for in-person payments
The Stripe Terminal allows you to accept in-person payments. With this service, you'll pay processing fees for each transaction, as well as the cost of the physical card reader you need to accept payments.
In terms of the cost of the credit card readers, Stripe offers two options:
BBPOS Chipper 2x BT:

$59.
Stripe fees for additional products
Stripe offers additional tools within its product suite that can be used in conjunction with its payments platform. For each of these tools, fees will operate a little differently.
Stripe Billing
Stripe Billing is a companion to the company's payments platform that allows you to set up recurring invoices and subscriptions. There are two plan options available. The Starter plan offers recurring billing, automatic collection and a customer portal. The Scale option offers those features plus it allows you to send your payment data automatically to NetSuite and also send customers quotes before setting up a subscription.
Starter:

0.5% on recurring charges.

Scale:

0.8% on recurring charges plus implementation fee for NetSuite Connector.
Stripe Invoicing
Stripe Invoicing is also available with the company's payments platform and allows you to create, customize and send invoices to your customers. The Starter plan provides detailed reports and analytics plus a unique link to an invoice page that can be emailed to your customers. With the Plus option, you get the additional features of automatic collection, invoice auto-reconciliation and the ability to send quotes to customers.
Starter:

25 free invoices per month with 0.4% per invoice after that.

Plus:

0.5% per paid invoice.
Stripe Connect
Connect is Stripe's payment platform. It can be used to build a marketplace, accept customer payments and pay your freelancers and sellers. A standard version is included with any basic account. If you want to customize your experience, you can opt for the Express or Custom version of Connect, which will require paying additional fees.
Standard:

Included at no additional cost.

Express:

$2 per monthly active account and 0.25% plus 25 cents per payout sent.

Custom:

$2 per monthly active account and 0.25% plus 25 cents per payout sent.
In addition, if you want automatic tax filing for your Express or Custom accounts, you'll need to pay $2.99 per e-filing or mailing.
Stripe Radar
Stripe Radar provides fraud protection for your business's payment processing, advanced fraud protection tools and protection from disputes. There are three plans available:
Radar's machine learning:

5 cents per screened transaction (waived for accounts with standard 2.9% plus 30 cents pricing).

Radar for Fraud Teams:

7 cents per screened transaction (2 cents for accounts with standard 2.9% plus 30 cents pricing).

Chargeback Protection:

0.4% per transaction fee.
Stripe Sigma
Stripe Sigma is an advanced data platform powered by SQL. The cost for this platform is based on the number of charges, authorizations, and application fees processed by your business in the previous month. The first three pricing tiers are:
0 to 500 charges per month:

2 cents per charge plus $10 infrastructure fee.

501 to 1,000 charges per month:

1.8 cents per charge plus $25 infrastructure fee.

1,001 to 5,000 charges per month:

1.6 cents per charge plus $50 infrastructure fee.
Stripe Atlas
The Stripe Atlas platform provides you with the tools and guidance you need to start your business.
One-time setup fee:

$500.

Ongoing costs:

Varies by business.
Stripe Issuing
The Stripe Issuing platform allows you to create, distribute and manage physical and virtual branded credit cards designed specifically for employees, contractors or clients, according to business needs. These can be customized with spending limits or limited to use with certain types or merchants.
Card creation:

$3 per physical card.

Card transactions:

first $500,000 in card transactions included, 0.2% plus 20 cents per transaction after that.

International payments:

1% plus 30 cents for cross-border transactions (additional 1% fee if currency conversion is required).

Disputes:

$15 per lost dispute.
Premium support
Finally, although your free Stripe account includes 24/7 phone, chat and email support, if you require a customized support plan, you can purchase premium support through the company.
Premium support plans:

Quote-based.
How does Stripe charge fees?
Stripe charges fees automatically, reducing your regular payouts by the amount of fees owed.
When you set up your Stripe account, you'll be required to connect your business bank account. After you've completed the setup process and start processing payments, you'll build a balance in your account. When a payment is first received, it will show as a pending balance and will consist of the amount of the transaction minus any fees, which are automatically deducted when moving funds from its account to yours.
Your balance will change from pending to available according to your payout schedule. Generally, U.S. businesses operate on a two-business-day payout schedule, which means payouts of your available account balance are made daily and contain credit card payments processed two business days prior. If you operate in a high-risk industry, you may be set on a 14-day payout schedule.
A version of this article was first published on Fundera, a subsidiary of NerdWallet.
On a similar note...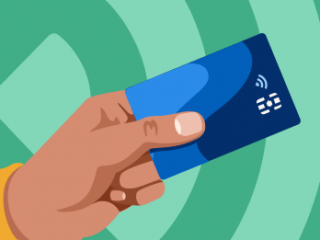 Accept payments, avoid surprises
Answer a few questions to match your business with our selected payment partners.