Worldpay Review 2021: Pricing, Features, Alternatives
Despite customizable payment solutions, business owners may be deterred by a lack of upfront pricing and negative reviews.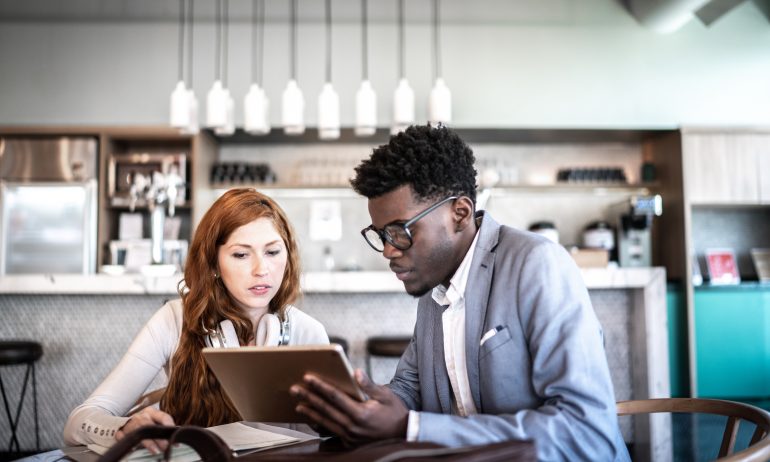 Many or all of the products featured here are from our partners who compensate us. This may influence which products we write about and where and how the product appears on a page. However, this does not influence our evaluations. Our opinions are our own. Here is a list of our partners and here's how we make money.
Worldpay offers small-business solutions that allow businesses to accept a range of payment methods, including debit cards, credit cards, mobile wallets and more.
Worldpay gives you the ability to customize its payment services based on your needs, integrating with point-of-sale, or POS, systems and e-commerce platforms, among other options. This makes it a reasonable choice for businesses that want a tailored, personalized payment solution.
However, like other large payment processors, Worldpay is short on product details on its website and lacks upfront pricing. Online customer reviews are also predominately negative. You'll likely be able to find more transparent providers that offer similar services — and you may find that one of these choices is better for your business.
Worldpay is a merchant service provider that supplies small businesses with merchant accounts — a special type of bank account that's required to accept credit and debit card payments from customers. A merchant account holds the funds from cleared card transactions before they are transferred to your business bank account.
Worldpay offers payment terminals, including stand-alone terminals, mobile terminals and smart terminals. Worldpay also offers fraud protection software, an analytics platform and a gift card processing program.
Worldpay has been through several transitions as a company — merging with the U.S. merchant service provider Vantiv in 2017 — and most recently was acquired by Fidelity Information Services, otherwise known as FIS, in 2019. FIS now offers credit card processing services under the Worldpay name, "Worldpay from FIS," and is one of the top three largest merchant acquirers in the U.S. ranked by total purchase transactions.
Worldpay's credit card processing services allow small businesses to accept a variety of types of payments, including:
Digital and mobile wallets, like Apple or Google Pay.

Electronic checks (i.e., ACH transfers).

EMV chip cards and contactless payments.
With Worldpay, you can take and process payments using stand-alone terminals, mobile terminals, smart terminals, POS systems, e-commerce software and payment gateways. Worldpay also offers its OmniFlex product, an all-in-one solution that allows you to accept card-present, card-not-present, real-time and recurring transactions — whether in-store or online.
According to the company's website, Worldpay serves small businesses in several industries — grocery stores, personal-service businesses, retail businesses, restaurants and food-service businesses, and professional-service businesses. Worldpay also provides merchant services for large enterprise-level businesses as well.
To get started with Worldpay, you can contact the company by email or phone for more information. Small businesses in the U.S. or Canada also have the option to get a quote or submit a pre-application on the Worldpay website.
Has an international reach, serving over 100 countries.

Integrates with leading business software solutions, such as BigCommerce and Authorize.Net.

Allows you to get a quote or submit a pre-application online.

Provides 24/7 customer support.
Does not provide upfront pricing.

Lacks sufficient product details and transparency on its website.

Has largely negative online reviews.
Worldpay notable features and capabilities
In addition to Worldpay's credit card processing capabilities, the company offers the following products and services:
OmniShield Assure is Worldpay's security platform that helps protect your business from data breaches and fraudulent transactions. The platform provides point-to-point encryption to protect your customers' credit card data from being read by hackers and offers tools to assist with PCI compliance. OmniShield Assure also includes Breach Assist — a feature that reduces your financial liability by providing compensation of up to $100,000 for costs associated with a data breach.
Worldpay iQ is an analytics and reporting tool that allows you to track and manage your payment processing data, giving you insight into your business performance. You can use the iQ platform to view sales data reports and payment processing history, including statements and reconciliation data. You can also manage transaction disputes within the iQ Now app, available for iOS and Android devices.
StoreCard gift card program
Worldpay offers its own gift card implementation program, called StoreCard. With StoreCard, you can build a gift card, rewards and loyalty program, customized to your business needs and budget. Worldpay can provide custom or pre-designed cards with variable or preset values.
With the StoreCard program, you have the option to create digital promotions, automatic rewards and virtual gift cards — depending on your preferences. The program can be integrated with your POS system and includes analytics and online reporting.
Integrations and plug-ins
Having a payment solution that connects with your existing business systems can help streamline your operations. Worldpay integrates with hundreds of POS systems, payment gateways, e-commerce platforms and enterprise resource planning solutions. Although the Worldpay website doesn't offer a comprehensive list of integrations and technology partners, here are some of the available providers:
Worldpay also offers its FastAccess Funding platform, which allows you to receive your business funds on a debit card within minutes, instead of waiting days for the money to deposit into your bank account. Little information is available on the Worldpay website regarding this service, however.
Worldpay provides its main customer service through phone and email, offering 24/7 support through the Contact Center phone line. Worldpay also has a developer portal with documentation for merchants and partners, as well as a blog with informational articles, research and reports.
Worldpay does not provide upfront pricing — you have to contact the company to get a quote based on your business's information. Although this may not be an uncommon practice for large payment processors, the lack of transparent pricing can make it difficult to compare the cost of Worldpay with other providers.
Similarly, Worldpay is not clear about the cost of its additional services like OmniShield Assure and the iQ platform — and whether these are included as part of a standard credit card processing solution, or whether they require extra fees.
However, unlike other payment processors that often require you to call and speak with a sales representative or submit an online inquiry to get pricing information, Worldpay gives you the option to get a quote or submit a pre-application online.
The transitions that Worldpay has undergone over its history make it difficult to identify a single profile on the Better Business Bureau website. Nevertheless, customer reviews on other sites like Trustpilot, TrustRadius and Software Advice suggest that there are a number of issues with the company's services.
For example, customer reviews often mention poor customer service, high and hidden fees, as well as held or mischarged funds.
To choose the best payment processor for your business, you'll want to consider factors such as cost, industry, how you want to get paid and how you operate (online, in person, etc.). If you're not sure that Worldpay is the right option for your needs, you might consider the following alternatives:
| Credit card processing company | Merchant account provider or payment service provider | | | |
| --- | --- | --- | --- | --- |
| | Merchant account provider. | | 0.3% plus 8 cents plus interchange for in-person payments. | |
| | Payment service provider. | | Starts at 2.6% plus 10 cents per transaction for in-person payments. | N/A, unless using specialty software. |
| | Merchant account provider. | Interchange-plus and a monthly subscription fee. | | Starts at $99 per month for a subscription. |
| | Merchant account provider. | Interchange-plus and a monthly subscription fee. | Starts at 0.2% plus 10 cents plus interchange for in-person payments. | Starts at $10 per month for a subscription. Must meet a monthly minimum of $25 in processing fees. |
| | Merchant account provider. | Interchange-plus and a monthly subscription fee. | Starts at 15 cents plus interchange per transaction. | Starts at $79 per month for a subscription. |
| | Payment service provider. | | 2.9% plus 30 cents for online payments. | |
| | Merchant account provider. | | 0.15% plus 8 cents plus interchange. | |
| | Merchant account provider. | Interchange-plus and a monthly subscription fee. | Percentage markups vary from plan to plan. | Starts at $9.95 per month for a subscription. |