How to Accept Apple Pay: A Guide for Small Businesses
Here's how to set your small business up to take Apple Pay, plus the pros and cons of accepting it.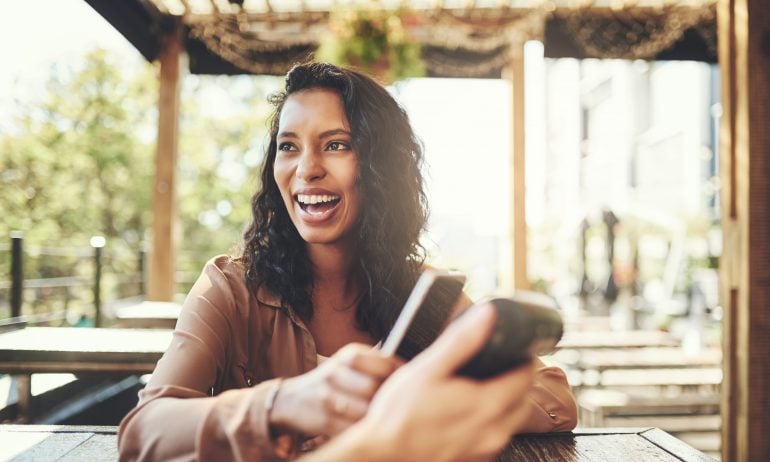 Many or all of the products featured here are from our partners who compensate us. This influences which products we write about and where and how the product appears on a page. However, this does not influence our evaluations. Our opinions are our own. Here is a list of our partners and here's how we make money.
Point-of-sale systems are more than just cash registers these days. Contactless payment services such as Apple Pay move customers through the line faster and make fumbling with physical cards and cash feel old-fashioned.
1. Find a payment processor that works with Apple Pay
2. Set up the appropriate Apple Pay payment infrastructure
If you're selling online, activate Apple Pay and/or add a "Buy with Apple Pay" button to your checkout page. Your e-commerce website builder should have instructions on how to do that.
If you're selling in person, get a card reader that accepts contactless payments and works with near-field communication (NFC). Square and Shopify are two examples of options with this technology, but other credit card readers are available. Many attach to iPhones, iPads and other devices. Customers hold their phone, tablet or Apple Watch near the card reader to pay in person.
3. Connect Apple Pay to your POS system
Follow your POS system's instructions to connect Apple Pay to your card reader checkout system or activate it in your online gateway.
4. Train staff to help customers with Apple Pay
Whether your customers use Apple Pay in person or online, they'll be prompted to authenticate their Apple Pay purchase via Touch ID or other methods. Customers can also confirm payments on their Apple Watches. Customers don't need to enter their credit card information manually.
Make sure you and your employees can help customers troubleshoot when trying to check out with Apple Pay — for example, being close enough to the card reader in your store.
Apple Pay is a service from Apple designed to help users make credit or debit card payments from mobile devices or Apple Watches. Customers approve payments with passcodes, Face ID or double-clicks on Apple Watch's side button. Customers can use Apple Pay to pay in person or online.
In-person Apple Pay transactions are contactless transactions that use near-field communication, or NFC, technology. NFC allows smartphones and card readers to communicate when they're near each other.
Should your small business accept Apple Pay? Pros and cons
About 85% of retailers in the U.S. accept Apple Pay (according to Apple), but that doesn't mean your business has to jump on the bandwagon. Here are some pros and cons of accepting Apple Pay.
Speed. Typically it takes 15 to 30 seconds less to process a contactless transaction than it does to process a credit or debit card transaction the traditional way (swiping a card and signing the receipt or entering a PIN). So if you process 100 transactions a day, that could cut 50 minutes of checkout time, which could help move more customers through the line and make you more money.

Security. Apple Pay tokenizes transactions, meaning that it replaces the card information with random numbers (a token). The token goes through the payment network, and the payment is processed without using the actual bank account details. This prevents hackers from being able to extract credit card information. Also, Apple Pay doesn't store card numbers on phones or Apple servers. Apple Pay doesn't share card numbers with merchants.

Fees. Apple doesn't charge merchants for using Apple Pay. Businesses still pay fees to their card processors, however.

Available internationally. Apple Pay works in more than 60 countries, making it an option for small businesses with overseas operations.
Terminal upgrades. If your card terminals don't accept contactless payments, you may need to buy new or upgrade your existing terminals.

Consumer setup. Apple Pay is popular, but not everybody uses it. In addition, some people may be unaware of how to set it up on their phones and authenticate transactions, which could slow down checkout.

Use limitations. Apple Pay is an Apple product. Therefore, customers with other types of phones or other operating systems may not be able to use it at your business.

Training. You may need to set aside time to train your staff to troubleshoot Apple Pay checkout problems or help customers find Apple Pay on their phones.