Tax Relief: How to Get Rid of Your Back Taxes
Here are four tactics that could help you get your tax bills under control.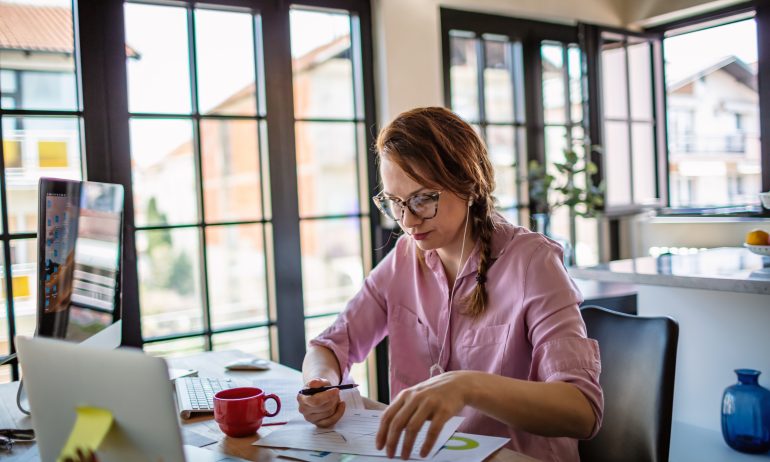 Many or all of the products featured here are from our partners who compensate us. This may influence which products we write about and where and how the product appears on a page. However, this does not influence our evaluations. Our opinions are our own. Here is a list of our partners and here's how we make money.
When taxes are delinquent or overdue, typically from previous years, they are referred to as "back taxes." And if you owe them, you might be wondering about tax relief.
Here are four common options that could help you find some tax relief, plus guidance on how to file back taxes and how many years you can file back taxes for.
If you need more time to pay your tax bill, the IRS will probably give it to you in the form of a payment plan. A payment plan will allow you to pay back your overdue tax bill (plus accrued interest and fees) as installments over a period of time.
The IRS offers two types of installment plans: short-term and long-term.
Maximum you can owe to qualify

Setup fee & payment methods

$100,000 in combined tax, penalties and interest.

$0 to apply online, by phone, by mail or in person. Pay balance by:

Withdrawals from your checking account or savings account (Direct Pay),

E-pay online or by phone via the IRS's Electronic Federal Tax Payment System, or

Check, money order or debit/credit card.

$50,000 in combined tax, penalties and interest.

If you pay through automatic debit withdrawals:

$107 setup fee to apply by phone, mail or in person.

Setup fee may be waived for low-income taxpayers.

If you pay by another method (e.g., Direct Pay, EFTPS or money order):

$225 setup fee to apply by phone, mail or in person.

$43 setup fee for low-income taxpayers; may later be reimbursed.

Taxpayers can also apply for an extended short-term payment plan of up to 180 days by contacting the IRS by phone or mail.
Here are a few things to know about getting tax relief via an IRS payment plan:
If you owe more than $25,000, you have to make your payments via automatic withdrawals from a bank account.

If you make your payments with a debit or credit card, you'll have to pay a processing fee. The charge for debit cards runs from about $2 to $4 per payment; the charge for credit cards is about 2% of the payment.

"Low-income applicant" generally means your adjusted gross income is at or below 250% of the federal poverty level. You can see if you qualify on IRS Form 13844.
You might be able to find tax relief through what's called an "offer in compromise." This lets you settle your back taxes with the IRS for less than you owe. According to the IRS, it may be an option if you absolutely can't pay your tax debt or if doing so creates a financial hardship.
But it's much harder to get the IRS to sign off on an offer in compromise than on a payment plan. The IRS accepts fewer than half the requests. You should explore other options before turning to an offer in compromise.
To determine whether you qualify for tax relief via an offer in compromise, the IRS considers your ability to pay, your income and expenses, and how much you have in assets.
Applying for an offer in compromise
The materials and instructions for submitting an offer in compromise are in IRS Form 656-B. Here are some things to know:
There's a $205 fee, and it's nonrefundable. (Low-income taxpayers can get a waiver.)

You'll need to make an initial payment, which is also nonrefundable.

You have to be current on all your tax returns. If you haven't filed a tax return in a while, you may not qualify.

The IRS can file or keep tax liens in place until it accepts your offer and you've fulfilled your end of the deal.

You don't qualify if you are in an open bankruptcy proceeding.

You can hire a qualified tax professional to help you do the paperwork, but it's not required.

Once you file your application, the IRS suspends collection activities.
If the IRS accepts your offer
Your initial payment has to be either 20% of what you're offering to pay (if you're paying in five or fewer installments) or your first monthly installment (if you're paying in six or more monthly installments).

Be aware that some of the information about your offer in compromise could be made public. The IRS's public inspection files on offers in compromise include the taxpayer's name, city, state, ZIP code, liability amount and offer terms.

Any federal tax liens the IRS has filed against you don't go away until you've fulfilled your end of the deal.
3. "Currently-not-collectible" status
Here are some things to know about this form of tax relief:
It's temporary — the IRS may review your income annually to see if your financial situation has improved.

Being deemed "currently not collectible" doesn't make your tax debt go away.

The IRS can still file a tax lien against you.
Federal: $24.95 to $64.95. Free version available for simple returns only.

All filers get access to Xpert Assist for free until April 7.

Promotion: NerdWallet users get 25% off federal and state filing costs.

Federal: $39 to $119. Free version available for simple returns only.

TurboTax Live packages offer review with a tax expert.

Promotion: NerdWallet users can save up to $15 on TurboTax.

Federal: $29.99 to $84.99. Free version available for simple returns only.

Online Assist add-on gets you on-demand tax help.
4. Hiring a tax-relief company
Tax-relief companies typically offer to help taxpayers in distress. Some of them can be helpful if you're confused about the process or need help filling out forms. But remember:
The IRS rejects most applications for offers in compromise.

If a tax-relief company loses or delays your application, you're still on the hook for your tax debt, interest and penalties with the IRS.

You may have to pay an upfront fee to the tax-relief company, and it may be a percentage of the tax you owe. That fee may be higher than what you end up saving on your tax bill if the IRS accepts your offer in compromise (and it might not be refundable if the IRS rejects your offer).

Tread carefully, the Federal Trade Commission warns: "The truth is that most taxpayers don't qualify for the programs these fraudsters hawk, their companies don't settle the tax debt, and in many cases don't even send the necessary paperwork to the IRS requesting participation in the programs that were mentioned. Adding insult to injury, some of these companies don't provide refunds, and leave people even further in debt."
Some tax-relief companies will charge you a fee to determine how much you owe the IRS, set up a payment plan or see if you qualify for an offer in compromise. But these are things you can often do yourself for free:
Find out whether you have a balance outstanding with the IRS and how much it is. You can get that (and up to 24 months of your payment history) at IRS.gov/account. Signing up takes about 15 minutes, and the IRS says you'll only need to verify your identity once.

Get your tax records. The IRS provides five types of free tax transcripts that let you peek at its records on you. For example, you can see most line items from your tax returns processed during the last three years or get basic data such as your marital status, how you paid and your adjusted gross income for the current tax year and for up to the last 10 years. (Note that a tax transcript isn't the same as a copy of your tax return.)

Set up a payment plan with the IRS, as described above.

See if you qualify for an offer in compromise. You can use the IRS's online pre-qualifier tool to see if an offer in compromise might be for you. Remember, the tool is just the beginning of the journey — you'll still need to complete a formal application.
Frequently asked questions
How do you file back taxes?
How many years can you file back taxes for?
What are the advantages of filing back taxes?
---
Find the tax-relief company that's best for you
We've weighed the pros and cons of some major players in the space.
Free initial consultation.

$295 investigation fees. (NerdWallet users get 50% off these fees by using the code NERD50.)

Average resolution fees run from $3,000 to $5,500.
Refunds possible within 14 days. If negotiations with IRS fail to reduce liability, investigation fees are refunded.
Free initial consultation.

Average resolutions fees run from $995 to $5,000.
Phone, email, mail and online portal.

Refunds available within 15 days of enrollment. After 15 days, refunds are possible but limited.
Free initial consultation.

Free investigation phase.

Resolution fees start at $500 and run from $1,500 to $5,000 on average.
Some case managers are also enrolled agents, CPAs or attorneys.

Refunds possible but limited.
Get more smart money moves – straight to your inbox
Sign up and we'll send you Nerdy articles about the money topics that matter most to you along with other ways to help you get more from your money.