Inside San Francisco's Expanded Centurion Lounge (Now Double Its Former Size)
The lounge's recent renovation seems to have alleviated overcrowding while adding a fresh aesthetic.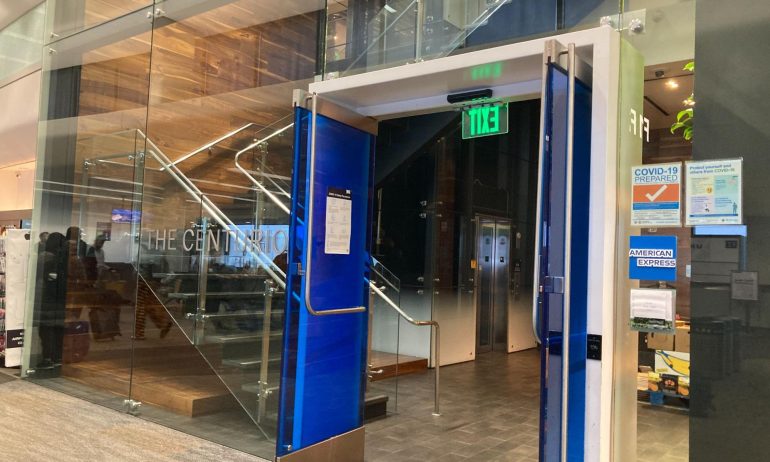 Many or all of the products featured here are from our partners who compensate us. This influences which products we write about and where and how the product appears on a page. However, this does not influence our evaluations. Our opinions are our own. Here is a list of our partners and here's how we make money.
One of the most-challenged Centurion Lounges in terms of overcrowding had been the one at San Francisco International Airport (SFO), which opened in 2014 as AmEx's first West Coast location. Perhaps it's unsurprising, given The Platinum Card® from American Express's annual fee of $695 typically demands a wealthier clientele. Terms apply.
And in the San Francisco Bay Area, where May 2021 U.S. Bureau of Labor Statistics data shows the average hourly wages are 49% above the nationwide average, there's a larger pool of potential candidates for card ownership.
So in 2022, San Francisco's Centurion Lounge took a big step in solving the overcrowding problem by shutting down for renovation and expansion. So, is the Centurion Lounge open at SFO now? Yes, it reopened on the last day of 2022, coming in at 16,000 square feet, which is nearly double its former size.
The old SFO AmEx lounge used to consist of two living room-type areas plus a large dining area next to the buffet. The recent renovation offers far more places to eat, drink and lounge — most notably, there are two bars and two buffets. Restrooms are larger, and there are even a few private phone rooms.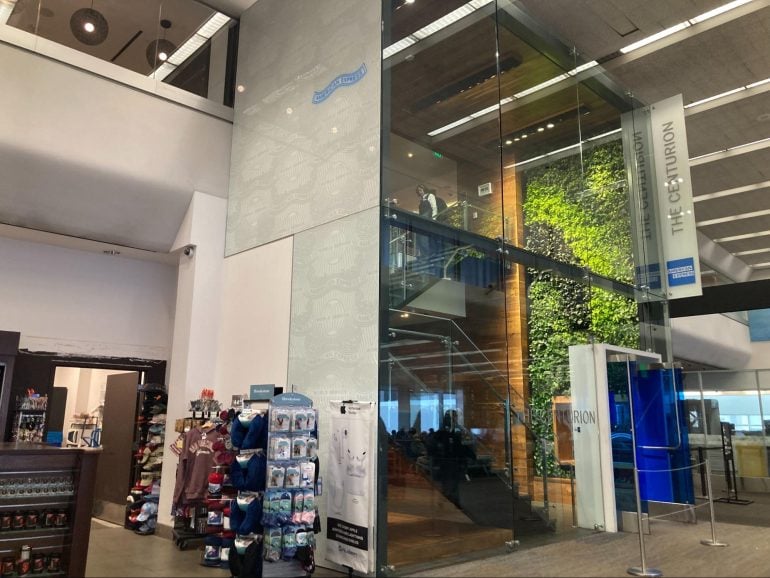 American Express invited me in for a tour, which transpired on a Wednesday in January around the middle of the day. Here's what you'll find inside the Centurion Lounge at SFO, starting with the best part: the food.
Food and beverage options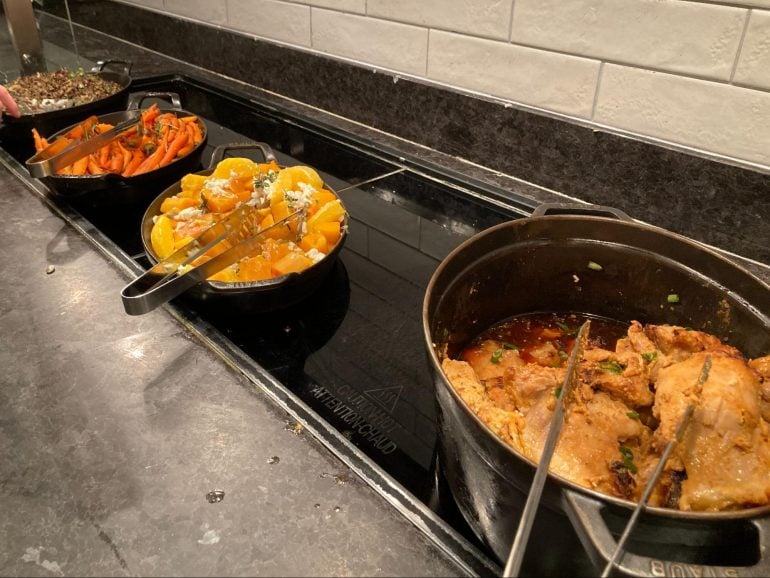 It's not just me who prioritizes lounge food — basically, everyone else does, too. In a November 2022 AmEx Trendex survey of 2,000 travelers, 64% of respondents said that premium food and beverages are their favorite parts of airport lounges.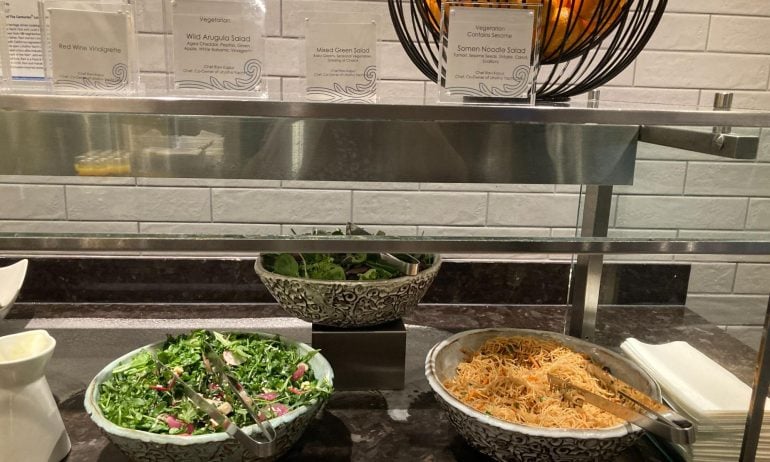 The SFO Centurion Lounge menu at this buffet is designed by Ravi Kapur, the Executive Chef at Liholiho Yacht Club, a popular restaurant in San Francisco. Dishes are a fusion of flavors inspired by Kapur's lineage (Kapur, born in Hawaii, has a Hawaiian-Chinese mother and his father is from India).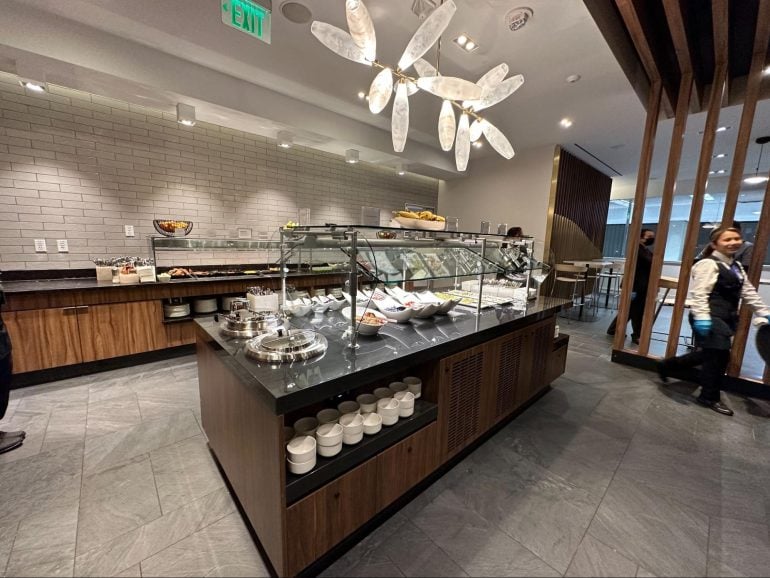 The first of the lounge's two buffets is located in the same spot as the original. It's mostly the same aside from a few minor changes, such as a new backsplash.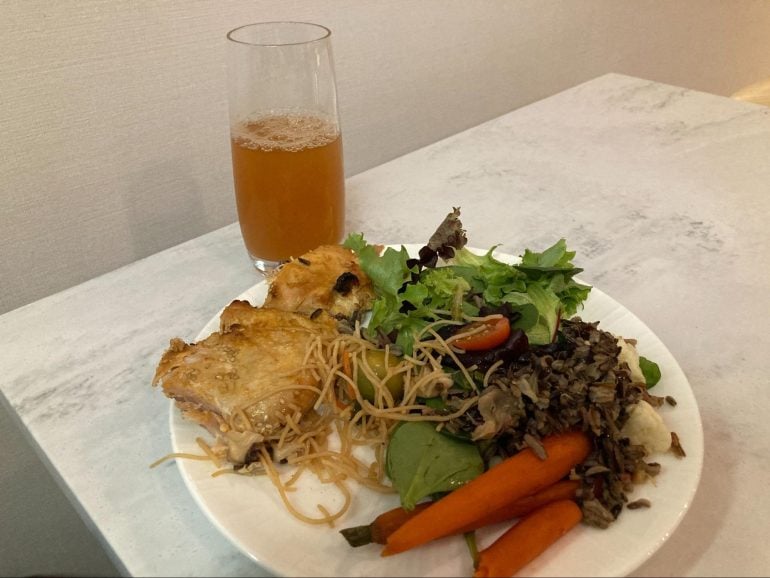 This buffet serves hearty food that feels relatively healthy, creative and fresh — a nice mix from stereotypical airport food.
Menu items in this section of the San Francisco Centurion Lounge include:
Gochujang-marinated chicken thighs.

Baby carrots cooked with black vinegar, honey and sesame seeds.

Roasted red cabbage and wild rice with golden raisins, dill and mint.

Roasted garnet yams in miso-honey butter.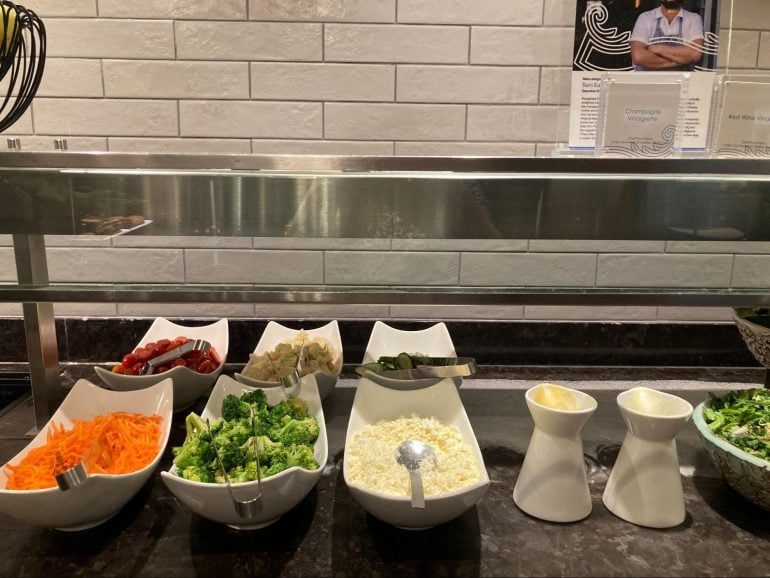 There's also a salad bar that's a step up from generic greens and croutons. The variety of self-serve toppings includes broccoli and cauliflower, making it far easier to eat healthy while traveling.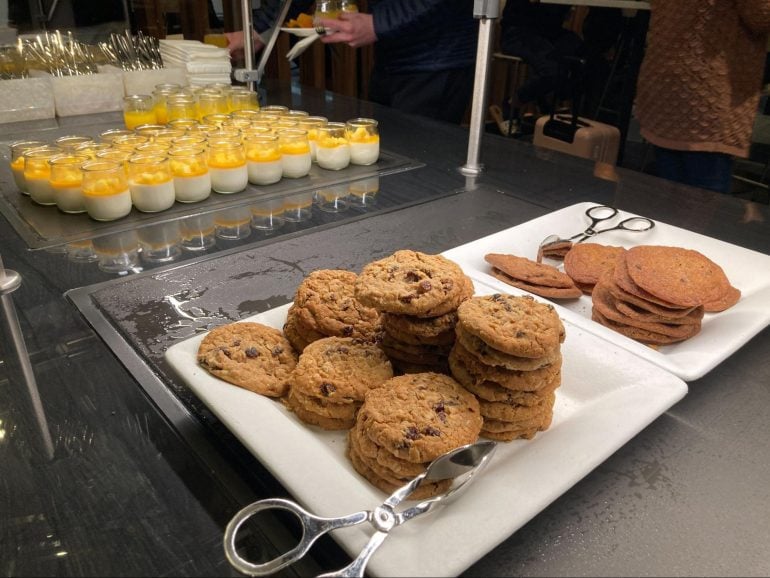 New to the main buffet is a center island devoted entirely to desserts, including cookies and mango panna cotta.
Meanwhile, the second buffet leans toward bar bites. Venture across a long walkway and you'll be greeted by a buffet with menu items that are completely different from the others.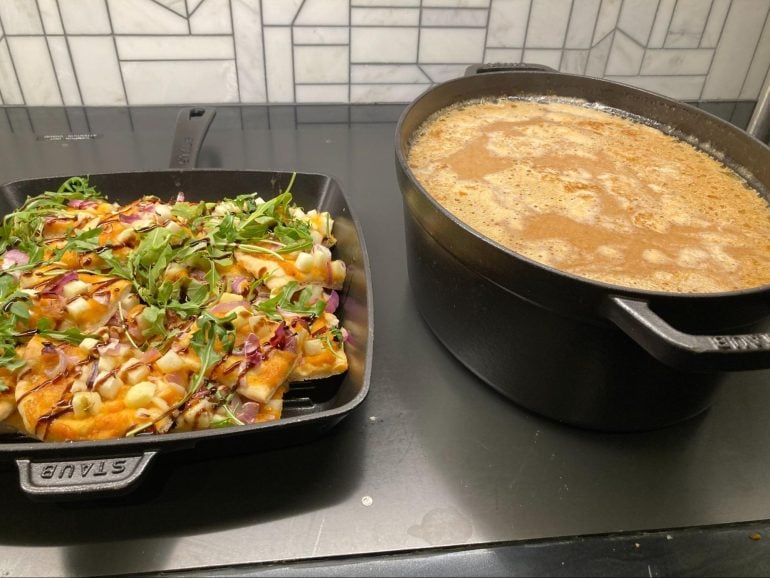 The second buffet menu includes options like:
Butternut squash flatbread with goat cheese, citrus, pepitas and mint.

Turmeric chicken skewers.

Roasted tofu and pineapple.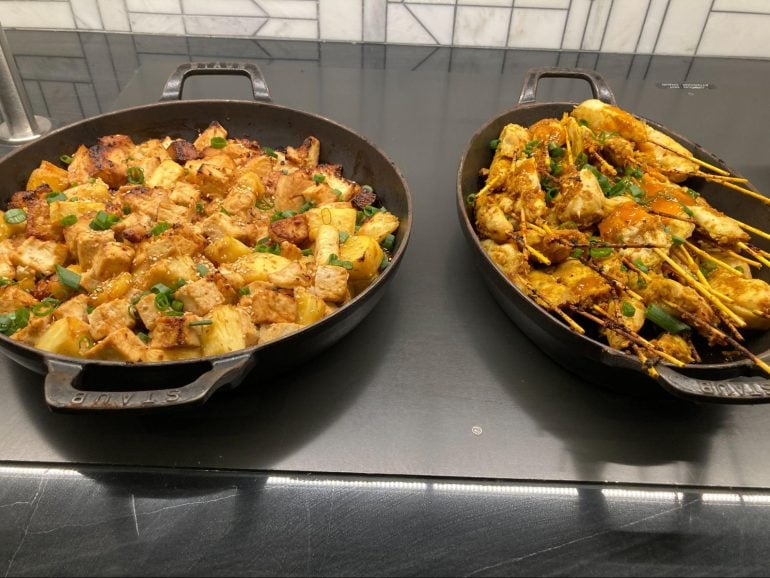 It all adds up to excellent protein options for vegans and carnivores alike.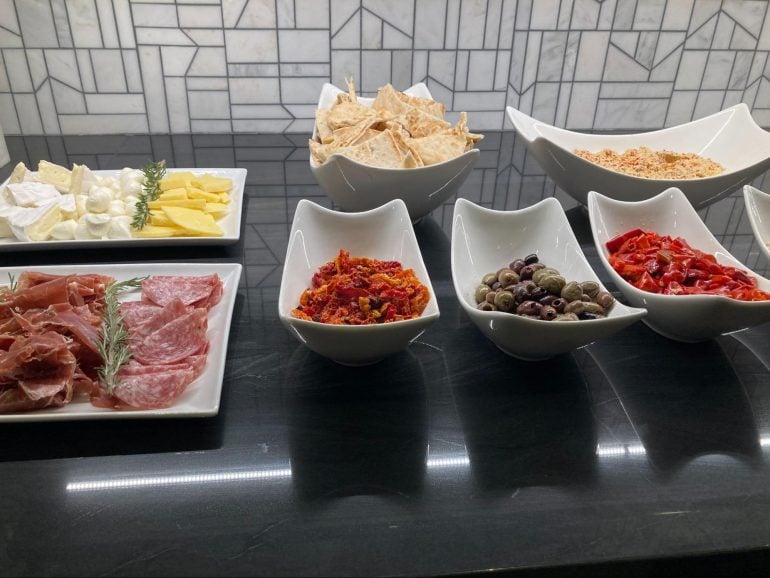 There's also a charcuterie area with a variety of cheeses, prosciutto, salami, pita chips, olives and hummus.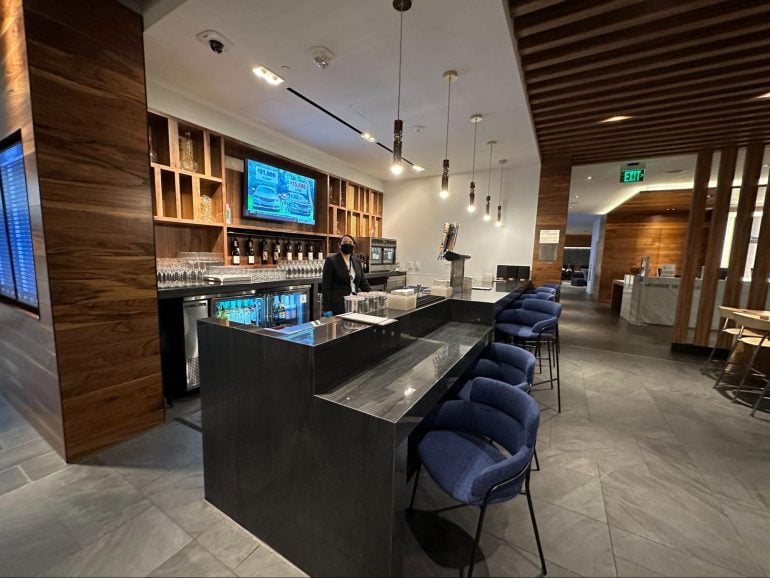 Upon entering the lounge, the bar is likely the first thing you'll see. The bar menu centers around specialty wine flights highlighting four regional wines curated by Anthony Giglio, a sommelier and author.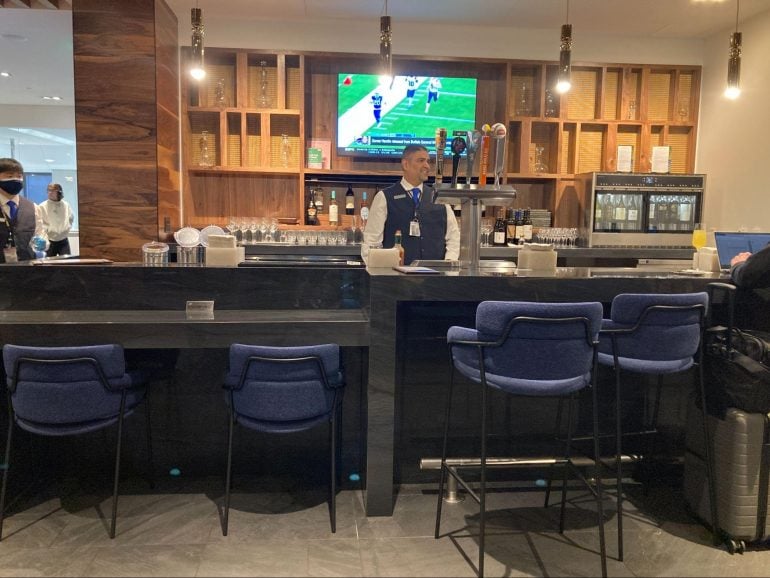 The bar is a fixture from the original lounge, but it got some updates, including an area that's wheelchair accessible.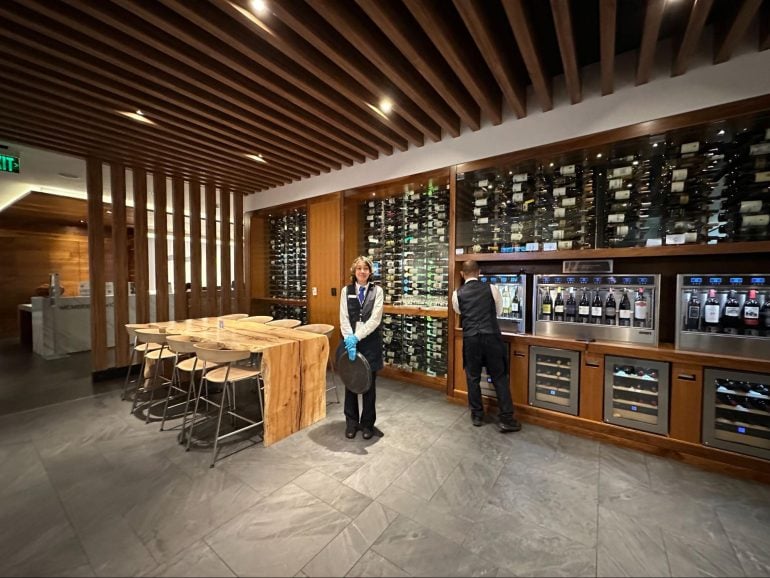 There's also a wine wall with seasonal wines from across California, a holdover from the original incarnation of the lounge.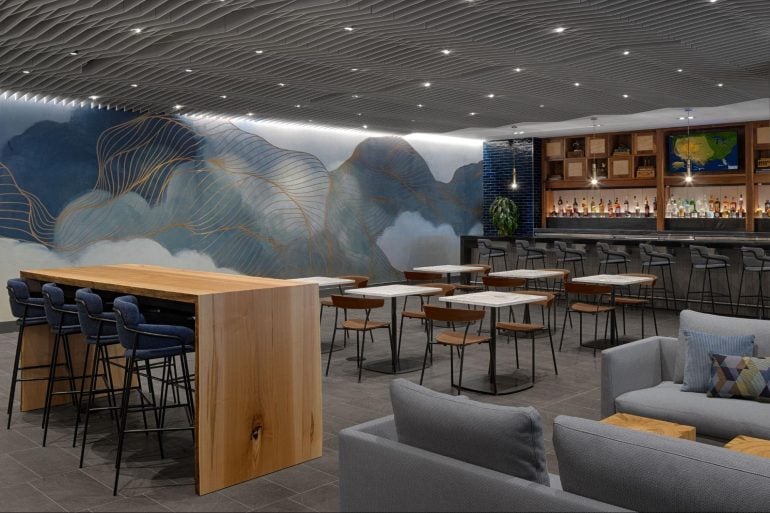 Then, there's an entirely new bar in the back room, which is much bigger relative to the original bar.
Coffee and nonalcoholic options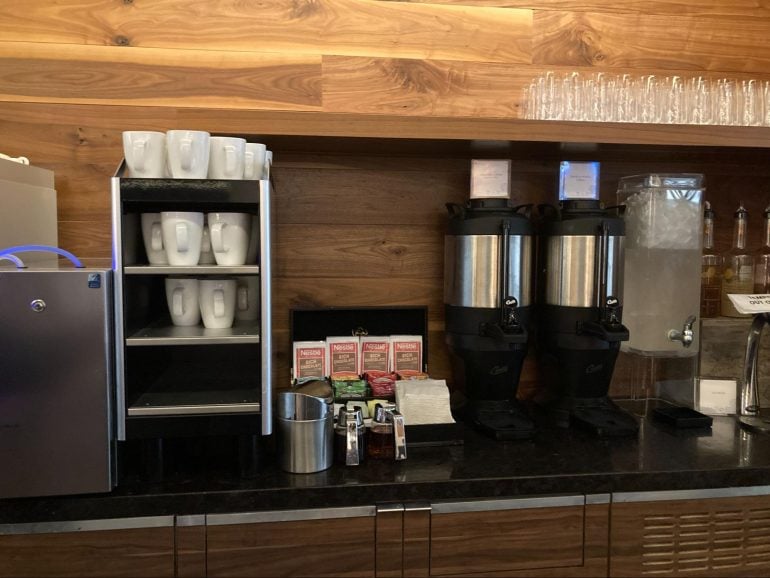 Nonalcoholic choices can be found at a self-serve bar with hot chocolate, teas and flavored water.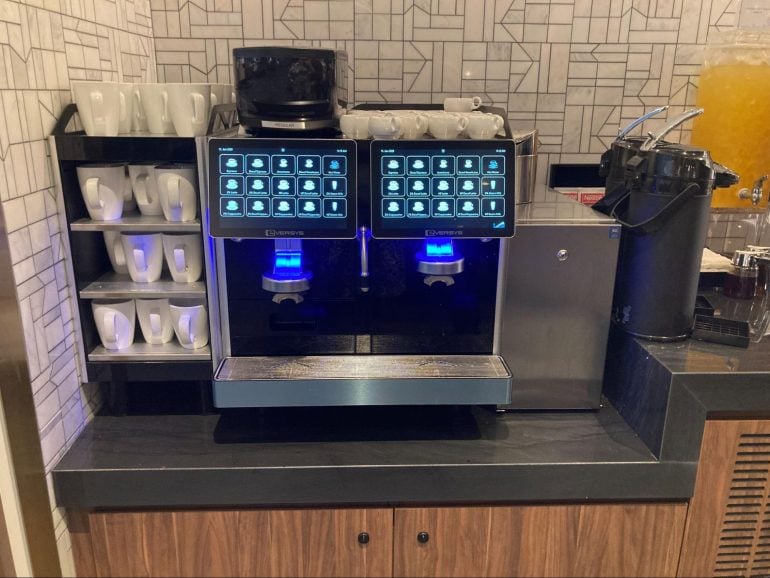 The espresso machine is fairly standard.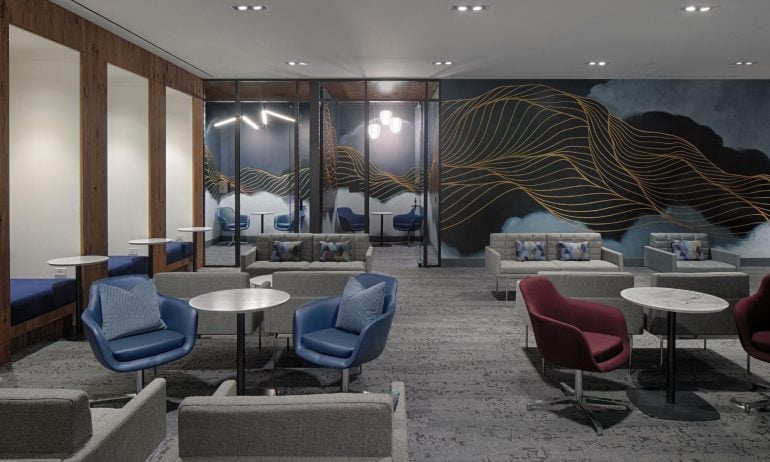 Inside are two custom floor-to-ceiling wallcoverings by abstract artist Tracie Cheng.
Some design styles that were hot in 2014 have been refreshed for the new decade. Neon green pops of color have been replaced with muted, darker tones. American Express said the new interior design "takes cues from the local vineyards, landscape and the iconic San Francisco fog to give guests a sense of relaxation."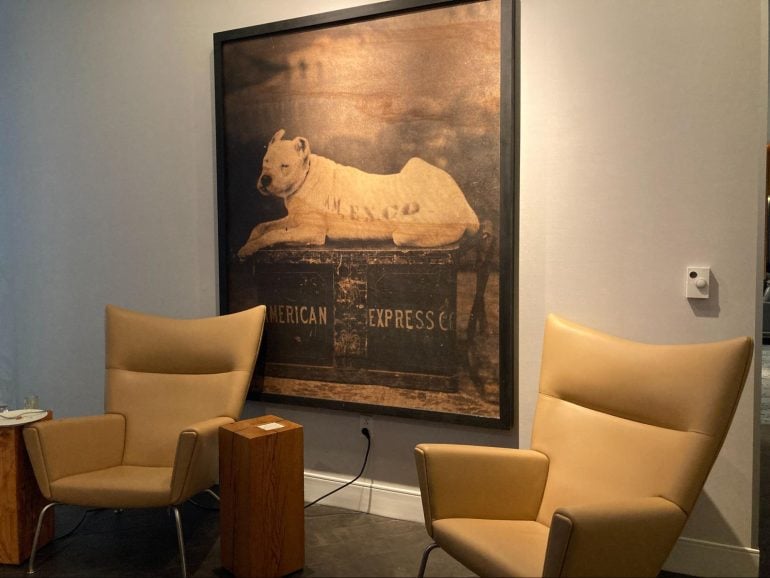 With the lounge expansion comes more seating options. An entirely new, living room area has dozens more seats, with arrangements including couches, plush swivel chairs and booths.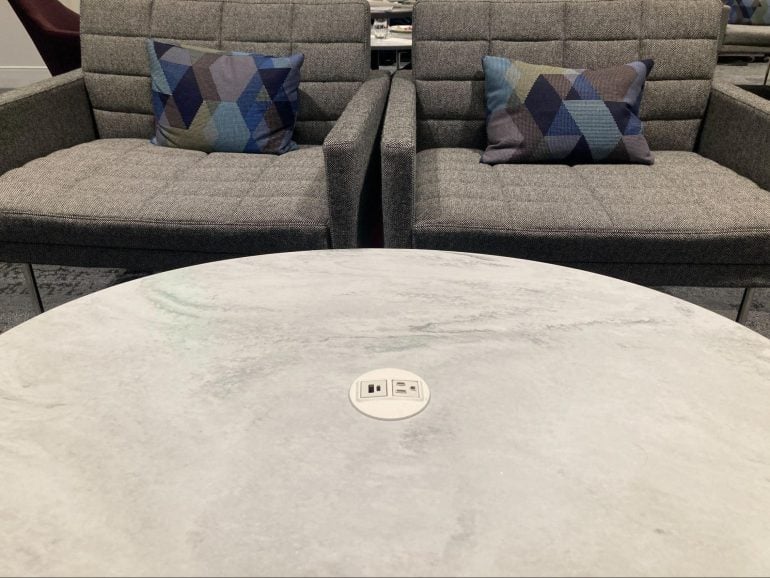 On a practical level, there's plenty of power outlets, including some built directly into tables to cut back on rogue cords everywhere.
The bathroom area has been massively expanded with more stalls. In the past, wait times for the loo were common. The new bathrooms offer pleasant touches like elegant tiling and L'Occitane amenities.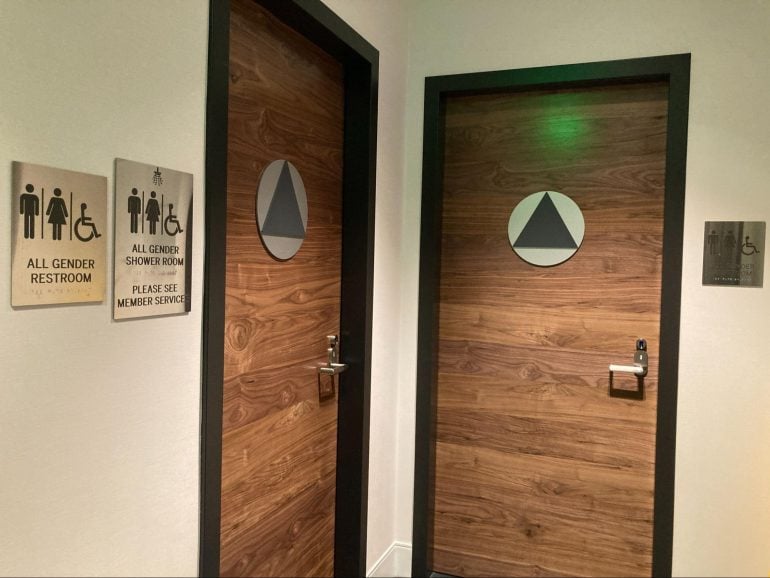 There's also now an all-gender restroom and shower room.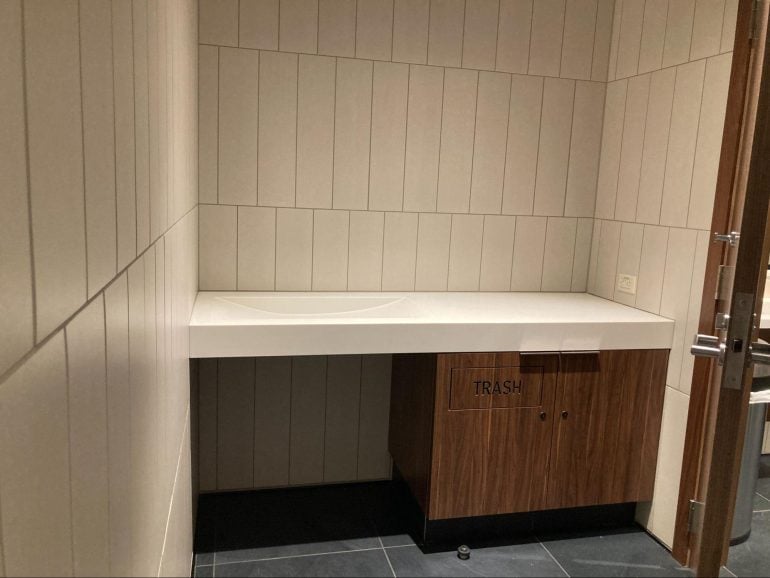 Other upgrades include a custom baby-changing table, an improvement over the generic plastic one.
Centurion member-only areas
Getting into the lounge is exclusive enough, but two specific seating areas are even more exclusive — reserved for Centurion members only. Centurion membership is for the most elite AmEx customers, and it's invitation only.
Public details on Centurion membership are minimal, but rumor has it that the annual fee costs many thousands of dollars, and benefits include an Equinox gym membership and a personal concierge. It also includes perks like automatic elite status in a handful of travel programs. One example is Hilton Honors Diamond elite status, which includes bonus points, a daily food and beverage credit, room upgrades (if available) and executive lounge access.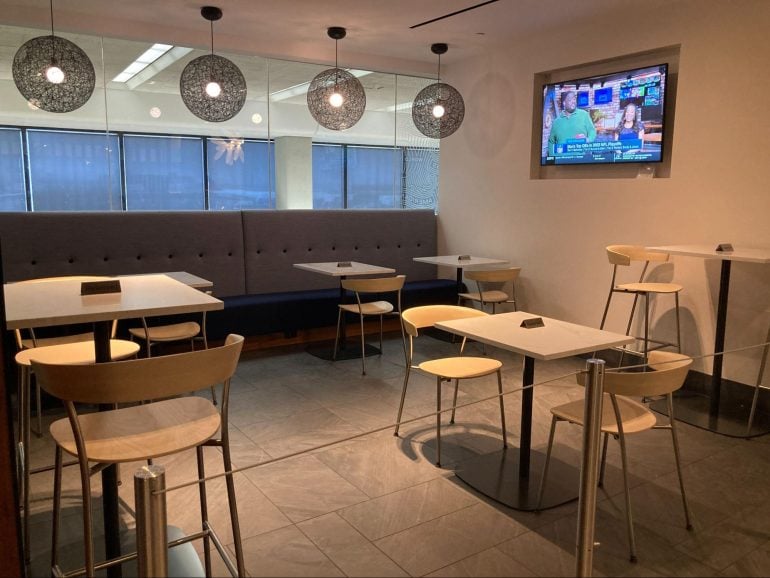 I only saw one guest enter one of the Centurion member-only areas during my hourlong visit. Though, a staff member said that the SFO Centurion Lounge, alongside Las Vegas and Hong Kong lounges, gets the highest Centurion member traffic. She estimated about three dozen Centurion members visit SFO's lounge each day.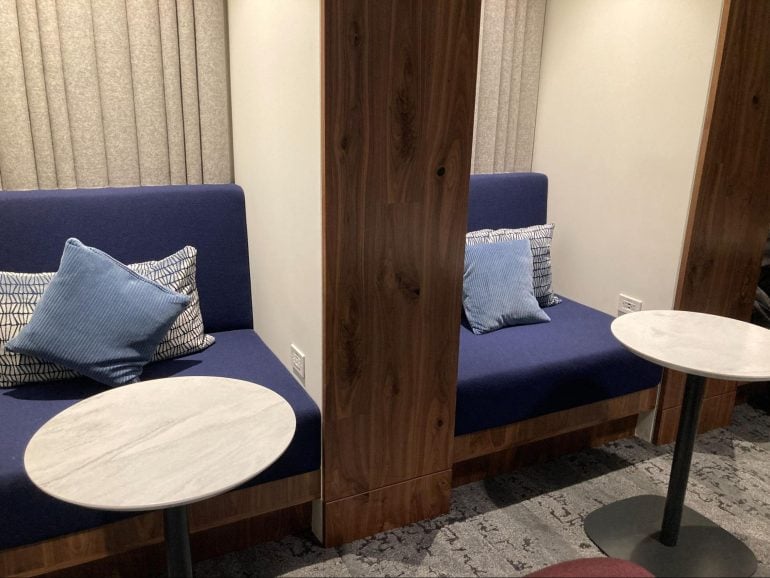 I set foot in the lounge around 11 a.m., and it felt semi-crowded. There was seating for everyone, but you couldn't be choosy. The cozy nook seating with built-in power outlets got snapped up quickly — but bar seating on tall, firm stools was aplenty.
Lunch items hit the buffet at 11:15 a.m. sharp — upon which people swarmed the steaming platters. But by noon, crowds had largely subsided, presumably aligned with flight schedules.
My visit coincided with the bizarre Federal Aviation Administration outage that halted flights nationwide and led to thousands of cascading delays and cancellations, so crowds might have been heavier than usual as lingering guests waited for disrupted flights.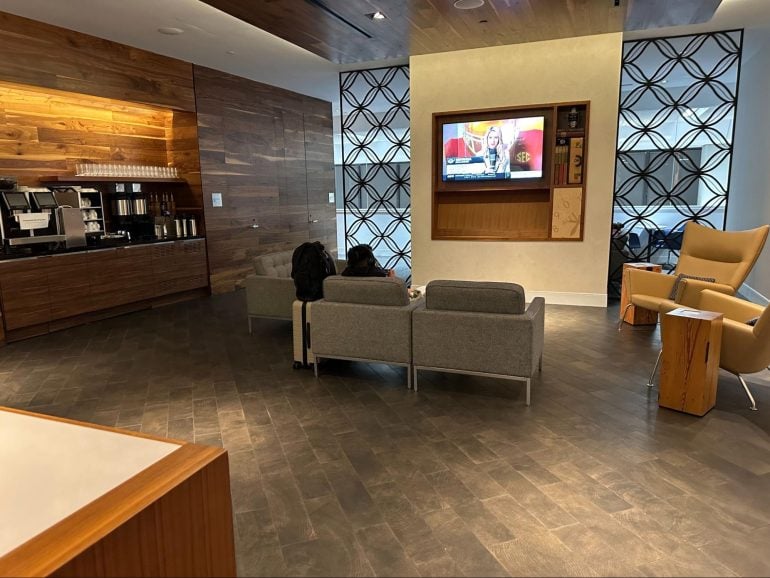 Noise levels were appropriately energetic. It was far too loud to hear crickets (of which there were none in the highly-sanitized environment), but also struck the balance of "loud enough that no one else would eavesdrop on my conversation" and "I can think and hear my own thoughts."
How to get into the Centurion Lounge at SFO
The rules around Centurion Lounge access are clearly spelled out on its website, but even still, some folks can't seem to figure it out. As I was escorted in, my guide whisked me right past the check-in desk, but not fast enough for me to eavesdrop on a woman having a frantic, angry phone call with someone complaining that the lounge wouldn't admit her in, despite her being an AmEx card holder. For what it's worth, many high annual fee AmEx cards, including the American Express® Gold Card and the American Express® Green Card, do not offer lounge access (and don't purport to). 
Here's how to get inside:
Holding The Platinum Card® from American Express isn't the only way to access the lounge. It's also accessible to holders of a few other American Express cards, as well as Centurion members.
Cards eligible for access include:
Simply holding a card and paying the hefty annual fee isn't enough to waltz your way in on a whim. There are a few other rules.
You may enter before a departing flight only, so you can't land at an airport with a lounge and head inside (unless it's a layover or connecting flight). There's also a time limit; you're only welcome within three hours of the stated departure time on your boarding pass.
Understand the guest policy
As of Feb. 1, 2023, most cardholders lost the ability to bring in two guests at no additional cost. Centurion Lounge complimentary guest access is now only available to those who spend $75,000 in eligible purchases on their card each calendar year. By completing this requirement, cardholders will be able to bring two guests per visit.
Otherwise, guest fees are $50 for adults and $30 for children ages 2 through 17, all of whom must be accompanied by a cardholder. 
That may take a huge chunk of value out of cards like The Platinum Card® from American Express. Many cardholders who traveled with friends used the guest privileges to justify the card's $695 annual fee. Terms apply
For people who travel with a buddy and don't otherwise meet the $75,000 minimum spending requirement, that buddy will likely have to apply for their own card to avoid paying that guest fee. Or, cardholders can add an authorized user to their The Platinum Card® from American Express, though there's a fee to do that too: $175, which lets you add up to three additional cards. If you take full advantage and add three people, it comes out to $58 per authorized user per year. Terms apply.
These two calculators can help you assess whether it's a better value for travel buddies to have their own card, versus joining as an authorized user.
Know how to navigate the SFO airport (to literally get inside)
Where is the Centurion Lounge at SFO? The lounge is located in Terminal 3 on the airport's mezzanine level. Though it's accessible to travelers departing from other terminals, some might have to go through security twice. Terminal 3 only has a post-security connector to Terminal 2 (Gates C2 through D18) and International Terminal G (Gates G1 through G14).
Folks flying out of International Terminal A (Gates A1 through A15) and Harvey Milk Terminal 1 (Gates B1 through B27) will need a same-day ticket to go beyond checkpoints, and they'll have to exit Terminal 3 and re-enter their own terminal to board their flight.
Other SFO lounges to consider
Though, it's not the only lounge at SFO that cardholders of The Platinum Card® from American Express can enter.
Access to the Delta Sky Club is also complimentary for cardholders when flying on a same-day Delta-marketed or Delta-operated flight, and many travelers argue that SFO's Delta Sky Club is actually superior. And since that lounge is located in Terminal 1, you wouldn't have to enter security twice to board a Delta flight.
Cardholders can also access lounges in the Priority Pass network. San Francisco's Priority Pass lounges are generally inferior in quality to the Centurion Lounge, but there's one big reason why they might win: cardholders can bring one guest into the lounge at no charge.
But for folks not flying on Delta or who are flying solo, it's hard to argue why it wouldn't be worth making a stop in.
The question for most is whether holding one of those high-annual-fee, access-granting cards is worth it. For frequent flyers who would otherwise pay for airport refreshments, it very likely is.
For people who only fly out of SFO (or other airports with Centurion lounges), the value of cards like The Platinum Card® from American Express relies more heavily on other benefits, which include monthly Uber Cash credits, an annual Equinox credit and an annual Clear credit. Terms apply.
Curious if The Platinum Card® from American Express is worth its annual fee for you? Use this calculator:
Is the AmEx lounge at SFO worth it? 
To quote Amanda Ling in "Crazy Rich Asians," "No one loves free stuff more than rich people." And for what it's worth, the free food, drinks and blissful respite of the AmEx Centurion lounge at SFO is tough not to love.
People go gaga for airport lounge access, and before the expansion, many were willing to wait in long lines for the privilege of getting inside. Many folks intentionally arrive early and camp out in the lounge on their laptops, as the work environment tops any cubicle.
It's easy to see why. Food quality is likely the best you'll find anywhere in the airport. The abundance of outlets saves you from hunting for one within the main terminal, and you won't have to cram your bag into a dirty restroom stall.
Now that the lounge is larger, the odds of a waitlist are significantly reduced, which makes a visit hard to pass up.
All information about the American Express Corporate Platinum Card®, The Centurion® Card from American Express, the American Express® Green Card and the American Express Business Centurion Card has been collected independently by NerdWallet. The American Express Corporate Platinum Card®, The Centurion® Card from American Express, the American Express® Green Card and the American Express Business Centurion Card are no longer available through NerdWallet.
---
How to maximize your rewards
Get more smart money moves – straight to your inbox
Sign up and we'll send you Nerdy articles about the money topics that matter most to you along with other ways to help you get more from your money.