The Guide to Emirates Premium Economy
Emirates premium economy costs roughly twice as much as standard economy, but offers a surprising amount of luxury.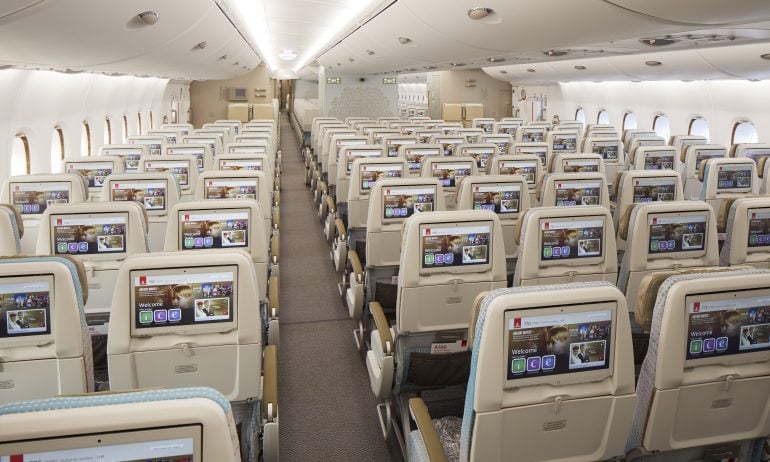 Many or all of the products featured here are from our partners who compensate us. This influences which products we write about and where and how the product appears on a page. However, this does not influence our evaluations. Our opinions are our own. Here is a list of our partners and here's how we make money.
At first glance, Emirates Airlines — perhaps best known for its first-class luxury suites with onboard shower — might not appeal to budget-minded travelers. But a fairly recent development has been positive for passengers seeking a mid-tier flight experience: Emirates premium economy.
Emirates premium economy tends to serve that sweet spot between the fancy first class suites but at a price point far closer to the standard economy fares. For folks who want a finer flying experience but don't want to shell out big bucks for lie-flat seats, the premium economy experience on Emirates will likely fit the bill.
Learn about the Emirates premium economy experience, including eligible routes, typical costs and what to expect when you fly.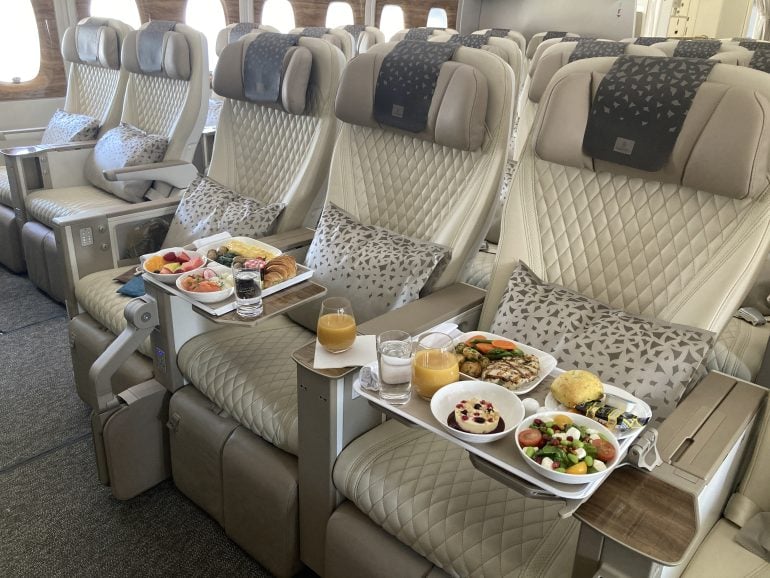 One of the main benefits of flying Emirates premium economy is the extra space versus Emirates standard economy seats.
Emirates premium economy seats offer 40 inches of legroom pitch and a seat that's 19.5 inches wide. For comparison, economy seats provide 32 to 34 inches of legroom pitch and are 17.5 inches wide.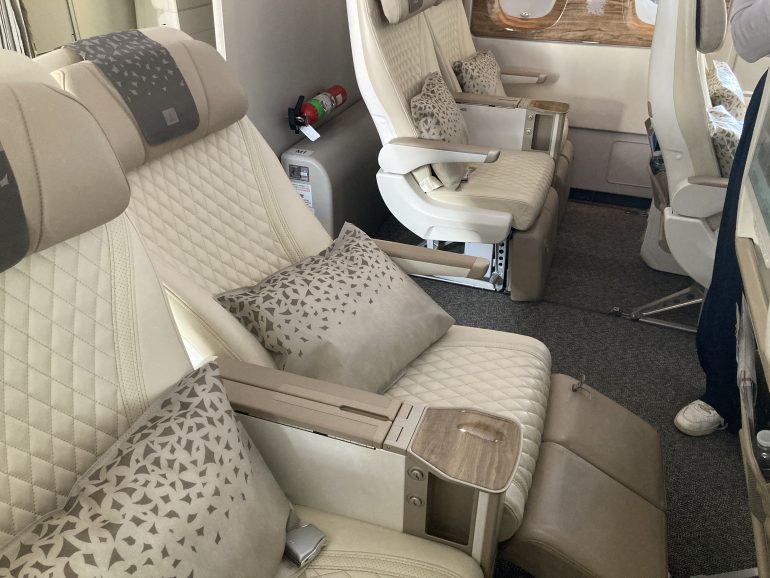 Emirates premium economy also offers 8 inches of recline, which is especially helpful if you're trying to nap on a long-haul flight. And it's totally okay to put your feet on the seats — thanks to the cushioned leg rests, augmented by adjustable headrests.
The seats themselves are cream-colored leather and include a wood-grain table.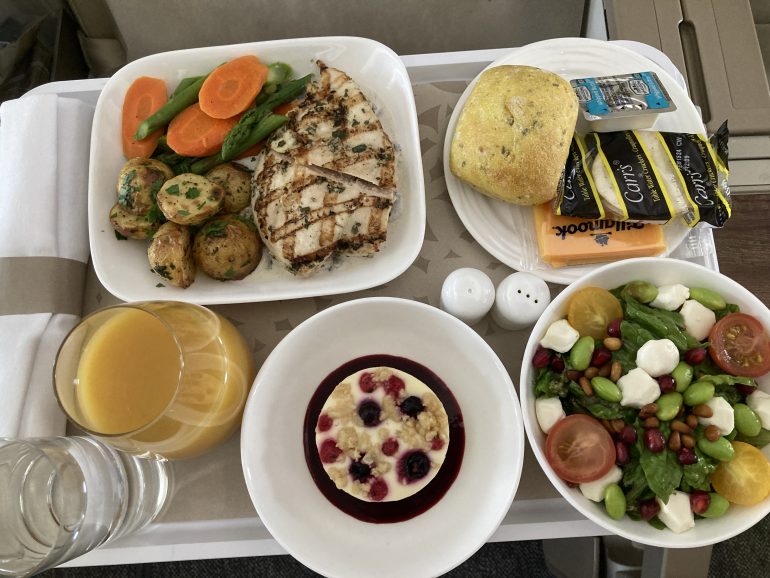 The Emirates premium economy class dining experience more closely resembles what you'd expect in Emirates business class versus Emirates economy class. For starters, food is served on Royal Doulton china tableware with stainless steel cutlery wrapped in linen.
That'll sit atop a polished woodgrain dining table which folds neatly into your seat when not in use (no awkward seat back tables that move every time the passenger tosses in the seat in front of you). There's also a side table to rest your glass.
As far as the beverage menu goes, expect elevated classics like Chandon sparkling wine, extra vintages from the Emirates Business Class list, as well as chocolates and liqueurs.
For longer flights, Emirates also serves up a secondary meal, which is typically lighter (like a sandwich or pizza).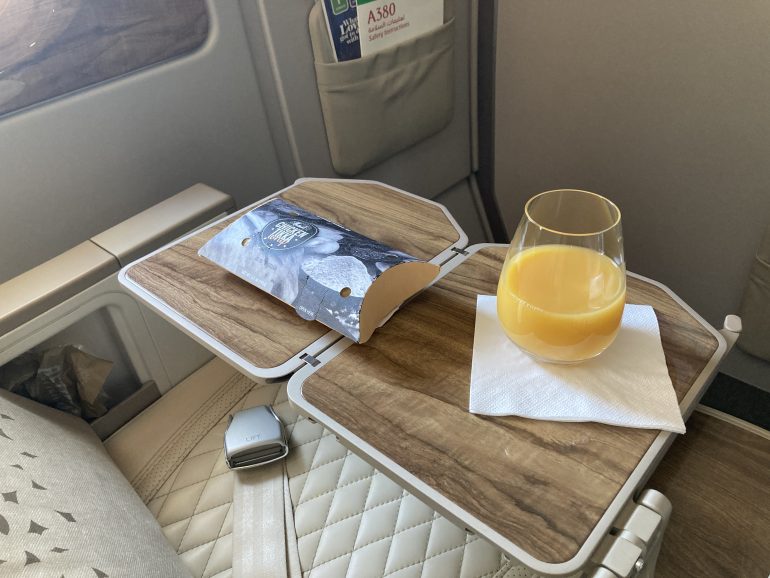 A sample Emirates premium economy menu might include:
Wines. Chandon Brut Vintage (2012), Laurenz V. Charming Gruner Veltiner (2016) and Chapoutier Tournon Shays Flat Shiraz (2014).

Breakfast. A classic omelet served with sauteed mushrooms, roasted potatoes and spinach, fresh seasonal fruit and a choice of bread.

Snacks. Vegetarian pizza, fruits and snack bars.

Dinner. Thai pepper beef or grilled chicken, with an antipasti salad appetizer and coconut sago pudding for dessert.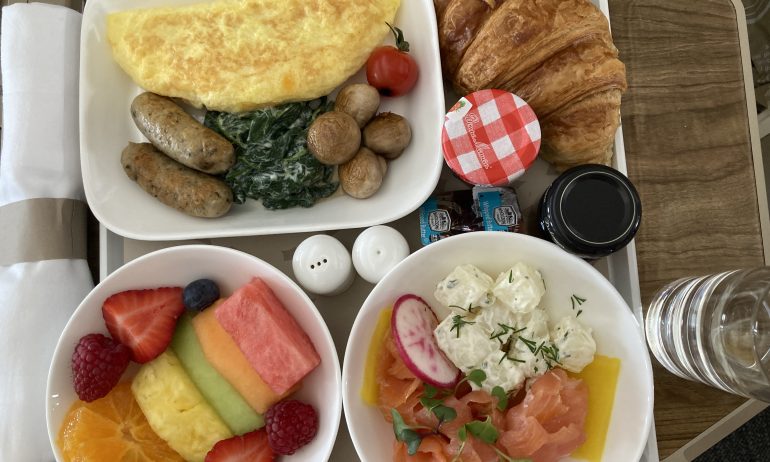 If you have any allergies or dietary requirements, you can request a special meal up to 24 hours before your flight using the "Manage Your Booking" feature on the Emirates website.
You can use the following website to find out what food will be served on your Emirates flight before you take off: Premium Economy dining.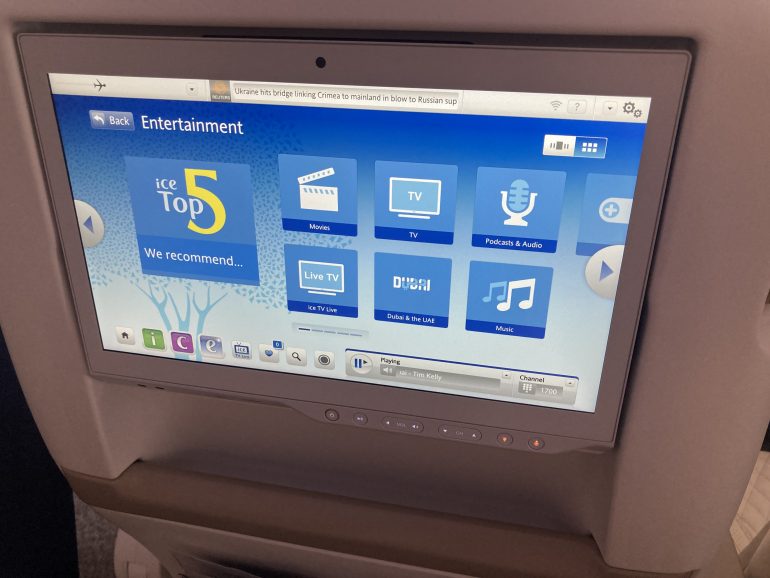 Save yourself the cost of several movie tickets and enjoy Emirates' award-winning entertainment system. The 13.3-inch seat-back screens offer thousands of entertainment options — movies, TV, music, games and even language-learning applications.
The latest A380 aircraft also features a higher-speed Wi-Fi service.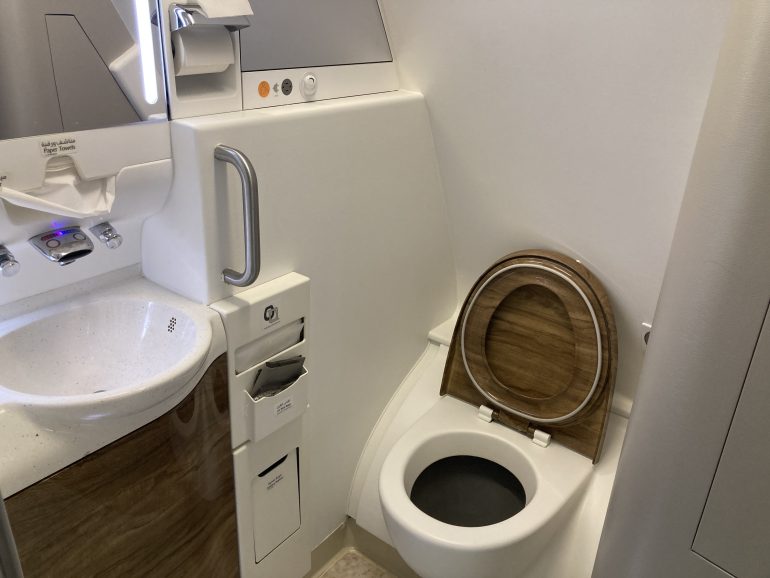 When you sit in Emirates premium economy, you'll share the same bathroom facilities as the folks in standard economy.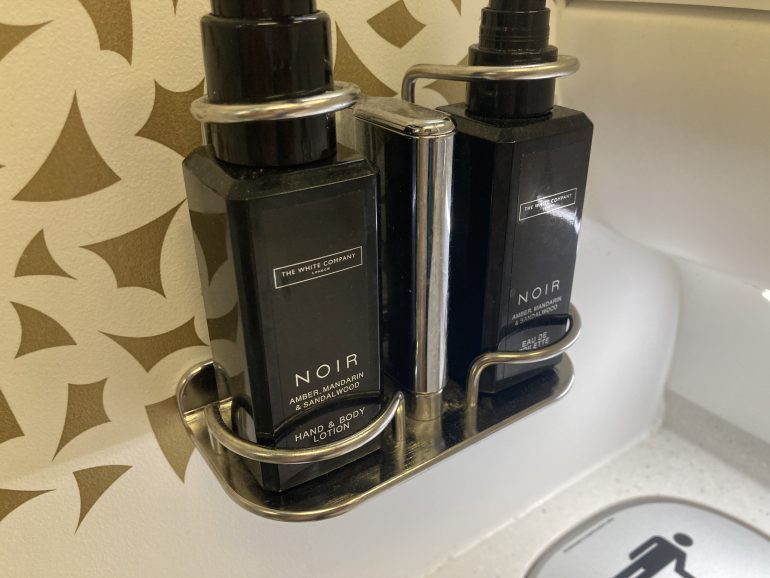 While not as luxurious as the first class bathrooms, the Emirates bathrooms are slightly more spacious and fancier than what exists on most airlines. The bathrooms have some extra pleasant touches, like high-end, scented soaps and lotions that can feel especially calming when you're otherwise trapped in a crowded cabin flying over the ocean.
The overhead bins are spacious. But if you'd rather not have to lug your stuff to the airport, you might as well check your luggage. The Emirates premium economy class checked baggage policy is far more generous than what you get in standard economy. Here are the Emirates bag policies, by region, and compared across fare classes:
| | | | | |
| --- | --- | --- | --- | --- |
| Flights to and from the Americas and Africa (except flights within the Americas and between US and Europe) | One piece up to 23 kg for Special fares. Two pieces up to 23 kg each for Saver, Flex, and Flex Plus fares. | Two pieces up to 23kg (50 lb) each. | Two pieces up to 32kg (70 lb) each. | Two pieces up to 32kg (70 lb) each. |
| Flights within the Americas and between the US and Europe | One piece up to 23 kg for Special and Saver fares. Two pieces up to 23 kg each for Flex and Flex Plus fares. | Two pieces up to 23kg (50 lb) each. | Two pieces up to 32kg (70 lb) each. | Two pieces up to 32kg (70 lb) each. |
| | 20-35 kg, depending on fare type. | | | |
The Emirates premium economy class checked baggage policy is especially unique when it comes to flights outside the Americas and Europe, as you can bring as many bags as you want — as long as you don't exceed the weight limit. In theory, you could check 35 bags that each weighed 1 kilogram, which might offer some passengers more flexibility.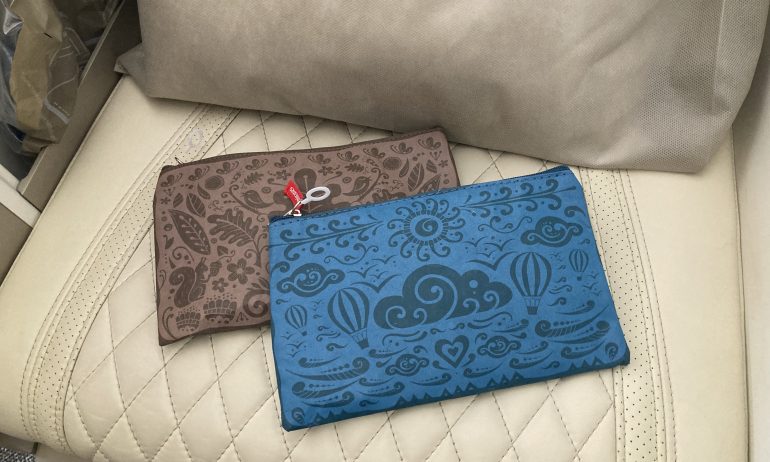 In addition to the extra space, several other amenities and perks come with flying Emirates premium economy, including:
Large pillows and soft blankets, designed explicitly for premium economy.

Placement in front of the aircraft.
That last point ranks among the top perks of flying Emirates premium economy: its location towards the front of the aircraft. That means you'll exit before economy passengers (which can be very helpful if you have a tight connection, are trying to avoid a long wait in customs or just want to get off the aircraft after a long flight).
Frequently asked questions
What aircrafts have Emirates premium economy?
What does Emirates premium economy look like?
Does Emirates premium economy earn more miles?
Current routes available with Emirates premium economy seats include flights between Dubai and:
Christchurch, New Zealand.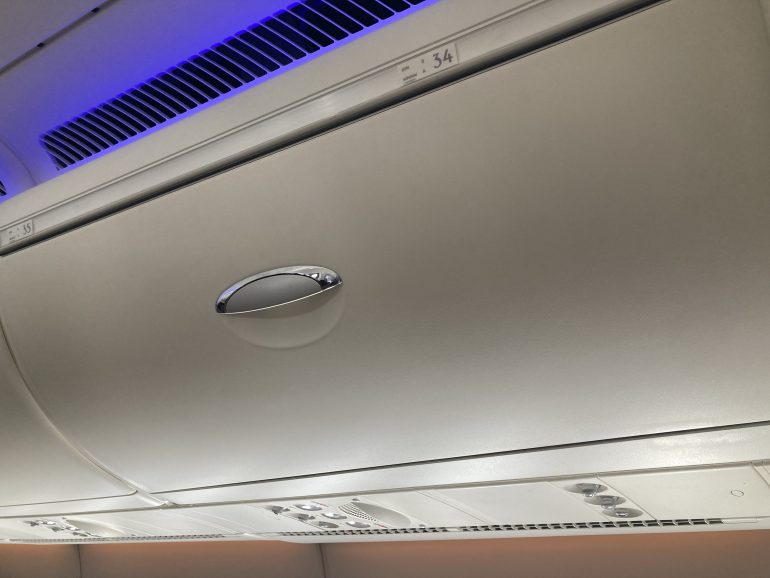 The cost of an Emirates premium economy ticket will vary depending on dates and routes. Still, we were able to find numerous premium economy tickets from Dubai, including routes such as Sydney to Dubai from around $2,300 and $3,100 round-trip (compared to $1,200-$1,400 in economy).
In general, expect to pay about double the cost of an economy ticket for Emirates premium economy. That said, prices constantly vary, so you might find a better or worse deal.
"Prices are always determined by market dynamics, including supply and demand, as well as a range of other factors," says Essa Sulaiman Ahmad, Divisional Vice President of USA & Canada. "We offer competitive fares in Premium Economy and across all of our other cabins for our customers. Fares vary depending on a number of factors, including supply and demand on any specific route."
For what it's worth, the airline stated that its premium economy fares are about 65% less than business class fares.
Booking Emirates premium economy fares on points
While the sweet spots for booking Emirates flights on points tend to exist in the airline's business and first classes, it's not necessarily a bad thing to spend credit card points or miles on Emirates premium economy class if it means you can save your cash. You can use your Skywards Miles to book flights to any Emirates destination in any class. To book on miles, select "Classic Rewards" to pay when you book online through the Emirates website.
NerdWallet values Emirates Skywards miles at 0.6 cent per mile.
Use NerdWallet's Skywards miles calculator to understand how much your miles are worth in dollars based on our valuation:
Of course, the exact value of a point varies on each flight, because cash prices constantly fluctuate. In general, Emirates miles tend to have a higher value for flights booked during peak winter holidays.
Does Emirates have a premium economy? Yes — the airline introduced a premium economy cabin in 2021 on some of its Airbus A380 aircraft. Since then, the cabin class has exploded in popularity.
Even still though, Emirates premium economy is currently offered to a select number of destinations. Luckily, it looks as though the number of routes with Emirates premium economy is increasing, with routes from Singapore and Los Angeles joining the fleet map in summer 2023.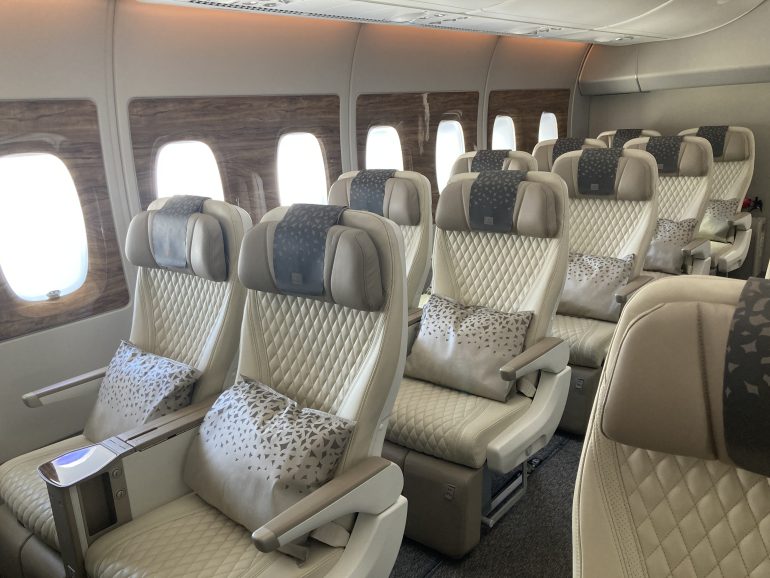 Emirates' new premium economy cabin includes spacious seats and an elevated dining experience that will enhance your travel experience compared to flying economy class.
Although Emirates premium economy costs around double the price of an economy ticket, it may be worth the added expense if you'd like to add a bit of luxury and comfort to your flight experience. And while they won't lie flat like the seats in business or first class, there's a cushioned leg rest with greater recline, plus a six‑way adjustable headrest. With the extra recline, a leg rest, specially-designed pillows, and blankets, you'll inevitably sleep better in premium economy versus the standard economy seats.
And relative to Emirates business and first class, it's not hard to make the case to save money and opt for premium economy — given how delightful the product is. Premium Economy fares are about 65% less than Business Class, so for travelers who appreciate the finer things and equally appreciate saving money, Emirates premium economy is absolutely worth it — ranking among the best ways to travel internationally, period.
Featured image courtesy of Emirates.
---
How to maximize your rewards
Get more smart money moves – straight to your inbox
Sign up and we'll send you Nerdy articles about the money topics that matter most to you along with other ways to help you get more from your money.