How to Travel to Las Vegas on Points and Miles
Save your money for the dinners and shows, and book your trip to Sin City using points and miles.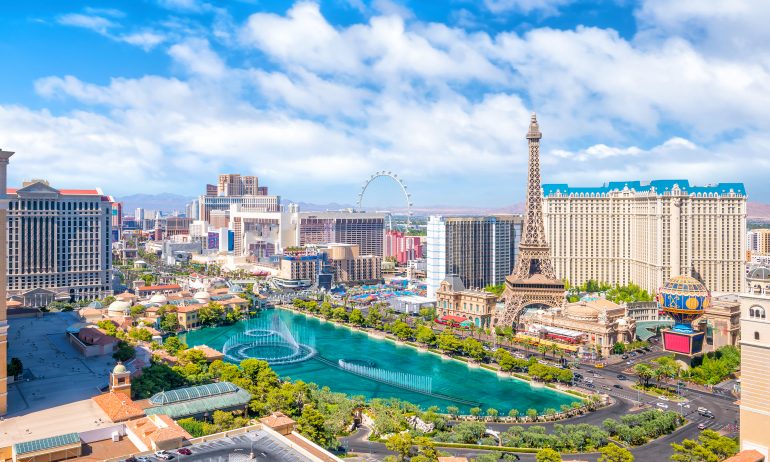 Many or all of the products featured here are from our partners who compensate us. This may influence which products we write about and where and how the product appears on a page. However, this does not influence our evaluations. Our opinions are our own. Here is a list of our partners and here's how we make money.
Few cities in the world offer the 24-hour action that Las Vegas does. Even if you don't gamble, the city is awash in shows, restaurants, pools and, frankly, almost anything else you can think of. And booking your Las Vegas trip with points and miles is as easy as losing quarters in the slot machines.
Las Vegas McCarran Airport (LAS) is just a few miles from the Las Vegas Strip, where the most famous casinos are located. The best way to get to your hotel is in a cab or rideshare. If you take a taxi, there will be signs near the entrance to the taxi line indicating approximately how much your trip should cost.
Low-cost carrier accounts for about one-third of the passengers flying to/from the city, but , , and also have significant operations at the airport. In the end, though, virtually every major carrier in the world has a flight or two to Sin City. There's that much demand.
But because the two largest carriers are low-cost airlines (Southwest and Spirit), they keep the prices down for everyone. Getting to Las Vegas may be one of the least expensive aspects of your trip.
It's important to remember that leisure travelers drive Las Vegas. Unlike most major cities, which get a lot of Sunday/Monday travel into the city and Friday out, Las Vegas is the opposite. Visitors tend to fly in on Thursday or Friday nights and out on Sundays. If you can avoid those busy periods, the fares will be a lot cheaper.
Your best chance at using points and miles for free flights to Vegas is Southwest. The airline flies nonstop to Las Vegas from almost 50 cities and offers connecting service from an additional 50+. The price of a flight in miles is directly related to the cost in points, so the Wanna Get Away fares, which are the airline's cheapest, should offer you some great deals.
Since American works off a standard award chart (unlike most other major U.S. airlines), you can plan your trip to Las Vegas from elsewhere in the U.S. mainland for just 7,500 miles one-way if your flight is under 500 miles. From other U.S. destinations,  to Las Vegas.
Major carriers also offer deals, although they may be limited to credit cardholders. For instance, United Airlines offers expanded award availability to holders of , while American offers reduced pricing to many of its as well. In other words: Don't neglect the major airlines simply because they aren't discounters.
Your pricing will also vary depending on which airline serves a nonstop route between your city and LAS.
There is no shortage of hotels to book with points in Vegas. If you're looking to earn or redeem hotel points from a specific brand you're used to staying with, here's how to narrow your options.
One hotel option in Las Vegas is the . Hyatt has (known as M life), allowing you to earn and burn Hyatt points while in Las Vegas.
Cost to book in points: Both Excalibur and Luxor are on the south end of the Strip, but they couldn't be more different. Luxor has an ancient Egyptian theme, while Excalibur comes straight from Medieval times. Both are inexpensive Category 3 hotels in the Hyatt system, meaning an award night will start at 12,000 points per night.
Cost to book in points: Home of the famous dancing fountain, the Bellagio is still one of the nicest properties on the Strip. Nearby Aria, while more modern in decor, is also perfect for a luxury getaway to Las Vegas with your Hyatt points. Just be prepared to pay for it, since both hotels are Category 6, meaning an award night will start at 25,000 points.
The ( annual fee) is the only Hyatt-branded option but it is a particularly valuable one with a nice welcome bonus:
If you want to use the card most efficiently, you'll receive 4 bonus points per dollar spent at Hyatt hotels (in addition to the base 5 points) and 2 points per dollar at restaurants, on airline tickets purchased directly from the airlines, on local transit and commuting, and on fitness club and gym memberships.
Hyatt is also generous with elite status and free nights. The card grants you automatic , as well as five tier-qualifying nights toward status. You will also receive one free night (Category 1-4) every year on your card anniversary, as well as a second free night (Category 1-4) if you spend more than $15,000 on the card in a year.
Plus, Hyatt is a transfer partner of , so any of your Chase Ultimate Rewards® points can be used to boost your Hyatt balance and fund your Las Vegas vacation.
has a standard award chart, with rates divided into off-peak, standard and peak rates. Occasionally, you will also find discounted PointSaver rates.
You'll have dozens of options for Marriott hotels on and around the Las Vegas Strip, including everything from budget-friendly, no-frills locations all the way to the high-end Cosmopolitan.
If you're a Bonvoy member, check out our for a breakdown of the best options depending on your desired location.
Marriott has three solid , including a no-fee card, a mid-level card and a premium card:
So there's a card for every price range. Don't be too scared off from the 's annual fee. It comes with a $300 annual Marriott credit, plus a free night award that really helps offset the cost. Terms apply.
Plus you can also transfer points from .
doesn't have a traditional award chart, so costs can vary from night to night based on demand.
Cost to book in points: Typically, nights at the Tropicana start around 20,000 points; however, some dates may not allow award bookings. Check its calendar for your travel dates.
The Tropicana is right on the Las Vegas Strip, at the corner of Las Vegas Boulevard and, not surprisingly, Tropicana Avenue. While you'll be on the south end of the Strip, you'll have decent access to other major casinos nearby including MGM Grand and New York-New York.
Cost to book in points: Starts around 20,000 points for most nights.
It's a standard Hampton Inn, located on Dean Martin Drive, right behind the Excalibur Hotel. Even though it's located off the Strip, you'll have walkable access to In-N-Out Burger, the T-Mobile Arena, Excalibur and the New York-New York Hotel and Casino.
Cost to book in points: If you're looking to really spoil somebody with luxury, but don't want to break the Hilton point bank at the Elara (connected to Planet Hollywood) or Hilton Grand Vacations at the Flamingo (which can run upward of 60,000-100,000 points per night), check out the Waldorf Astoria Las Vegas. Expect weekdays at the Waldorf Astoria Las Vegas to start at around a minimum of 50,000 points per night.
It's located near the center of the Strip by Aria, with easy access to plenty of the top Las Vegas restaurants, shows and sights. You'll usually get a much better points rate here as opposed to other high-end Hiltons in the area, especially on weekends.
A Hilton-branded credit card can also help you pay for your trip. The offers a sizable welcome offer:
Other benefits include 10 complimentary visits to participating every calendar year (enrollment required), a free weekend night award after spending $15,000 on the card in a calendar year and automatic . The annual fee is . Terms apply.
Don't want an annual fee? The standard is a great value option: Or you can
Getting to Las Vegas on points and miles is generally an inexpensive proposition. And that's a good thing, because the gambling propositions may cost you a few dollars, and the tables don't take points or miles.
To view rates and fees of the , see .
To view rates and fees of the , see .
You want a travel credit card that prioritizes what's important to you. Here are our picks for the , including those best for: