How to Redeem Travel Rewards Faster by Pooling Points or Miles
These travel rewards programs allow you to combine your points with others at no extra cost.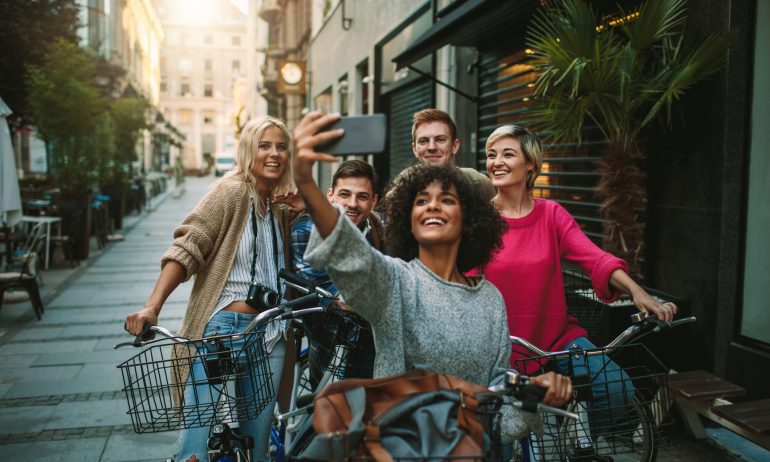 Many or all of the products featured here are from our partners who compensate us. This influences which products we write about and where and how the product appears on a page. However, this does not influence our evaluations. Our opinions are our own. Here is a list of our partners and here's how we make money.
You're working to earn enough points for your next vacation, but it's taking forever. Luckily, with some loyalty programs, you can speed up the process by sharing points with family members or friends — combining your rewards to redeem for flights, hotel stays and other travel quicker.
Here's your guide to some airline, hotel and other rewards programs that allow you to combine your points with others, at no cost, along with factors to consider when thinking about pooling your points.
Pooling points vs. transferring
Some loyalty programs let you "pool" points, which means multiple members are all contributing points to the pool. Other programs allow you to manually transfer points one-to-one between members, either for free or for a fee.
There are a few reasons to pool points with friends or family members, like:
Your flights will be booked under the same ticket number. When you book flights from the same account, the tickets have the same number, which makes it easier to manage seat assignments and to deal with flight changes and cancellations.

You could get a free night on hotel stays. Some hotel credit cards give you a free night when you book a specific number of nights with points. Marriott and Hilton give members with certain status levels (often achievable via a credit card) a fifth night free on award bookings. IHG gives a fourth night free to credit card holders who book with points. Pooling your points allows you to take advantage of this benefit sooner.

Enjoy elite status benefits. When you combine your points with someone who has elite status and they book a reservation, their elite status usually provides better benefits for you.

Get a better redemption rate. Some programs give certain members a better value for their points than others. Chase Ultimate Rewards®, for example, gives Chase Sapphire Preferred® Card holders 25% more value when they redeem their points for travel through Chase, but customers with the Chase Sapphire Reserve® get 50% more value. Moving points from a Preferred account to a Reserve account means bigger rewards for the same number of points.

Use up "orphan points." When you don't have enough points for an award, they just sit in your account. Pooling your points with someone else could get you enough to redeem for your next trip.

You'll keep rewards from expiring. Miles and points can expire if you don't earn more or redeem them. When you pool your points with someone who is more active, there's a chance they'll never expire.

You can preserve points when closing a credit card. Some points are tied to a credit card, and if you close your account, those points can expire. By transferring the points before closing your credit card, you can avoid losing them.
When combining points with others, read the terms to find out if there's a fee. It's common for airline and hotel programs to charge fees that aren't much cheaper than just buying new points. Every program is different and the rules can change quickly, so review them before combining your points.
The risks of point-sharing
Although there are many benefits to pooling your points, there are some reasons why you shouldn't. Consider these risks before agreeing to share points.
Points can be redeemed without your permission. Once your points are pooled, they can be redeemed by someone other than yourself. It's possible your rewards could be redeemed by someone else against your wishes.

Can't surprise them with a special vacation. When your points are pooled with someone else, they can see when you redeem points for a trip. This makes it harder to surprise them with a weekend birthday or anniversary getaway.

Bigger risk if your account gets hacked. With your rewards pooled into a larger account, if the account gets hacked, all of your collective points could be lost. Most airline and hotel loyalty programs are good about restoring your rewards, but this is a big risk.

Lose rewards if account gets shut down. If your account gets shut down, there's potential that everyone's rewards are lost.

Others could lock you out. When someone else controls the primary account, they can lock you out or remove you from the group. If that happens, there's no guarantee that you'll get your portion of the pooled points back.
Programs that let you pool points for free
These are the domestic programs that allow you to pool your points with multiple family members and friends.
JetBlue Points Pooling allows up to seven friends and family members to pool points for free. The Pool Leader administers the pool and can nominate any member to redeem points. Upon joining the pool, members decide how many of their points they'd like to contribute. All TrueBlue points earned after that will automatically be contributed to the pool.
There must be two members to start a pool, and the leader must be at least 21 years old. Additionally, members cannot join multiple JetBlue Points Pooling accounts.
If you (or the person in charge of the family pool) has Elite 20k status with Frontier Airlines or has the Frontier Airlines World Mastercard®, you can take part in Family Pooling. This allows up to nine friends or family members, including the pool "head," to participate in the pool.
As part of the Air Canada loyalty program, up to eight members can participate in Aeroplan family sharing. All members' points are added to the pool and redemptions will be split proportionally from each member.
Air Canada's pooling has a few unique features. A "family lead" can change permissions so that certain members, like children, can only earn points, not redeem them. If any member of the pool is an Air Canada elite member or cardholder, everyone can redeem the group's points at a better redemption rate. There's no fee for family sharing, but there is a fee if you want to transfer points to another Aeroplan Member outside of family sharing.
Hilton Honors Points Pooling allows up to 11 people to pool their points for free. One member starts the pool and invites up to 10 others to join the pool to contribute points. There is no limit to how many pools a Hilton Honors member can join. Members can contribute up to 500,000 points each year to a pool, with a minimum of 1,000 points. You can receive up to 2 million points per year through point pooling.
To join a pool, you must be an active Hilton Honors member and have had your account for at least 30 days. Points transfers can take up to 24 hours to post to the new account. If the member doesn't use the points that you've put into their account, they can transfer the points back for free.
Programs that let you transfer points for free
Other loyalty programs allow you to manually transfer points between members for free. These transfers happen between two people.
World of Hyatt allows members to combine points for free, so that a member can redeem an award. These transfers can occur once every 30 days. Both members must complete and sign this form requesting the transfer, then email or mail the form back to Hyatt.
Marriott Bonvoy members can transfer up to 100,000 points per year for free using the program's online transfer tool. There is a maximum of 500,000 points received each calendar year. The minimum transfer is 1,000 points. Both accounts must be in good standing and open for 30 days with qualifying activity. If there is no qualifying activity, the account must have been open for at least 90 days.
Chase Ultimate Rewards® allows cardholders to transfer points to members of their household for free. Log in to your account and click "add household member" in the Combine Points screen. Both people must have a credit card that earns Chase Ultimate Rewards®. There is no limit to the number of points you can transfer.
If you have multiple credit cards that earn Chase Ultimate Rewards® (personal or business), you can combine points from these cards into one account. If one member of your household has a Chase Sapphire Preferred® Card and another has the Chase Sapphire Reserve®, transferring the Chase Sapphire Preferred® Card points to the Chase Sapphire Reserve® account means you get 50% more value for points redeemed in the Chase travel portal instead of the 25% increase the Chase Sapphire Preferred® Card gets.
If Chase suspects that you are transferring points to people not in your household, your account may be suspended. At the end of its investigation, if Chase determines that you engaged in fraudulent activity, your account may be closed and points forfeited.
HawaiianMiles (cardmembers only)
If you don't have a Hawaiian Airlines-branded credit card, you'll pay 1 cent per mile plus a $25 fee to transfer your HawaiianMiles to another member. But if you have the Hawaiian Airlines® World Elite Mastercard®, you can transfer miles to or from another HawaiianMiles member for free. Only one of you needs to be a Hawaiian Airlines credit cardholder, and there are no minimums or limits on how many miles cardmembers can transfer or receive.
Sharing points or miles with others can be a great way to get to an award trip sooner. But beware of fees charged by some programs, and be sure you know all the rules and risks before you let someone else access your hard-earned points.
---
How to maximize your rewards
Get more smart money moves – straight to your inbox
Sign up and we'll send you Nerdy articles about the money topics that matter most to you along with other ways to help you get more from your money.