United Airlines News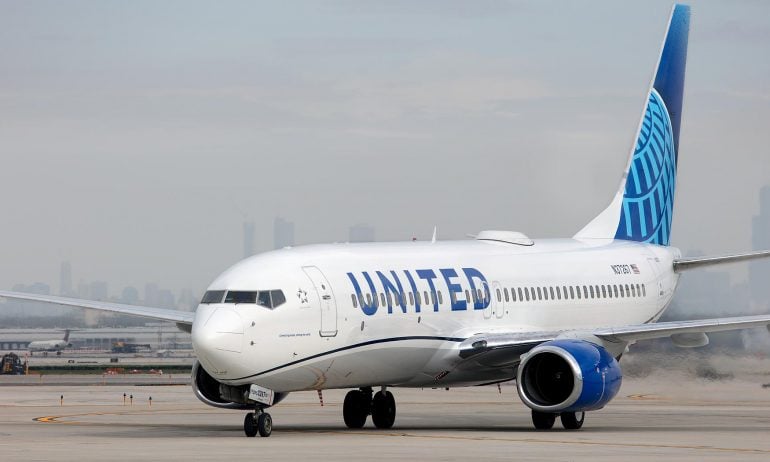 Many or all of the products featured here are from our partners who compensate us. This may influence which products we write about and where and how the product appears on a page. However, this does not influence our evaluations. Our opinions are our own. Here is a list of our partners and here's how we make money.
This article is no longer being updated. For the latest travel rewards news, you can visit this page or check out the most recent stories on our hub.
---
April 29 - United Debuts New, and Faster, Ways to Earn Status
If you're looking to fast track your way to United MileagePlus Premier status, the airline just rolled out three new promotions to help you do just that. All three run until July 27th:
The Welcome Bonus promotion will give you 25% more Premier Qualifying Points for your first three flights. This is in addition to the 25% PQP deposit United members got at the beginning of the year.

Easy PQP will get you a 10% PQP bonus without any required flights. Members receive between 350 and 1,500 PQPs depending on their United elite status level.

Earn double miles via the MileagePlus X app on purchases such as eGift cards, dinning or online shopping.
Members have until May 13 to make their selection, otherwise they will be automatically enrolled in the Welcome Bonus promotion.
March 19 - United Extends Flight Credits Through 2022
United passengers now have another year to use any flight credits they've racked up. Flight credits from canceled flights are valid until March 31, 2022. Anyone who has booked a flight before March 31, 2021, and decides to change plans will get one of these flight credits. Now, United customers have a small window to book any last-minute basic economy or international tickets, knowing they'll have flexibility to use their flight credit anytime within the next year. Amid the pandemic, United permanently got rid of change fees for domestic flights and flights between the U.S. and Mexico or the Caribbean, but it won't apply to basic economy tickets.
Jan. 25 - United's New "Travel-Ready Center" Consolidates COVID-19 Info
United has launched a new online hub to help passengers find COVID-19-related travel restrictions and testing information all in one place. The "Travel-Ready Center" is available on both the United website and mobile app, and lets guests review COVID-19 entry requirements for their destination, find and book testing options, and upload any required testing and vaccination records for travel.
If you have a trip coming up, you'll be able to see a personalized status indicator to show whether you've met the requirements and you are ready for travel. Soon, passengers who need help navigating the ever-changing COVID-19 restrictions will be able to video chat with a customer service representative through the "Agent on Demand" feature. The Travel-Ready Center is the latest in a line of recent features rolled out to make travel easier during the pandemic, including a search feature that allows travelers to filter destinations based on accessibility during COVID-19.
Dec. 16 - United Launches Voluntary Contact Tracing Program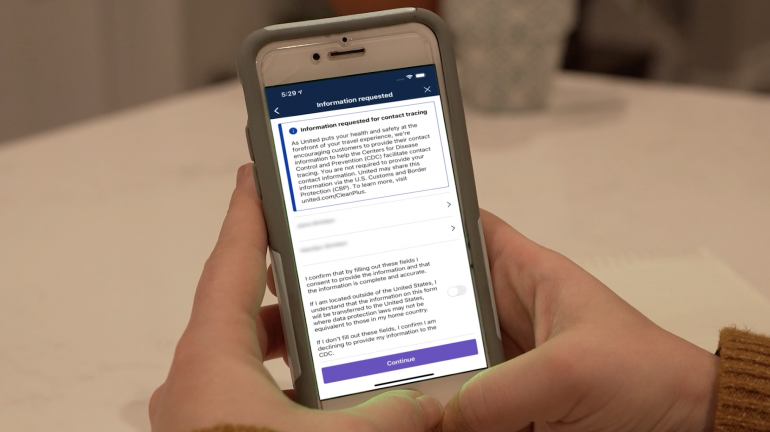 In partnership with the Centers for Disease Control (CDC), United has rolled out a new contract tracing program that customers can opt-in to when they check-in for their flight, whether online, through the United app or at the airport. Passengers will have the option to share their name, contact information and destination address to support the CDC's efforts track the spread of COVID-19.
United has already started collecting contact tracing information from international arrivals; this new program will extend to all travelers on domestic and international flights in the coming weeks.
Dec. 8 - United Introduces Virtual, Contactless Services at Airports
Soon, passengers flying out of United's hub airports will have access to virtual, on-demand customer service to get assistance and information on a variety of topics, such as seat assignments, standby lists, flight status, upgrades and boarding times. Customers will have the ability to call, text or video chat in real time with United service agents to get help or have their issues resolved in a contact-free manner.
While the service is currently only available at Chicago-O'Hare and Houston-IAH, it is expected to be introduced at several other United hubs by the end of 2020. The new system will help COVID-era travelers bypass lines, but still get the same type of customer service they need when physically at the airport. The key to the system will be a QR code they will scan to get connected to an agent based on their preferred communication method (phone, text chat, video). Kiosks will also be available at select gate areas in some airports.
Nov. 12 - United Airlines Reduces Requirements for Elite Status
In an effort to make it easier for customers to earn elite status next year, United has announced it's reducing the Premier Qualifying Points (PQP) and Premier Qualifying Flights (PQF) amounts for 2021. The new requirements will be as follows:
| | | |
| --- | --- | --- |
| | 4,000 PQP + 12 PQF or 5,000 PQP. | 3,000 PQP + 8 PQF or 3,500 PQP. |
| | 8,000 PQP + 24 PQF or 10,000 PQP. | 6,000 PQP + 16 PQF or 7,000 PQP. |
| | 12,000 PQP + 36 PQF or 15,000 PQP. | 9,000 PQP + 24 PQF or 10,000 PQP. |
| | 18,000 PQP + 54 PQF or 24,000 PQP. | 13,500 PQP + 36 PQF or 15,000 PQP. |
Additionally, in order to speed up the qualification process, United will be giving each Premier member a PQP deposit bonus by Feb. 1, 2021. The amount will be equal to 25% of the PQP-only threshold based on the customer's 2021 status level:
Premier Silver: 875 PQP bonus.

Premier Gold: 1,750 PQP bonus.

Premier Platinum: 2,500 PQP bonus.

Premier 1K: 3,750 PQP bonus.
There will also be a PQP bonus promotion that will also allow members to earn either a 50% (non-Premier status members) or 100% (Premier members) PQP bonus on their first three eligible trips taken between Jan 1. and March 31, 2021.
A few other customer-friendly changes include:
PQP earned from MileagePlus credit cards will count toward Premier 1K status (you must also meet the PQF requirement).

All PlusPoints set to expire on or after Jan. 1, 2021 are being extended for an additional six months.

Premier 1K members will also have more opportunities to earn PlusPoints to spend on upgrades. After earning 1K status and 15,000 PQP, the PlusPoints earn rate will be reduced to 20 PlusPoints for every additional 2,000 PQP (compared with the normal 3,000).
Nov. 9 - United Club Locations Reopening in November
United Airlines will be reopening some existing lounges just in time for holiday travel. The airline says it will continue to monitor customer volume, and more locations may be opened if demand increases. There will also be a test going on of enhanced food options in Denver, Chicago and Honolulu that includes prepackaged fresh food such as breakfast parfaits, sandwiches, wraps and salads. In light of the reopenings, United will also be running a limited time discount for passes. Normally priced at $59, travelers will now be able to get one-time passes for $39 and they will be good for one year. The lounge reopening schedule is as follows:
Denver (Gate B32): Opened Nov. 1.

Houston (Gate C1): Nov. 10.

Washington Dulles (Gate D8): Nov. 18.

Honolulu (Above Gate G2/G3): Nov. 21.
Oct. 29 - United Launches Free COVID-19 Testing Pilot Program
From Nov. 16 through Dec. 11, customers on select United flights from Newark (EWR) to London-Heathrow (LHR) will be offered a free rapid COVID-19 test prior to the flight. The test will be offered to all passengers over the age of 2, and anyone who doesn't want to be tested will be placed on a different flight. Crew members will also be tested, so that everyone on the flight, other than those young children, will have tested negative before boarding.
Specifically, the flights for this test pilot are United Flight 14 departing at 7:15 p.m. on Mondays, Wednesdays and Fridays during the test period. Passengers must schedule an appointment for the test, and a testing location will be made available at the airport at the United Club near Gate C93. For more details on the test program, visit United's website.
Aug. 31 - United ends most domestic change fees, adds new benefits
United Airlines made some substantial, permanent changes to its change-fee policy over the weekend, according to the airline. First and foremost, United is getting rid of change fees on most domestic flights (Basic Economy not included). Additional benefits have also been added including:
Complimentary same-day standby for all passengers, regardless of ticket type.

Complimentary same-day flight changes for MileagePlus Premier members.

Waived award redeposit fees for cancellations more than 30 days in advance for domestic and international travel.
We have a full analysis of these changes, what they mean for you and how they compare to other airlines' policies: Read more here.
Aug. 6 - United Extends Global Services Status and Adds New Lounge Benefits
Global Services is an invite-only level at the top of United Airlines' elite status rankings. Due to the lack of travel taking place because of COVID-19, United is extending the status of all current Global Services members to Jan. 31, 2022. Additionally, as of January 2021, the airline will begin allowing Global Services members traveling domestically access to United Club lounge locations (this benefit already applies to international flights). United will also update the guest policies for Global Services members at the United Club lounges as follows:
Domestic itineraries, no guests.

International itineraries, one guest.

Paid United Club members or United Club Cardmembers on any flight (United or Star Alliance), two guests.
May 12 - United Increases Award Flight Prices by 10%
United Airlines has removed its Star Alliance/partner award chart and simultaneously increased the price of award tickets on Star Alliance airlines by 10% in a sneaky move. While this is terrible news, partner airlines outside of Star Alliance have not been entirely affected – yet. The devaluation is not straightforward, especially if the trip includes a combination of United, Star Alliance and partner flights.
Read more here, as we help demystify the devaluation, explain where the 10% increases tend to occur and help you figure out how to book flights at the lowest rates.
Photo courtesy of United Airlines.
---
How to maximize your rewards
Get more smart money moves – straight to your inbox
Sign up and we'll send you Nerdy articles about the money topics that matter most to you along with other ways to help you get more from your money.