United vs. American Airlines
When these full-service domestic carriers go head-to-head, one's credit card perks and business class win out.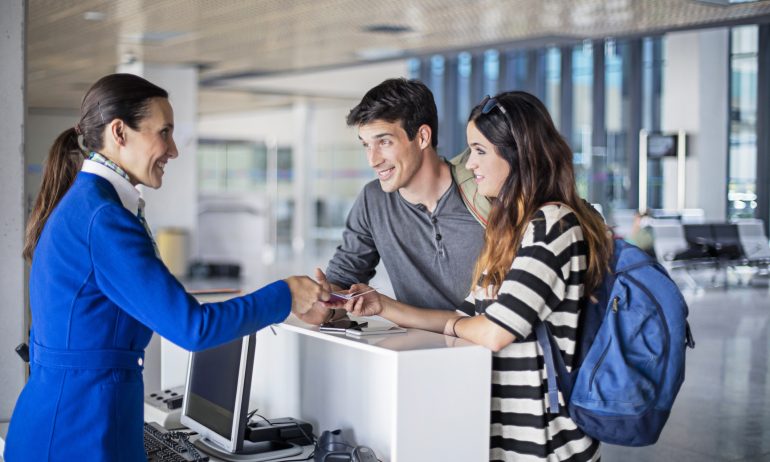 Many or all of the products featured here are from our partners who compensate us. This may influence which products we write about and where and how the product appears on a page. However, this does not influence our evaluations. Our opinions are our own. Here is a list of our partners and here's how we make money.
No matter where you plan to fly next, there's a good chance United Airlines or American Airlines can take you there. These two massive carriers are fierce competitors, especially for U.S. travelers, which means fares for your next destination are often competitive (and could be nearly identical).
So when the price is the same, how do you choose between these two airlines? The answer ultimately depends on your personal circumstances and what you value most in a flight experience. Here's a side-by-side look at versus  so you can decide.
When you're choosing an airline — especially as you're considering one to earn miles or with — your home airport may be the most important consideration. If you live in Houston, for example, you'll probably find more low-priced flights on United, which has a hub there.
But if you live in Dallas, American probably has more to offer.
Let's look closer at where these two airlines fly.
United operates 4,500 flights every day to 300 cities on five continents, including 200 U.S. cities. United's U.S. hubs are:
United has , including nearly two dozen in the . Notable partners include , , , Singapore Airlines, , Singapore, Swiss and Thai Airways. If you collect United MileagePlus miles, you can redeem them on several partners that can take you pretty much anywhere you want to go.
American, along with partner American Eagle, operates 6,700 daily flights to 50 countries reaching a total of 350 destinations. American Airlines hubs include:
American  (about a dozen less than United). Their partner list includes 14 airlines in the . Notable partners include Air Tahiti Nui, , , Cathay Pacific, Hawaiian Airlines, Japan Airlines, and .
So if you're a member of American's loyalty program, AAdvantage, you can use your miles to book flights on these partners. But there's a dark spot on this partner list: British Airways is notorious for having some of the when you redeem partner miles for a flight — especially in business or first class.
For example, a recent search for a Los Angeles-to-London flight on British Airways paid for with American Airlines AAdvantage miles showed out-of-pocket costs up to $1,096 on top of the AAdvantage miles redeemed.
AAdvantage members heading to destinations served by British Airways can often choose flights on American, where a Los Angeles-to-London business class flight might come with $340 in fees instead of $1,096. So you'll have an alternative to British Airways' budget-busting fees if the flights operated by American work for you, but you may pay more AAdvantage miles for the flight. This can make a big difference in considering American versus United Airlines.
Knowing your priority airline credit card perks could help you pick which airline to give your loyalty to. Example benefits include free checked bags, discounted award flight rates, additional award flight access or no foreign transaction fees. Whether or not you're comfortable paying an annual fee might come into the equation, too.
Understanding these "must-haves" can help you decide whether an American or United co-branded credit card is best for you.
You can choose between four , from the entry-level to the high-end , which gets you into airport lounges when you fly.
Here's an overview of those options.
Citi offers . Your choices run the gamut from a $0-annual-fee card that will actually pay you a $50 statement credit for signing up to a luxury card that gets you membership to American's network of airport lounges.
Both airlines offer good credit cards for every budget. But United edges out American when you factor in United's expanded award availability for credit card customers. American's reduced mileage perk gets certain cardholders up to 7,500 miles off on a rotating list of discounted destinations, which usually don't include high-demand routes, like  (plus, American is removing this benefit in October 2021). But with higher-end United cards, the ability to book any United flight with miles makes it easier to get to dream destinations.
Both United and American offer lots of ways to earn miles. When you fly the airline, the number of miles you earn in either program is based on the ticket price, usually starting at 5 miles earned per dollar spent for both airlines. Elite members in both programs earn a higher number of miles per dollar spent and different fare types can affect the mileage earning rate, too.
Both programs also let you earn miles flying partner airlines, spending on credit cards, shopping online and booking hotels or rental cars with companies that partner with the airlines.
NerdWallet estimates that the miles you earn with American AAdvantage and United MileagePlus have similar values, with United MileagePlus miles at about  and AAdvantage miles slightly better at  a piece.
But a few things set the two programs apart.
United flights booked with MileagePlus miles can be pricey. For example, a recent search showed flights from Los Angeles to Chicago in late August for 15,000 United miles nonstop each way in economy. The same route with one stop costs 12,500 United miles.
But if you're paying with American AAdvantage miles, fares from the Los Angeles area to Chicago start at just 6,000 miles.
If you have a credit card that pays , you can convert them at a 1:1 ratio to United MileagePlus miles. points also convert to United miles, but at a lower rate of 3:1.1. Points transfers make it easier to combine points from multiple accounts or household members to book an award.
United MileagePlus miles never expire.
Chase points don't transfer to AAdvantage miles. Neither do , points or . That can make it harder to gather enough miles for a flight. Marriott Bonvoy points transfer to AAdvantage at just a 3:1 ratio.
But while it can be harder to get AAdvantage miles, you can find better deals redeeming them for flights on American, as the Los Angeles-to-Chicago example above illustrates.
American miles expire after 18 months of inactivity. You can keep them from expiring with almost any account activity, including earning miles by making a small purchase through the .
The cost of checking your bag on a United flight can vary by itinerary, whether you pay in advance and other factors. The best way to be sure is to use the. In many cases, you can expect to pay $30 each way for your first bag when you pay in advance or $35 at the airport unless you're an or credit card holder who gets a checked bag for free.
Fees for other add-ons, like ticket changes, booking online with a live agent and overweight bags are also a little hard to track down.
American makes it easy to know how much you'll pay for a checked bag, with prices listed right on its website. Check a bag on a domestic flight and you'll pay $30, assuming you don't have or a credit card with checked bag perks.
This no-surprise fee approach extends to other add-ons, too, with American publishing clearly on its website how much you'll pay for in-flight Wi-Fi (often $10), beer ($8) and 500-mile upgrades ($40).
Economy class seats on United can vary by plane, but most offer 31 inches of pitch — the distance from your seat back to the same spot on the seat in front of you. Economy Plus seats cost more, but get you more legroom in seats, ranging from 34 to 37 inches in pitch. Upper-class cabin seats vary by plane and by route, with offering restaurant-quality dining and perks like Saks Fifth Avenue bedding on long-haul international flights.
After a deep analysis, we determined that United's basic economy tickets are some of the of this ticket-type.
Most economy class seats on American have 31 inches of pitch, though some have 32. Pay more for Main Cabin Extra and you'll get anywhere from 33 to 36 inches of pitch. Business and first class seating vary by route, but can include luxurious lie-flat seats with top-notch service on long-haul international flights.
American offered the best basic economy fare for passengers of the major carriers.
In the competition of United Airlines versus American Airlines, we'll take United, especially if you avoid basic economy seats. Though its flight redemptions are overpriced, its credit card perks, more legroom in economy plus and luxurious Polaris class put it a (small) notch above American. However, your proximity to a hub airport may be enough to sway you to one over the other.
You want a travel credit card that prioritizes what's important to you. Here are our picks for the , including those best for: