How Does Vrbo Work?
Long a fixture on the vacation rental scene, Vrbo can be a good deal if you know what you're doing.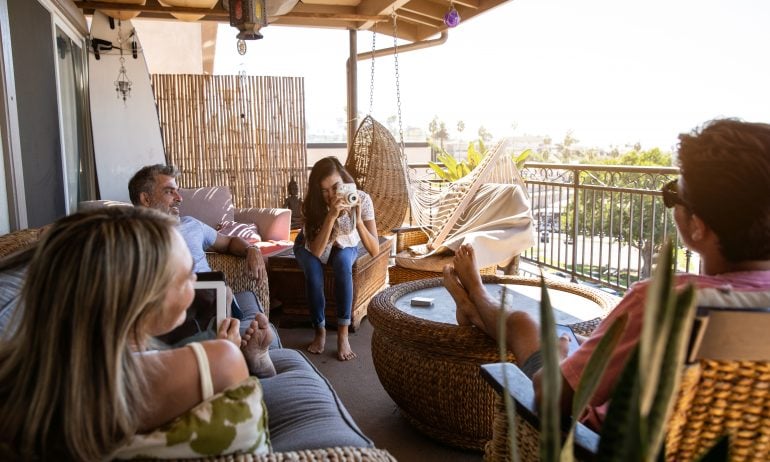 Many or all of the products featured here are from our partners who compensate us. This influences which products we write about and where and how the product appears on a page. However, this does not influence our evaluations. Our opinions are our own. Here is a list of our partners and here's how we make money.
Whether you're going on vacation, looking for medium-term apartment rental while you work and travel, or just simply prefer to stay in unique accommodations rather than hotels, you have options besides Airbnb. One of those choices is Vrbo, an online marketplace that connects homeowners who are renting out their place with people looking for vacation rentals.
If you're considering renting a vacation rental on Vrbo, here's what should know before you book.
Vrbo is short for Vacation Rentals by Owner, and it's a website that does exactly what it sounds like. Vrbo is an online vacation rental site where property owners can list their homes for rent, travelers can book them and Vrbo handles the transaction.
Vrbo properties range from massive cabins in the mountains ideal for a group ski trip to more conventional homes in the suburbs to unique dwellings, like Costa Rica's "Cockpit Cabana," where you actually sleep inside of an airplane.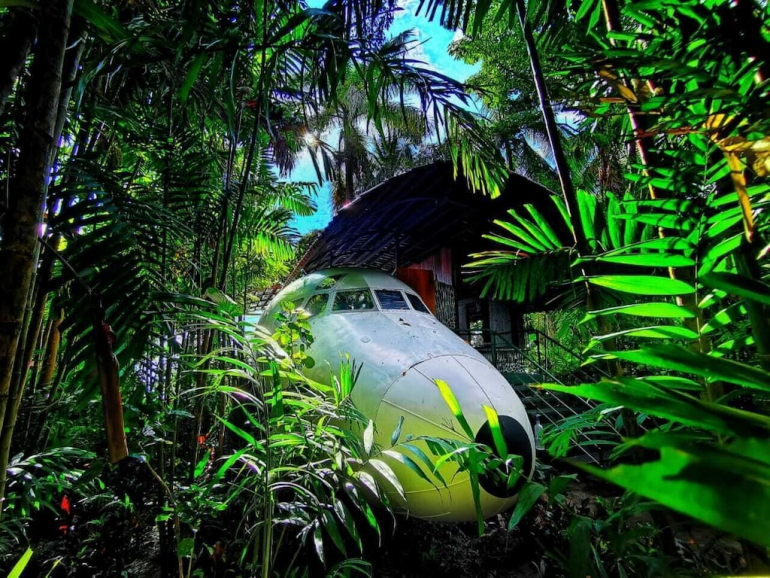 Vrbo launched in 1995 as an online vacation rental marketplace and was acquired by HomeAway in 2006. After travel giant Expedia Group acquired HomeAway in 2015, Vrbo fell under the Expedia umbrella. Then in 2020, the two brands — HomeAway and Vrbo — merged into a single Vrbo website.
Staying overnight in a vacation rental like a Vrbo can sometimes be cheaper than hotels (especially when traveling in groups), as you can often find multiroom properties that fit multiple people. In addition, the rentals commonly include amenities like washing machines and kitchens, allowing you to pack less and cook more. Sometimes Vrbo provides the best and only lodging available, especially if you're traveling to remote areas not served by hotels.
But renting on Vrbo isn't always as easy as booking a hotel. Unless the property is listed as "Instant Book," you'll have to submit a request to the owner to book it, adding one more bump in your trip planning. In addition, some properties have minimum stay requirements, and maximum stays sometimes pop up.
Throw in the fact that you're staying in a nonstandard property, and you should expect inconsistencies that you likely won't find when staying at hotels, whether it's the types of available amenities, the check-in process, or the condition of your rental.
If you're ready to rent on Vrbo, here's what you need to know to improve the odds of it being a smart money move.
A key differentiator between Vrbo and other vacation rental platforms is that Vrbo only allows you to rent entire, private homes. Contrast that with competitors like Airbnb that allow shared spaces, and Vrbo rentals mean you'll never stay on a property while the owner (or other guests, for that matter) are also living there.
The available listings vary in quality and amenities, cancellation policies, and the number of guests allowed.
Vrbo's platform has about 2 million hosts worldwide (almost half of the 4 million hosts that Airbnb claims).
Set up an account on Vrbo
To get started on Vrbo, you'll need to create an online account, which entails simply entering a name and email address. From there, you're offered several optional pieces of information to hand over, including a short bio about yourself and your photo.
There's also the option to verify your identity. If you choose to, Vrbo asks you to provide your physical address and birth date. Vrbo then attempts to verify that info and — if successful — will flag your account as a verified guest.
Filling out those optional boxes is typically a wise move, as most rentals require you to request a reservation (and the host can choose to accept or reject your request). A verified account increases the odds that your booking request will be accepted.
By the way, hosts won't see all the identity information you provided. Instead, they'll only know that you're a verified guest — as well as receive some basic contact information, like your email and phone, so that they can get in touch with you about your trip.
To find a Vrbo rental, use Vrbo's array of filters to narrow a search on the website after inputting your preferred dates, destination and the number of guests. Filters include the more standard options you'd expect, like the number of bedrooms, availability and price.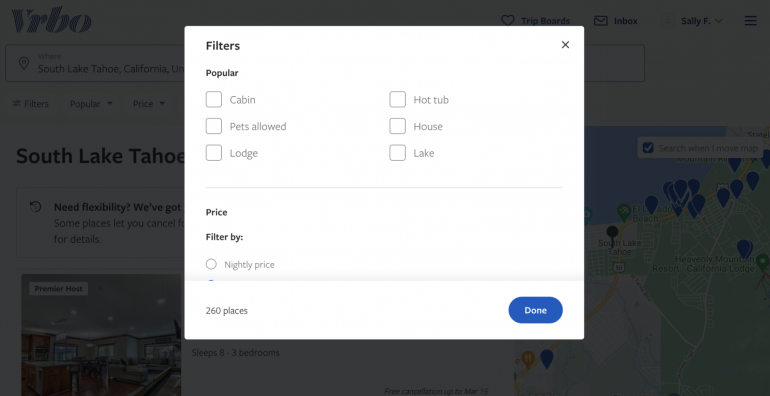 Vrbo also has robust filters that drill down on the minutiae of your dream vacation rental. You can filter by property type and it's not just limited to a house or apartment. Zany home types are included, such as castles, lodges and yachts. You can also sort by nearby activities (with options including skiing, fishing, theme parks and breweries) and whittle it down by property features such as pools, cribs or outdoor grills.
When you select a listing, you'll be able to see an assortment of photos, a detailed description of the property and reviews from past guests.
During your Vrbo selection process, base your decision on the property description and not just the photos, as photos might not capture the whole experience.
It's also wise to read recent reviews, as a beautifully crafted description accompanied by aesthetically pleasing photos doesn't necessarily translate to having a great experience. Likewise, a poorly photographed home could still be great. After all, you'd probably prefer that your host is an expert in hospitality, not photography.
Also, understand cancellation policies, as they can vary by property. For example, the strictest cancellation policies are completely nonrefundable, while more flexible policies offer a 100% refund if you cancel at least 14 days before check-in.
If you have a question about a property, you can message the host directly from the property page. Once logged in, select the "Contact Host" link located on the right side of the listing details page, and fill out the form with your message. You can expect a response from the owner within one or two days. If you don't hear back, consider booking a different rental.
You might also opt to filter your search results by Premier Hosts, who have a special badge displayed on their property listing pages to designate their status. Premier Hosts are reviewed quarterly by Vrbo and selected based on factors including low cancellation rates, high review scores and the number of bookings.
Booking and paying for your Vrbo
Once you've settled on the place you want to rent, you need to determine how to book it next. The steps generally fall into two categories: 24-Hour Confirmation or Instant Book.
24-Hour Confirmation: Submit a request to book, and the host has 24 hours to accept or decline.

Instant Book: Your booking can be confirmed without waiting for the host to accept.
For both options, you'll have to enter your arrival and departure dates, the number of adults and children in your group, and whether any pets are coming. You can also include optional rental notes for the host.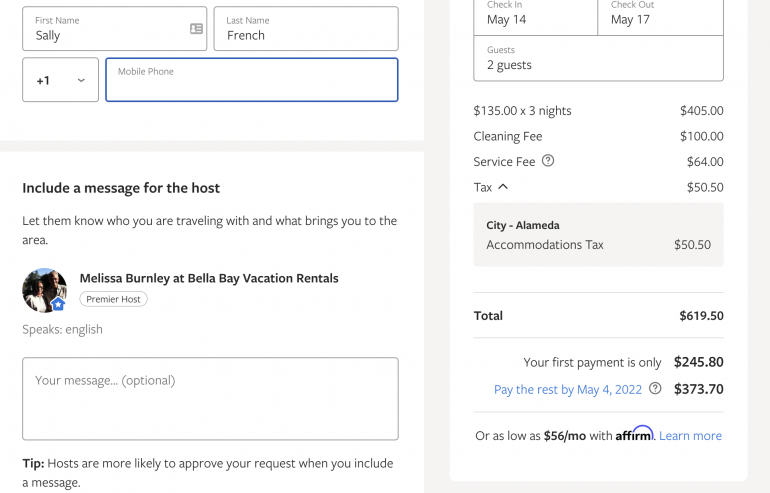 On top of the booking rate, most properties also include additional fees such as cleaning, which the host sets. In addition, Vrbo also tacks on its service fee.
Some hosts also require that you leave a card on file, put down a refundable damage deposit or purchase property damage protection to cover any damages you may cause.
Vrbo always handles the transaction, and it accepts Visa, Mastercard or American Express.
Don't consent if the host messages you to pay separately. Hosts who request cash, check or money transfers could be scamming you.
The timeline for making payments can vary. Some properties require you to pay upfront in full, while others let you break it up into two or three smaller payments.
Even if your host requires full payment upfront, there's a way you can pay in installments because of Vrbo's partnership with Affirm, a point-of-sale loan company. Affirm allows you to book your vacation rental and pay it off over time, even past the dates of your stay. However, Affirm is only available to qualified customers and only on specific properties in the United States.
The check-in process varies by Vrbo rental, but you can typically expect to access your property either through a lockbox with a key inside or through a door that opens by a code.
Three days ahead of your stay, Vrbo will send you an email with check-in information provided by the host, including how to access codes or keys to enter, the property address, cancellation policy and additional host contact information.
If you have a question ahead of or upon arrival, reach out to the host, as they (or one of their property managers) are likely to be nearby and can help you.
The checkout and locking up process varies across Vrbos, much like checking in. Don't be surprised if your host has specific cleanup instructions or other requests; however, many will ask that you leave the house as is.
Most likely, your host will share details about your checkout process either before or upon arrival.
In theory, yes. Vrbo is a legitimate vacation rental service with safety precautions in place to mitigate risks. But ultimately, this is a business where strangers enter your home — and you enter a stranger's home — so issues can arise.
Safety measures between guests and hosts
Vrbo does not conduct background checks on guests. In contrast, competitor Airbnb does conduct background checks. Instead, Vrbo offers badges for people who may be more trustworthy.
As a guest, you can get a "Verified Identity" badge added to your account, earned by providing your address, birth date and other personal information, which Vrbo verifies. Hosts will more likely accept your request if you have one of those badges.
Meanwhile, hosts can receive a "Premier Host" designation. Although that won't necessarily dive into their criminal record, the Premier Hosts title is doled out by Vrbo (and reviewed quarterly) to hosts who have exemplified positive attributes, including low cancellation rates, high review scores and the number of bookings.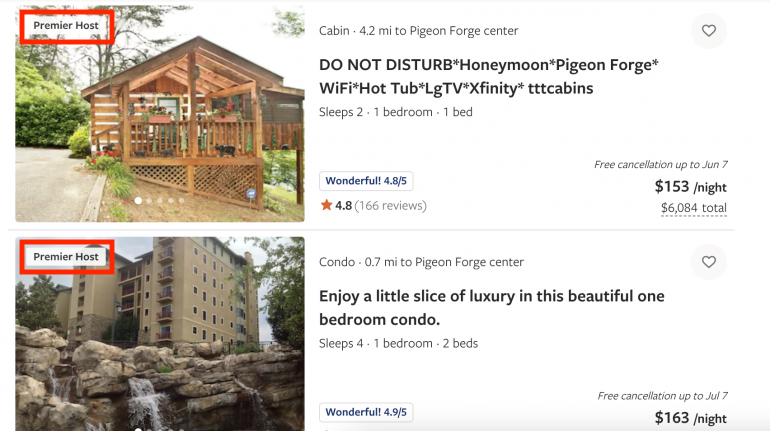 Safety measures for money
Your payments are protected against fraud as long as you pay through Vrbo. That way, if your money ends up in the hands of someone other than the host, Vrbo will refund you. Don't agree to make a deal for cash outside the app.
Safety measures for natural disasters or travel advisories
If a natural disaster like a hurricane, earthquake, or tornado has impacted a trip you're currently on — or your destination has suddenly undergone a travel advisory — you can contact Vrbo through the contact button on its natural disaster page. If you haven't left yet, Vrbo recommends contacting the host first to discuss the next steps. Then, if there are still issues, contact Vrbo.
Vrbo's stance on surveillance devices
Vrbo allows surveillance devices in some capacity. In general, surveillance devices are never allowed inside homes, aside from smart devices (like Amazon Alexa) or baby monitors. But even in those instances, owners are required to disclose their locations to guests and give guests the option to deactivate them.
Outside the home, surveillance device usage can be more liberal. For example, security cameras and smart doorbells can be used for security reasons as long as their location and coverage are disclosed to guests. However, from there, rules around outdoor surveillance devices are relatively vague.
Areas where guests have a reasonable expectation of privacy (say, an outdoor shower), should not be under surveillance.

Reasonable measures should be taken to limit access to surveillance data.

Surveillance data should be deleted when no longer needed.
Vrbo is generally considered safe, but that doesn't mean risks are off the table. Safety issues can happen at any form of lodging. But since Vrbo doesn't scout out individual properties, some additional risks might not be as common at a standard hotel.
How to cancel a Vrbo reservation
To cancel your Vrbo reservation, sign in to your account and go to the "My Trips" tab, then select "Change or cancel trip." From there, you'll be able to review your property's cancellation policy. If you are automatically eligible to cancel for a full refund, then you'll be able to select the "Cancel booking" button. Otherwise, select the "Request cancellation" button, submitting your request to the host to process.
Cancellation policies vary by property and host, but they'll be spelled out on the listings page so you can see them before you book and pay. For example, the most flexible Vrbo cancellation policies let you cancel up to 14 days before check-in for a full refund. Meanwhile, other listings are entirely nonrefundable.
What to do if you have issues with a Vrbo reservation
If it turns out that your rental has serious issues (or if the host is entirely unresponsive), turn to what Vrbo calls its "Book with Confidence Guarantee." For no additional cost to you, Vrbo promises to help you if the owner unexpectedly cancels your reservation up to 30 days from your stay, if the property was materially misrepresented in the listing, or if it has serious health or safety issues.
How to save money on Vrbo
Vrbo prices are set by hosts — not Vrbo itself — so most tricks for saving money on hotels won't necessarily apply. Still, here are five ways to save money on Vrbo rentals: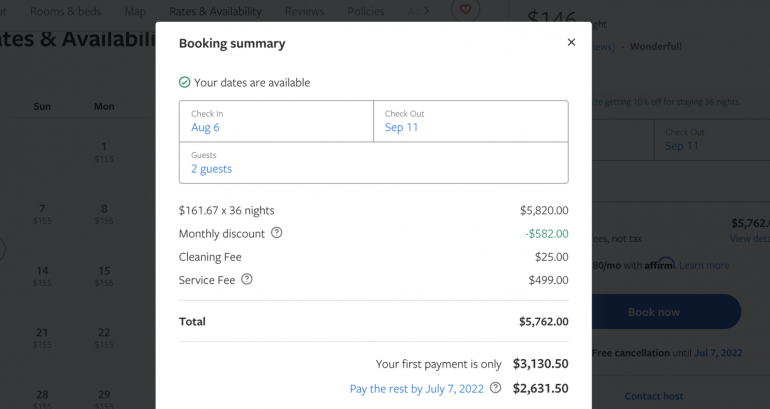 Some Vrbo hosts offer discounts if you stay for longer chunks of time. Hosts can opt to provide weekly or monthly discounts at a rate determined by them. If the property you want to rent offers a discount and your stay is long enough to satisfy the requirements, the discount is automatically applied at checkout.
Sure, a more extended stay will typically net out to be more expensive than a shorter stay, but if you can condense what would otherwise be multiple trips into one longer trip, you'll save money. Plus, that enables you to save beyond just the Vrbo, but other trip costs, like airfare.
2. Redeem credit card travel statement credits for Vrbo stays
A few credit cards offer travel statement credits covering various travel expenses and typically include Vrbo rentals, including the Chase Sapphire Reserve®.
3. Earn points by paying with a travel rewards credit card
Sure, this tip won't save you money upfront, but it'll earn you travel rewards to cover future trips: Pay for your Vrbo with a travel rewards credit card.
If you've got a travel credit card that offers bonus points on travel spending, then Vrbos typically fall under the travel umbrella and qualify you for an elevated earn rate. Read your own credit card's terms, as some issuers define travel differently, or might only give you bonus points for travel booked directly through their travel portals (in which case a Vrbo wouldn't qualify).
4. Earn United miles by connecting your accounts
Your Vrbo stays are an easy way to rack up United Airlines MileagePlus miles, which you can accumulate and redeem for free flights. You'll need to book through United's dedicated Vrbo webpage to qualify to earn points, and you'll also have to enter your MileagePlus membership number in the correct field.
When you do, you'll earn 3 MileagePlus award miles per $1 spent on the cost of the vacation rental after the completed stay, excluding taxes and fees.
So if you book a $1,000 stay, you will earn 3,000 miles. Since NerdWallet values United miles at 1.2 cents each, those 3,000 miles are worth $36. Although it's not a significant amount, connecting your accounts can be an easy way to accumulate some extra United miles with minimal effort.
5. Travel when no one wants to
Vrbo hosts can set different prices for different days — and they'll likely charge higher prices in line with demand. So, for example, a cabin near the ski lift base will probably cost more in winter, while the beachfront cottage will likely cost more in summer.
If you don't mind going to the beach on a cold winter day or riding the ski lift with no snow on the ground, then you might be rewarded financially. You can sometimes get the destination's best seasonal offerings coupled with lower prices by traveling during shoulder season.
Is Vrbo better than Airbnb?
The two vacation rental companies have a few key differences. Airbnb offers standalone homes, shared spaces and hotel rooms, while Vrbo only offers standalone accommodations. 
Though Airbnb has more properties, Vrbo has more robust search capabilities. When we compared the cost of vacation rentals between Airbnb and Vrbo, we found that bookings were priced similarly.
Vrbo vacation rentals, recapped
If you're looking to rent a vacation home for your upcoming trip, Vrbo offers plenty of properties around the world to choose from. Once you make an account, you'll be able to search for properties and book them through the platform.
Since Vrbo properties are people's homes, the cancellation policies as well as the check-in/checkout process will differ from place to place so keep that in mind as you plan for your trip.
---
How to maximize your rewards
Get more smart money moves – straight to your inbox
Sign up and we'll send you Nerdy articles about the money topics that matter most to you along with other ways to help you get more from your money.