What Does the Future Hold for Hotels and Their Loyalty Programs After Coronavirus?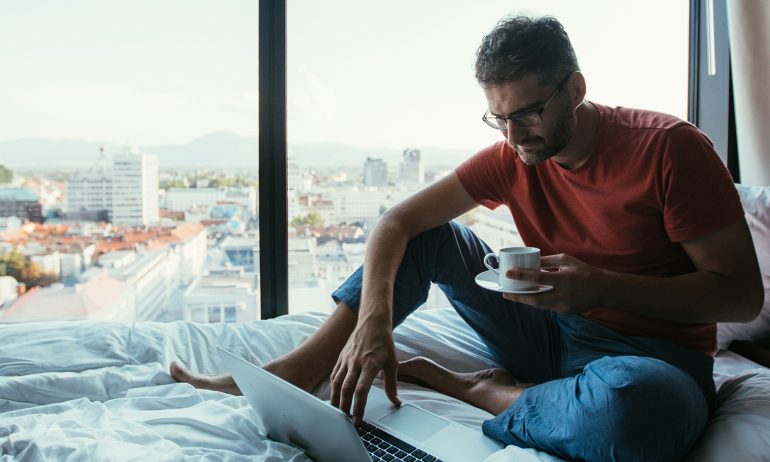 Many or all of the products featured here are from our partners who compensate us. This may influence which products we write about and where and how the product appears on a page. However, this does not influence our evaluations. Our opinions are our own. Here is a list of our partners and here's how we make money.
Note: As you plan travel during the coronavirus pandemic, please check the CDC and State Department websites for current guidance and travel restrictions.
---
---
COVID-19's impact on the travel industry has been nothing short of devastating. The airline industry got a bailout as part of the coronavirus stimulus passed by Congress, but that doesn't mean that planes are back in the air. American Airlines, for example, has canceled up to 80% of domestic flights in May due to lack of demand.
But the pandemic has decimated other segments of the industry as well, with few hit harder than the hotel business. And while the major lodging companies don't face the immediate risk of bankruptcy that the airlines did, they will have to make changes to their operations, which will no doubt cost them.
NerdWallet Guide to COVID-19
Get answers about stimulus checks, debt relief, changing travel policies and managing your finances.
Why lodging companies don't need a big bailout
The truth is, most lodging companies don't actually own the hotels that use the company's name. For example, Marriott is the world's largest hotel operator, with 30 brands under its control. So how many hotels does the company own? The answer is actually fewer than 100. The majority of hotels, over 5,000, are franchised, which means that they are independently owned and pay the Marriott Corporation a fee for the use of their names and centralized services.
The company also manages almost 2,000 properties, meaning that it operates the property on behalf of the owner. Naturally, the brand collects a fee for this service as well.
In a March 18, 2020, press release to investors, Marriott announced that its hotels in several regions were running below 25% occupancy due to coronavirus. Obviously, the loss of fees associated with these properties is devastating, but much of the real bankruptcy danger lies with the individual properties themselves. Still, Marriott has every incentive to keep these properties solvent, and will likely provide aid and fee relief over the next several months.
What will change after COVID-19?
Because of the crisis, Marriott has already announced that it will relax brand standards and allow properties to defer some maintenance, but that's temporary. Certain changes will be permanent to these companies. Here's what I expect:
Hotels will take cleanliness more seriously
Is your hotel room really clean? It's hard to tell, and we've all heard stories about housekeepers cutting corners because they have so many rooms to clean. Those days are over. Cleanliness will likely become a priority, and the housekeepers will probably spend more time in each room. It may cost the hotels a few dollars more, but nobody wants to own a property that gets accused of giving COVID-19 to a guest.
On the plus side, your bathroom amenities may be coming back. Over the past few years, a number of companies have eliminated the little bottles of shampoo and bars of soap in favor of refillable containers. This change was made in the name of environmental friendliness, although the more cynical among us might argue that it was a cost-saving maneuver. Regardless, they may be coming back to avoid fears of tampering.
Zoom won't take over the world — and people will still travel for business
In 2000, when I first started following airline stocks for a living, videoconferencing was seen as a massive threat to the industry. Rather than run up corporate travel budgets, analysts reasoned, companies would buy videoconferencing technology and do everything remotely.
I heard the same thing in 2005 after technology had become more advanced. I heard the same thing after the financial crisis. Then, I heard it again during the SARS outbreak. In fact, every time there is a global event, somebody predicts the end of international business travel.
So far, that person has been wrong every time. In fact, business travel comes back in greater volumes than before. Just because the technology is there doesn't mean it's the best method for conducting business — and besides, travel is fun. We need to get our points and miles somehow.
But some analysts see this recovery taking longer than in the past. For example, in a note to clients, the J.P. Morgan airline and aircraft leasing team said that "in sharp contrast to our views in prior downturns, we do believe lessons learned vis-à-vis WFH and videoconferencing will retard the overall recovery in corporate demand (at least to some degree, though we are still of the view that the general narrative here is overblown), even if a robust, non-recessionary environment comes to fruition."
Your points are safe and loyalty programs will continue
Many hotels have been more proactive than airlines about informing their customers what would happen with loyalty programs. Most lodging companies have already announced that they will allow you to cancel even non-cancellable reservations while also extending your elite status for another year.
It makes perfect sense that the companies would do this. Most major cities have several hotel brands — if yours isn't treating you right, you can switch easily.
In fact, a weak year in the hotel industry could be great for your point balances. First, the lodging companies will likely offer specials to get people traveling again and those promotions could come in the form of points bonuses.
In addition, the largest lodging companies often determine a hotel's points category based on the projected average room rate. If room rates drop, the amount of points you need to book might be lower as well.
---
How to maximize your rewards
Get more smart money moves – straight to your inbox
Sign up and we'll send you Nerdy articles about the money topics that matter most to you along with other ways to help you get more from your money.