What You Need to Know as Airlines Drop Routes in the Pandemic
Here's what limited route availability means for your future travels.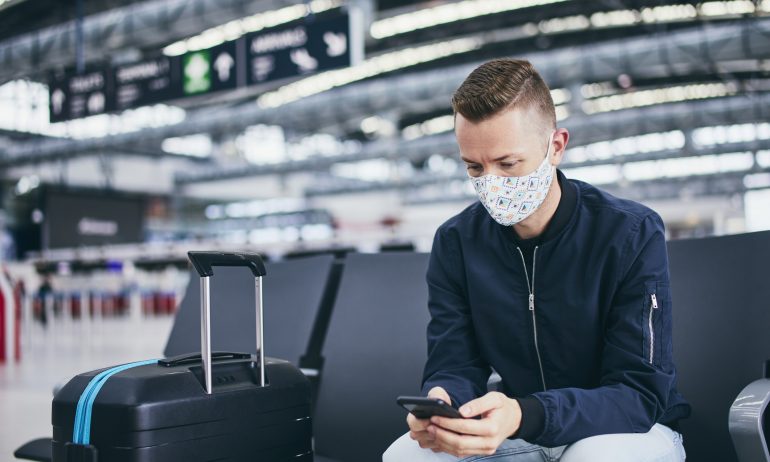 Many or all of the products featured here are from our partners who compensate us. This may influence which products we write about and where and how the product appears on a page. However, this does not influence our evaluations. Our opinions are our own. Here is a list of our partners and here's how we make money.
As Americans deal with varying levels of lockdown and travel restrictions this summer, some of us are starting to travel again. Some people must travel for work. Others are called to a family emergency. But also, there are those who are beginning to feel they can be safe while taking a much-needed summer vacation.
If you plan to fly anytime soon, you'll find just a small fraction of the flight choices you once had, and you may have less confidence that the flights you book will actually operate as scheduled.
Here's a look at how well airlines are functioning in the United States these days, plus a look at trends in route availability and the percentage of scheduled flights that actually end up flying.
Flights, passengers are slowly coming back
When the novel coronavirus hit the U.S. hard in March 2020, the airline industry went into a freefall that it's just beginning to recover from. For example, on June 29 the Transportation Security Administration reported that just 625,235 passengers passed through its checkpoints, down nearly 75% from the same weekday a year ago. Nevertheless, that's up 714% from its low point of 87,534 travelers recorded on April 14. So airline travel is now rising in the U.S., even though it's only about a quarter of last year's numbers.
The number of flights operated hasn't decreased nearly as much as the number of passengers. The U.S. Bureau of Transportation Statistics reports that about 194,000 domestic flights operated in April 2020, about 30% as many flights as in April 2019, despite a 96% drop in passengers that month.
So the flights that actually happened were well under capacity.
This can partially be attributed to social distancing measures in place by most airlines that left middle seats unoccupied, along with some of the first and last rows of the plane. These measures effectively reduced the capacity of most aircraft by approximately 30%. But that accounts for only a fraction of the empty seats.
Since its low point in April, passenger traffic rose to finish the month of May down 87% compared to last year, according to the industry trade group Airlines for America. Airlines are now increasing capacity by reinstating flights and reducing or eliminating social distancing policies. For example, American Airlines is no longer restricting sales of middle seats. However, in many cases American will allow customers to change their reservation to flights with more open seats, without incurring a change fee. American's move follows United's mid-May statement that it would merely avoid seating customers next to each other "where possible." JetBlue is continuing to block its middle seats through Sept. 8, and Delta and Southwest will do so until at least Sept. 30.
The airlines are also taking steps to increase the number of flights that they operate, presumably in anticipation of increased demand. American Airlines recently announced that it plans to restore 55% of its domestic schedule in July 2020. United Airlines is reinstating 150 of its flights to U.S. and Canadian destinations. JetBlue recently announced the addition of 30 new routes this summer and fall, as well as the reopening of previously closed destinations.
How the coronavirus relief act affects airline routes
Despite the recent resumption of some flights, many of the airline flights that existed last year have been removed from schedules. Because of the dramatically reduced number of flights and passengers, it would be reasonable to assume that airlines simply dropped their least profitable routes. But that hasn't been the case.
The Coronavirus Aid, Relief, and Economic Security Act offered aid to U.S. airlines that agreed to largely maintain existing flight schedules. Specifically, the act authorizes the secretary of transportation to require, "'to the extent reasonable and practicable,' any airline receiving funds to maintain scheduled air transportation service as the secretary deems necessary to ensure services to any point served by that air carrier." Since this part of the act was purposely left to the interpretation of the Department of Transportation, how this rule is applied becomes critical.
In an April ruling, the DOT allowed airlines to reduce the frequency of flights, depending on the airline's status as a "large" or "small" carrier. Only American, Delta, Southwest and United were designated as "large," with all other airlines accepting coronavirus relief money being deemed "small." In May, the DOT further relaxed its rules to allow airlines to discontinue service to up to 5% of their destinations, or five destinations, whichever was greater.
As a result, every airline receiving coronavirus relief funding dropped multiple destinations.
For example, Delta dropped service to Peoria, Illinois, Santa Barbara, California, and Aspen, Colorado. American ended service to Aspen, Vail and Montrose, Colorado. United dropped Key West, Florida, Fairbanks, Alaska, and Chattanooga, Tennessee. Overall, the DOT granted 14 carriers exemptions from providing minimum service to 75 destinations.
This doesn't mean that 75 destinations no longer had flights coming in. Each of the service interruptions granted by the DOT was for a single airline, and in nearly every case, other airlines continued to fly to that airport. For example, while Delta suspended service to the Santa Barbara airport, you could still fly into Santa Barbara on United or American.
So while you may have fewer flights to choose from, chances are you will be able to get where you're going. The number of "city pairs" — the industry term for unique routes — has been increasing in North America so much in recent years that the reduction of domestic routes allowed by the coronavirus relief act isn't significant. For example, in 2017, there were 79 new city pairs added by airlines within North America, balancing out the 75 destinations that were dropped.
A different international story
But when it comes to international routes, which aren't covered by the coronavirus relief act, the story is very different. Internationally, there has been a massive reduction of unique city pairs. According to the International Airline Transport Association, global unique city pair service dropped from an all-time high earlier this year of over 20,000 to less than 5,000 in April 2020.
If you were to select an international route at random from a pre-COVID schedule, there's less than a 1 in 4 chance that it's still operating today. But airlines haven't eliminated routes at random. Instead, these decisions are made based on both health-related travel restrictions and reduced demand. As a result, popular routes between major international destinations are most likely to remain, albeit at lower frequencies and possibly with less competition. So while British Airways' July schedule still offers nonstop flights from London to cities such as New York, Los Angeles and Atlanta, it isn't operating its previous nonstop flight to Denver.
How the coronavirus relief act affects airline schedules
While chances are you can still fly to the same places you could before the pandemic, the frequency of flights could be significantly reduced. Carriers receiving coronavirus aid funds are allowed to reduce popular routes as follows:
| Pre-COVID Flights Per Week (for individual routes) | | | |
| --- | --- | --- | --- |
| Reduced Requirements (Large Airlines) | | | |
| Reduced Requirements (Small Airlines) | | | |
This means travelers who previously had a choice of several nonstop flights a day between certain city pairs might now have just a single flight on any given day, or have to fly a day or even two days earlier or later. The situation is reminiscent of the 1960s and 1970s when passengers had to be content to book "the flight" between two cities rather than having a choice of numerous departures throughout the day.
Will your flight operate as scheduled?
When the COVID crisis began to affect the United States in mid-March, passengers canceled reservations en mass, triggering the airlines to cancel an extraordinary number of flights and severely reducing airlines' "completion factor" — the number of flights that operate (even if delayed) expressed as a percentage of the total number of flights scheduled. In April, Southwest Airlines only flew 47.7% of its scheduled flights and American just 55.8%. United and Delta did significantly better, completing 63.9% and 76% respectively.
To put these completion factors in perspective: In 2018, Delta announced that it flew 243 straight days without canceling a single mainline flight.
By late June, the completion factor for major airlines was rising steadily. American, Delta, Southwest and United all saw their completion factors rise to above 96%, as did Alaska and JetBlue. Among ultra-low-cost carriers, both Spirit and Frontier had completion rates of nearly 100% in May and the first three weeks of June, while Allegiant took a little longer to recover, but has been completing nearly 100% of its flights since June 17.
These rising completion factors show that the domestic market has largely stabilized. Passenger cancellations are no longer driving airlines to cancel as many flights. Plus, in the past, a significant portion of canceled flights were due to crew scheduling and maintenance problems. Today, these problems are far less likely because airlines have a surplus of underutilized aircraft and flight crews. According to Airlines for America, an industry advocacy organization, 40% of U.S. passenger aircraft were idle as of June 28, 2020. This amounts to 2,433 parked airplanes, down from a peak of 3,204 on May 18, 2020, but still a lot of planes. That's why the vast majority of canceled flights today are likely to be due to either severe weather or the airline choosing not to operate the flight for economic reasons.
The fact that most airlines are approaching 100% completion factors means that they have successfully revised their flight schedules to take into account reduced demand.
As of this writing, on-time statistics haven't been released for the first half of 2020. But there's plenty of anecdotal evidence to suggest that the shortage of passengers and the surplus of aircraft and flight crews, as well as airport and airspace, have resulted in phenomenal on-time performance for the remaining flights on the airlines' schedules. I've spoken to passengers who have collectively flown over two dozen flights in late May and June, and they've all reported arriving on time or substantially early. In years past, the busy summer season often saw some of the worst airline delays.
The months of March, April, May and June of 2020 have been an unprecedented time in the airline industry. At first, travelers saw the vast majority of previously scheduled flights canceled, and those who still needed to travel faced an industry in chaos.
Now a fragile equilibrium has been reached in the nation's air transportation system, and those who wish to travel can make plans with some confidence that the flights they book will actually be operated. There are relatively few domestic routes that are no longer offered, but international operations remain a shadow of their former self. Once you've booked a reservation for a flight this summer, the chances are better than ever that it will operate as scheduled and arrive on time or even early.
---
How to Maximize Your Rewards
Get more smart money moves – straight to your inbox
Sign up and we'll send you Nerdy articles about the money topics that matter most to you along with other ways to help you get more from your money.