Many or all of the products featured here are from our partners who compensate us. This may influence which products we write about and where and how the product appears on a page. However, this does not influence our evaluations. Our opinions are our own. Here is a list of our partners and here's how we make money.
Tired of sky-high cell phone bills, but not ready to throw it back to 1990 and throw out your smartphone? The solution may be simpler than you think.
Your tablet, with the help of an app or two, can double as a smartphone. Tablet calling can also save you money, since data-only plans designed for tablets are typically less expensive than traditional cell phone plans.
Make the most of your cash
Track all your spending at a glance to understand your trends and spot opportunities to save money.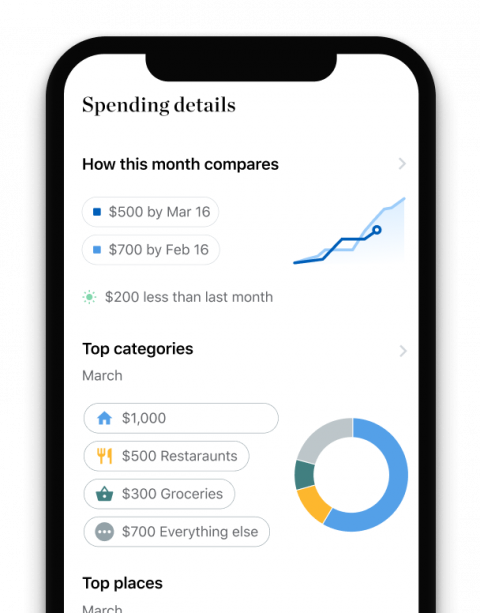 Data-only plans are just that — all data, no minutes and no texts — so any calls or messages sent via an app will use data. Video calls are typically the biggest data hog, with regular messaging on the other end of the spectrum. Connecting to Wi-Fi whenever possible will help you keep your data usage down.
You really need only two things to make your tablet function as a smartphone: a VoIP (Voice over Internet Protocol) or VoLTE (voice over LTE) app and a pair of headphones.
The former lets you make calls and send text messages over a data connection or Wi-Fi, rather than a cellular network. The latter keeps you from walking down the street with your iPad pressed to your ear, because that would just look foolish.
Here are some popular — and free — apps to consider:
Google Hangouts: The Hangouts app lets you send messages and make voice and video calls to anyone who has a Google account. You can also make free calls to most numbers in the U.S. and Canada. The app works on Android and Apple devices, so long as you have a strong Wi-Fi signal l a 3G data connection, at minimum.
Skype: Download the Skype app to call or message any Skype user for free using your iPad, Kindle Fire HD, Android or Windows tablet. Video calls are also free within the Skype network, but calls to cell phones or landlines are an additional charge.
Facebook Messenger: Facebook is great for keeping in touch with old friends via photos and status updates. But download this app to your tablet and you can text or call anyone who also has Facebook Messenger — you can even place or receive video calls. Messages, voice and video calls are free to anyone, anywhere in the world. You just need a Wi-Fi or data connection. Facebook Messenger works on iOS and Android tablets, as well as tablets that use Windows 10.
FaceTime and iMessage: These really work only within the Apple universe. But if you're in that universe, you can use iMessage to send texts to other Apple devotees using their email, Apple ID or phone number (assuming they have an iPhone). FaceTime works within the same network, but you can make video and voice calls only to others with an Apple device.
This list of apps isn't extensive. There are other options out there, some free and some that charge a modest fee. Do you use your tablet as a smartphone? Tell us about your favorite apps in the comments.