Pros
13,000 free ATMs and about 5,800 branches in 39 states
Cons
0.01% APY on standard savings account; better rates available elsewhere
$35 overdraft fee can be charged three times daily
Megabank and mortgage giant Wells Fargo offers a huge variety of financial products under one brand — checking and savings accounts, investments, credit cards, auto loans and more. If you have a Wells Fargo mortgage or investment account — or a high enough bank balance — you could receive certain upgrades on interest rates and fees for checking and savings accounts.
Ratings methodology | Updated June 20, 2018.
Wells Fargo's Everyday Checking has a $10 monthly fee. You can avoid the fee by making 10 debit payments or $500 in direct deposits or by keeping a minimum daily balance of $1,500 each month. There's no interest rate, so you won't see your money grow.
With 13,000 ATMs, Wells Fargo's network is fairly large; it only slightly trails Chase's and Bank of America's 16,000-ATM networks.
Certificate of Deposit
Min. balance for APY
$10,000
Everyday Checking
Balance to waive monthly fee
$1,500
How does Wells Fargo compare?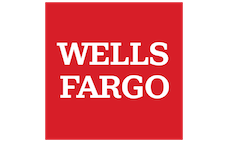 Way2Save Savings
NerdWallet Rating

Online Savings
NerdWallet Rating
at Goldman Sachs Bank USA,
Member, FDIC

High Yield Savings Account
NerdWallet Rating
at American Express National Bank,
Member, FDIC
Not for you? Read more bank reviews