What Do You Need to Open a Bank Account?
You'll need a government-issued ID and some basic information, and you might have to deposit some money to get started.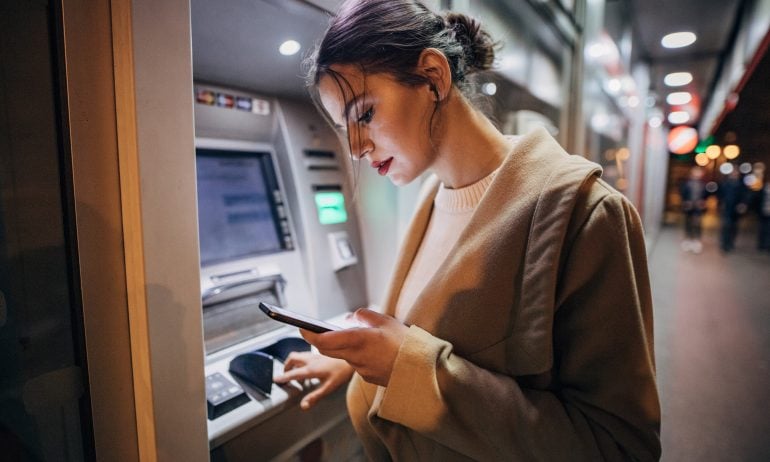 Many or all of the products featured here are from our partners who compensate us. This influences which products we write about and where and how the product appears on a page. However, this does not influence our evaluations. Our opinions are our own. Here is a list of our partners and here's how we make money.
Discover the bank accounts that fit your financial goals
Just answer a few questions to compare bank accounts that meet your needs.
Whether you apply for a bank account online or in person, you'll need a government-issued ID and personal details, such as your Social Security number, on hand. (If you don't have a Social Security number, you can still open a bank account — skip ahead for more details.) You might also be asked to fund your account with an initial deposit.
Here are details about what you need in order to open a savings or checking account, and what to expect during the process.
What you need to open a bank account
You can open a bank account online or at a branch, if the bank has brick-and-mortar locations. You'll need to provide the same information whether you're opening a savings account or other deposit account. The minimum information that banks are required to get from account applicants are name, address, date of birth and an ID number.
Here's a more detailed list of what you'll need in order to open your new bank account:
1. A valid, government-issued photo ID, such as a driver's license or a passport. Nondrivers can get a state ID card at the Department of Motor Vehicles office.
2. Other basic information, such as your birthdate, Social Security number or taxpayer identification number, or phone number.
Depending on your circumstances, you might need a few other items, too.
4. Identification details for other applicants, if you're opening a joint account. Because the account will be owned by multiple people, the bank will want all owners' identification and personal information.
5. A co-owner if you're not yet 18. Ask a parent or legal guardian to sign legal documents with the bank.
If you're undocumented (and don't have a Social Security number, for example), banks typically require your permanent (foreign) and local addresses and individual tax identification number (ITIN), and one or two of the following documents:
One or two forms of photo identification such as an unexpired passport (including foreign passports), a government-issued driver's license (including foreign licenses), a citizenship card or a consular ID. ID from your school or place of work or a Visa or Mastercard credit card or debit card may sometimes be accepted.

Proof of residency such as a current rental agreement, utility bill or paystub showing your name and U.S. address.
Decide what type of account you want: checking vs. savings
Choose checking if you want to:

Choose savings if you want to:

Make debit card purchases.

Put away money for specific goals.

What to look for in a checking account:

What to look for in a savings account:

Low or no overdraft fees.

Convenient free ATM access.
If you've had trouble with banking in the past, you can still get a bank account. Get a fresh start with a second chance checking account: See what's offered in your area.
SoFi Checking and Savings

APY
4.60%SoFi members with Direct Deposit or $5,000 or more in Qualifying Deposits during the 30-Day Evaluation Period can earn 4.60% annual percentage yield (APY) on savings balances (including Vaults) and 0.50% APY on checking balances. There is no minimum Direct Deposit amount required to qualify for the stated interest rate. Members without either Direct Deposit or Qualifying Deposits, during the 30-Day Evaluation Period will earn 1.20% APY on savings balances (including Vaults) and 0.50% APY on checking balances. Interest rates are variable and subject to change at any time. These rates are current as of 10/24/2023. There is no minimum balance requirement. Additional information can be found at http://www.sofi.com/legal/banking-rate-sheet.
Do you have room to budge?
Check out your spending breakdown on NerdWallet before you build your budget.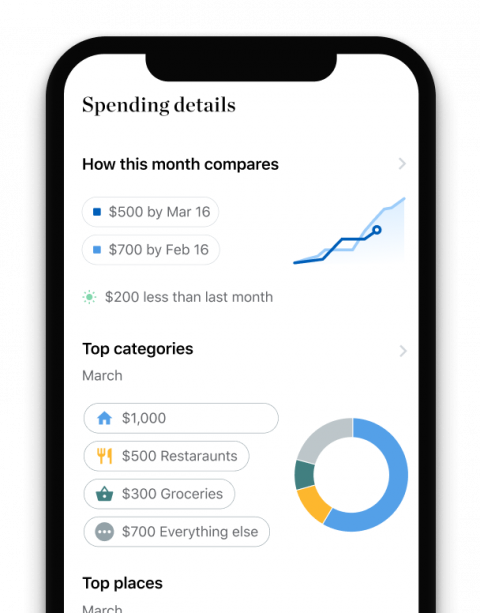 Find a bank that suits your needs
If you're willing to consider online-only banks, you'll likely find lower fees and higher interest rates. Brick-and-mortar institutions typically have more fees and lower rates, but often come with a wider array of services and in-person assistance.
What to expect when you open your new account
Applying for a new account usually doesn't take very long, especially if you apply online. Some accounts don't require you to make a deposit right away, but others ask that you have $25 to $100 on hand to open one. If you already have an account at a different bank or credit union, you can simply transfer money from that existing account into the new one. Otherwise, a check or cash will work.
Close your old account, if needed
Knowing how to properly switch banks can save you late fees and headaches. Address these items to make sure the transition is seamless.
Direct deposit: Give your employer your new account information.
Automatic bill payments: Cancel any old ones — whether in the bank's own bill-pay platform or through, say, your streaming service provider's website — and set up new ones with your new account information.
Recurring transfers and linked accounts: This could involve setting up a transfer between a new checking and an existing savings account, or making sure your PayPal, Venmo, Zelle and other payment app information is up to date.
Smartphone apps, mobile banking and alerts: Download your new bank's app, sign out of and delete your old one, and turn off any alerts you were receiving.
Paper checks: Destroy any leftover blank checks from the old account.
Safe-deposit boxes: If you're cutting ties completely, collect your items in person and consult your rental agreement for specifics about closing out your box.
Get a written statement from your old bank confirming that your account is closed and ask about the bank's account-reopening policies. Why? Some banks will reactivate closed accounts to honor automatic payments or receive deposits, putting you back on the hook for any fees.
Frequently asked questions
What do I need to open a bank account?
What banks allow you to open an account online?
What is required when opening a checking account?
APY
4.60%
With $0 min. balance for APY
Bonus
$300
Earn up to $300 with direct deposit. Terms apply.
Get more smart money moves – straight to your inbox
Sign up and we'll send you Nerdy articles about the money topics that matter most to you along with other ways to help you get more from your money.