Advertiser Disclosure
Small-Business Checking Primer: Answers to 5 Essential Questions
You can trust that we maintain strict
editorial integrity
in our writing and assessments; however, we receive compensation when you click on links to products from our partners and get approved. Here's
how we make money
.
A small-business checking account is important if you're thinking of expanding your small business or starting a new one. Having a business checking account can help you deal with legal, tax and practical issues.
It allows you, for instance, to separate your business finances from your personal finances — checks made out to your company go into your business checking account. A separate account also makes it easier to deduct business expenses for taxes. If any legal action is taken against your company, having commingled accounts may cause the court to hold your personal assets liable, so it's best for owners to keep business and personal expenses separate.
Although corporations and LLCs should always hold a separate business account, sole proprietors and freelancers could use personal checking accounts as long as they have a reliable, accurate method of tracking business and personal expenses.
What's the difference between personal and business checking?
It's not unusual for small-business owners who open their business checking accounts at the same financial institution as their personal checking accounts to subsequently switch institutions because they incur surprising fees or are dissatisfied with the level of customer service.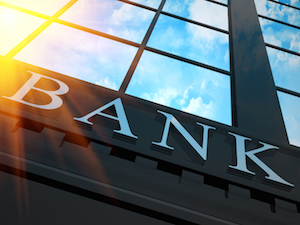 Remember that business checking accounts vary widely, and the same rationale used in choosing a personal checking account cannot be applied to business checking accounts because the fee structure differs.
Personal and business checking accounts differ in several key ways:
Business accounts have a limit on the number of free monthly transactions and the amount of cash that businesses can deposit for no charge. Because businesses tend to be more active than individuals, with more transactions and more cash deposits per month, there is a stronger possibility of incurring fees as banks charge for additional activity.
Business accounts have rules governing the type of business eligible for certain accounts. For example, there are certain accounts  available only to nonprofits.
Business accounts tend to have lower interest rates than personal accounts. Most business checking accounts don't earn interest unless the company is a nonprofit.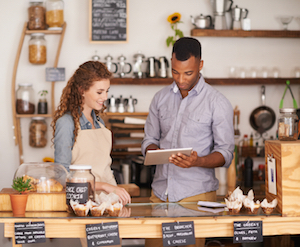 Business accounts and personal accounts are also similar in several ways. They both often have monthly fees that may be waived if the account holder meets certain minimum balance requirements. Both levy overdraft fees and charge-back fees.
And if you check out bank websites, you'll see that they both have an array of account options. NerdWallet has compiled a list of low-fee business checking accounts in our comparison tool.
How do business checking accounts vary?
Accounts differ in several key ways based on the type of business that can open them, transaction limits and cash deposit limits.
If you are a sole proprietorship or a nonprofit, you are typically eligible for interest-bearing accounts with lower monthly maintenance fees and a low transaction limit. The interest rates usually range from 0.1% to 1.01%, says Adriaan van Zyl, chief executive of California Business Bank. He says banks "generally want to make it attractive for small-business owners." But van Zyl also advises small-business owners to do their homework. "Sometimes, if you count the value of the free transactions and add that to the interest rate earned, the combined value may well exceed that of an account that only offers a high interest rate," he says.
Banks can limit the number of transactions, and they vary on what they consider a transaction. Transactions usually include checks paid, teller deposits, ATM deposits, deposited items and ACH items (Automated Clearing House, the electronic network used for financial transactions in the U.S.). "It is very common to have per-item fees when exceeding a predefined limit," says Diane Lanier, chief retail officer of Heartland Bank and Trust Co. "In our current business account offering, the fee is 25 cents per item once the limit is exceeded."
There are also rules on the amount of cash you keep in the account. Again, any monthly input of hard cash up to the predefined amount is free, but the bank charges a cash handling fee for anything above the predetermined amount, usually around 0.2%. Banks do this because it's harder to process large amounts of cash and prefer electronic transactions. "This is common and can vary by bank," Lanier says. "Some banks will charge a percentage above a certain amount. Some banks may charge by the bill strap or coin roll, with or without limits."
Lanier offers this tip: If your business deals mostly in cash, such as a restaurant or a venue that charges admission, you may want to look for accounts with higher cash deposit limits.
What is analyzed checking?
You could save money on fees if you use a common banking system called analyzed checking, but only if your account is used heavily and you maintain a sizable balance.
Under this system, a bank evaluates your business's individual needs and applies an earnings credit rate based on the account balance and the level of account activity. With that earnings credit rate, also referred to as ECR, a small-business owner would then be able to offset some of the bank's fees.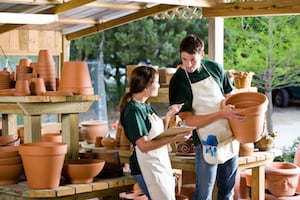 The rules vary depending on the bank. For example, Bank of America offers "full analysis business checking" to small businesses with a minimum deposit of $60,000 and that write more than 150 checks and deposit more than 200 checks a month.
"Accounts analysis is most often added to high-volume accounts to help the business manage its account," Lanier says. "A target balance can be calculated based on the earnings credit rate to show the business what balance it needs to keep in the account to offset the monthly account activity fees."
The analyzed checking and earnings credit rate are aimed at helping small businesses save money, but van Zyl says there are other ways for entrepreneurs to reduce banking costs. For example, he says small-business owners should "seek out banks with simpler fee structures that also pay real interest.
"Many of the banks that pay good interest on business checking accounts, without having to go the complicated earnings credit route," he says, "are newer or largely Internet-based banks."
What factors should I consider when choosing a business checking account?
You should pick a checking account based on the type and location of your business, your transaction requirements and your cash deposit requirements.
If you have a business credit card, you should be aware that credit card processing is faster within the same bank. So if you have a business credit card with Chase, it might be worth opening a checking account with Chase because having accounts with the same bank typically makes transaction processing faster.
If you are receiving a small-business loan from a bank or credit union, consider what your lender has to offer. Sometimes, monthly maintenance fees can be waived if you maintain a predetermined combined account balance, including your balance in your business checking account and your outstanding loan balance.
Should I use a credit union?
Credit unions usually offer lower monthly fees on their business accounts, and their focus on customer service often makes them small-business friendly. Credit unions usually don't have cash deposit limits, making them a good choice for restaurants and other businesses that deal mostly in cash. They also tend to charge lower overdraft and charge-back fees, and usually offer better interest rates on deposit accounts.
The only drawback is the limited locations of credit unions. Big banks have an undeniable advantage in their ubiquity, with ATMs scattered throughout major cities, while credit unions often have only a few branches. But depending on the location and needs of your small business, a credit union could be a good choice for your business checking account.
Looking to start your own business, and need help with financing? Be sure to compare business loans and credit cards here:
Divya Raghavan contributed to this article.
For free, personalized answers to questions about financing your business, visit the Small Business section of NerdWallet's Ask an Advisor page.
Benjamin Pimentel is a staff writer at NerdWallet, a personal finance website. Email: bpimentel@nerdwallet.com. Twitter: @benpimentel
The post was updated. It originally was published on Sept. 27, 2012. 
---
Images via iStock.