You might think that a plastic card with "Horizon Gold" emblazoned on the front and the cardholder's name, 16-digit account number and expiration date embossed on it would be a credit card.

After all, the card's website offers an "unsecured $500 credit limit," "easy terms," no employment or credit check, credit bureau reporting and a "fast online application." If you have limited or bad credit, this sounds like a great credit card.
Key points
• Horizon Gold is not a credit card like a Visa or Mastercard. It's a store card that you can use in only one place, and you pay your bill in full every month.
• The fees are high. The card costs nearly $300 a year in fees and has a limit of only $500.
• Far better options are available for those with bad credit or no credit history.
But the Horizon Gold card is not a credit card as you might understand it. It's a store card — and an extremely expensive one at that.
Don't take our word for it. The terms and conditions section of the website reads:
Horizon Card Services™ IS NOT A CREDIT SERVICES ORGANIZATION, BANKING INSTITUTION OR INSURANCE COMPANY, NOR IS IT AFFILIATED WITH ANY CREDIT SERVICES ORGANIZATION, BANKING OR INSURANCE INSTITUTION. THIS PRODUCT IS NOT A VISA, MASTERCARD, OR DEBIT CARD. HORIZON CARD SERVICES ACCOUNT IS A LINE OF CREDIT THAT CAN BE USED BY AN ACCOUNT HOLDER TO SHOP EXCLUSIVELY AT OUR ONLINE SHOPPING WEBSITE shop.thehorizonoutlet.com. … Horizon Card Services™ DOES NOT FACILITATE, NOR PROVIDE ASSISTANCE IN OBTAINING CREDIT FROM ANY OTHER CREDIT-ISSUING ENTITIES.
For consumers with bad credit, the only benefit is that activity on the card is reported to "at least one major credit bureau," so using it might improve your credit score. We confirmed with Equifax that the card is reported as a charge card, for use at one store. (Read more about how charge cards affect your score and why they don't have as big an impact as credit cards.) That said, it's not worth your time or money. Here's why.
» ALTERNATIVES: The best and worst credit cards for bad credit
What are the benefits?
You can use the card only to shop at the Horizon Outlet online store. For that privilege, you pay $24.95 a month for the Horizon Gold "Membership/Benefits Plan." If you're keeping score, that comes out to $299.40 a year. That's far more than you'd pay for a good secured card and rivals the annual fees even on perks-laden, super-premium credit cards.
Your "membership" gives you a card with a $500 limit and benefits including My Privacy Protection, My Universal RX, My Legal Assistance and a roadside assistance plan.


Without opening an account, we can't see the full extent of the benefits, but here's what we've gleaned from their documentation:
With the privacy protection plan, you get a credit report. But you can get a free credit report once a year from each of the three major credit bureaus at AnnualCreditReport.com, the federally authorized site.
The prescription benefit claims to save you up to 40% of the cost of "covered prescription medications," but you can't see the list of qualified medications until you sign up for the card.
Roadside protection annually allows "3 service calls or towing requests up to 15 miles not to exceed the operator cost of $50.00." Coverage includes only one call in a 30-day period.
The legal assistance plan gives you one 30-minute phone or internet consultation with "a legal professional in your area specializing in your area of law interest."
All of these benefits are available only to the person whose name is on the account. (You may add family members, but you have to call customer service to get pricing.) So if, say, your teenage son is driving your car and it breaks down or runs out of gas, he can't call for assistance unless he's been added to the account. In addition, you cannot have your purchases delivered to any address other than the account holder's.
» MORE: The big problem with easy-to-get subprime cards
What are the costs?
Horizon Gold has a slew of fees on top of the nearly $300 a year in membership fees. The website lists them in a disclosure grid similar to a credit card's Schumer box. Here's what it looks like: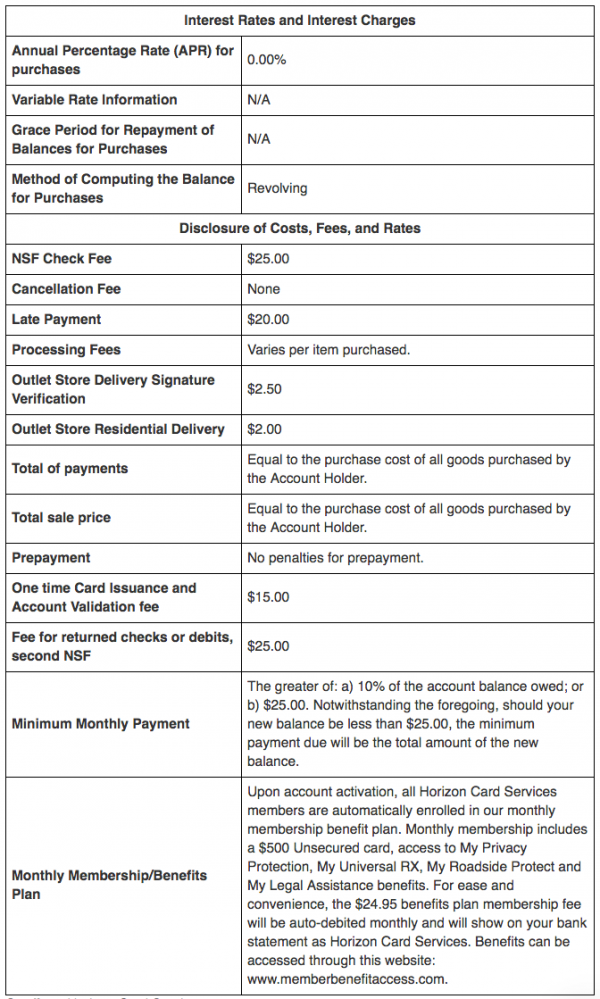 What's in the Horizon Outlet?
The Horizon Outlet, which is the only place you can use this card, offers a range of merchandise: men's, women's and children's apparel; home goods; entertainment and electronics; and financial services. The prices seem comparable with those at Wal-Mart or other discount stores, but you have to pay shipping costs, plus a $2 delivery fee and a $2.50 fee to verify your signature at delivery.
In a web search of complaints, shoppers at Horizon Outlet said that many of the merchandise items shown on the site were out of stock and there were limited sizes available. On the Horizon Outlet website, it does say, "All product availability may be limited to quantities on hand."
Besides the Horizon Gold card, Horizon Card Services markets NetFirst Platinum card, Freedom Gold card, Merit Platinum card and Group One Freedom card. All of them can only be used for shopping at the Horizon Outlet online.
» MORE: NerdWallet's best store credit cards 
Better option for bad or limited credit
Consumers in search of credit cards for bad credit have far better options than the Horizon Gold card.
For many, the best way to build credit is with a secured credit card. With these cards, you deposit money, usually starting around $300, and get a credit line for the same amount. These cards operate the same as any other credit card, meaning you can use them anywhere — not just at a single outlet. They're offered by reputable issuers that will report your credit activity to the credit bureaus.
Several issuers offer secured cards with no annual fee, and Discover it® Secured even has a rewards program. With the Capital One® Secured Mastercard®, if you make your first five monthly payments on time, Capital One may increase your credit line without an additional deposit.
Having bad credit doesn't have to be forever, and you don't have to resort to a product like the Horizon Gold card to build your credit. Responsibly manage a secured card from a reputable issuer, and you'll be on the road to good credit.