During an interview with the Baptist Press on Monday, Chick-fil-A COO Dan Cathy was asked about his firm's opposition to gay marriage:
"Well, guilty as charged, we are very much supportive of the family — the biblical definition of the family unit. We are a family-owned business, a family-led business, and we are married to our first wives. We give God thanks for that.

"We operate as a family business … our restaurants are typically led by families; some are single. We want to do anything we possibly can to strengthen families. We are very much committed to that," Cathy emphasized.

"We intend to stay the course," he said. "We know that it might not be popular with everyone, but thank the Lord, we live in a country where we can share our values and operate on biblical principles."
First of all—what does this statement mean, and why does it matter? A closer look at the numbers reveals that Chick-fil-A doesn't just support the traditional family: it actively funds groups that work to sow hatred in the national discourse.
We looked at the Form 990 for WinShape, the charitable foundation through which Chick-fil-A does its community work. A Form 990 is the IRS document though which charities report their donors and grantees.
For 2010, the latest year public records are available, WinShape received $8 million in funds from Chick-fil-A. A significant portion of Chick-fil-A's $8 million was disbursed to organizations like Exodus International and the National Christian Foundation—groups which are focused on reinforcing heterosexual marriage while denigrating gay marriage and LGBT people in general.
The numbers behind Chick-fil A's Anti-Gay sentiments: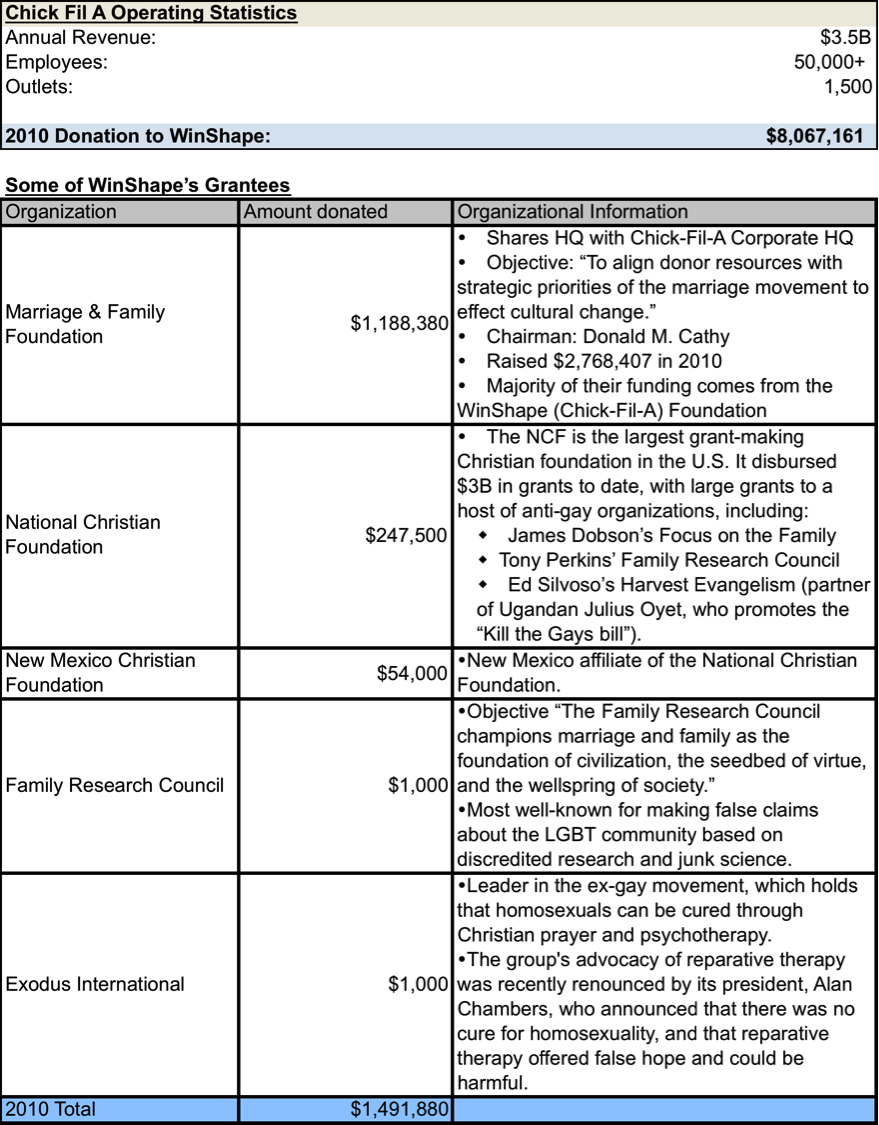 To be clear, Chick-fil-A is a private company and it can do whatever it wants with its profits, subject to shareholder approval. Shareholder vetoes don't seem to be a problem, however— Chick-fil-A was founded and continues to be run by the Cathy family, and there appears to be strong alignment between management and shareholders.
Amongst Chick-fil-A's 50,000+ employees and its hundreds of thousands of customers, there must be gay people, or people with gay family members and friends. Do they know where their dollars are going? Would they feel comfortable knowing they were funding organizations that routinely make false claims about the LGBT population? If they did, would it change their behavior?
After a few days of news uproar, Chick-fil-A posted the following statement on their Facebook Page.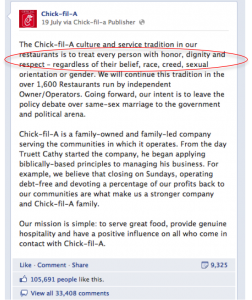 While most of the public uproar has been over the fact that Dan Cathy publicly stated his opposition to gay marriage, it is in the numbers that we see his words in action. It is hard to reconcile the claim of "treating every person with honor, dignity and respect" when part of every dollar spent at Chick-fil-A is contributing actively to organizations that tell LGBT people precisely the opposite.