Gen Zers — or members of Generation Z, born in 1997 or later — are just coming of age, and money is already causing them angst: 83% of adult Gen Zers (ages 18-23) say they experience feelings of regret about their personal spending, according to a new NerdWallet survey.
Food-related spending is a big stressor for America's youngest adults — 54% of those who experience regret about their personal spending say that dining out has made them feel regret, and the same proportion say this about on-the-go food/beverage purchases. More than half (52%) say spending on food delivery has made them feel this way.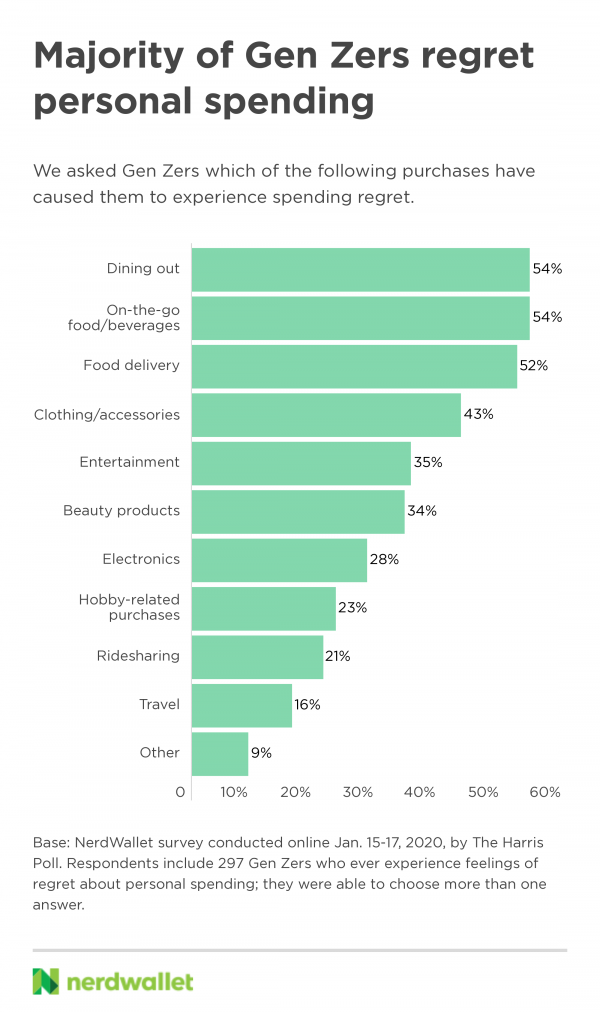 Buyer's remorse is a common phenomenon, but using your money shouldn't make you feel bad on a regular basis. Here are four ways to reduce the guilty feelings that come with spending.
Prioritize what's important to you
Regret over spending can be personal — you wish you hadn't bought something — but it can also be triggered by social judgment, real or perceived. That said, you should aim to spend according to your own priorities and values.
You don't need to feel guilty about spending on the things that are important to you and cutting out the things that aren't, especially if you're spending within your means. Which leads us to putting together a budget.
Create a budget
Spending restrictions on top of spending regret might seem like a recipe for disaster, but for those who feel guilt about their purchases, a budget can actually be quite freeing. For instance, if you determine that one of your priorities is dining out with friends, but it often makes you feel guilty, a budgeted amount intended for dining out can give you the freedom to spend without feeling regretful.
Most Gen Zers already use something to help them budget — according to the survey, 68% say they use a budgeting tool. Of those who use budgeting tools, the most popular options are pen and paper (43%), budgeting apps/websites (38%) and bank-provided tools (37%). It may be a good idea to evaluate if the tool you use is effective; if not, try something new. Check out NerdWallet's guide on how to build a budget if your current spending plan isn't working for you.
Put money toward financial goals each month
Another way to reduce spending regret is putting cash toward your financial goals each month. Balancing your discretionary spending with progress toward your medium- to long-term goals may make you feel better about spending on the things that bring you joy.
According to the survey, 28% of Gen Zers don't think investing for retirement is something young adults need to worry about, and 26% say the same about building credit. In fact, both of these are great financial goals for newly minted adults.
Let's say you decide to put some money each month toward saving for retirement. If you start putting $100 a month toward retirement at age 20 and you earn a return of 6%, you'll have $460,000 in your account at age 67. Wait 10 years until you're 30 and you'll essentially cut that balance in half, with an ending balance of $231,000.
Or maybe, like 30% of Gen Zers, you have credit card debt to pay off. If you owe $3,000 at an 18% interest rate, it would cost you $2,586 in interest if you made only minimum monthly payments of $60. But if you could free up an additional $40 for a total monthly payment of $100, you'd save $1,571 in interest and pay off your debt four and a half years faster. On top of that, as you pay down your balance, you might see a boost to your credit score because you're using less of your available credit.
Consider reducing spending
Financial guilt often stems from what we feel we should do, but it's also possible that the cause of the spending regret is living beyond your means. If your discretionary spending is pushing you into debt or making it difficult to pay your bills and/or meet your financial goals, it might be time to reevaluate your spending.
If you've decided on your priorities and have cut out the types of unnecessary purchases that don't matter to you, the next step is spending mindfully on the things you do care about. Keep your priority purchases in your spending plan, but make sure the amount you dedicate to them each month is reasonable for your life and budget.