When Khatuna Lorig helped "Hunger Games" star Jennifer Lawrence nock her first arrow, the five-time Olympian archer couldn't guess she was about to help set the world of archery ablaze.
"I didn't know when I was coaching her that it would go as big as it would go," says Lorig, who trained Lawrence for two weeks to prepare for the role of Katniss Everdeen in the 2012 blockbuster "The Hunger Games."
Go big it did.
The movie and its sequel, "Catching Fire," grossed more than $1.5 billion worldwide, according to Box Office Mojo. So expectations are high for the third installment of the franchise, "Hunger Games: Mockingjay—Part 1," opening this Friday.
One unexpected beneficiary of the box office largesse is archery itself. The image of Lawrence drawing back her bow has sent legions—largely young girls—to the archery range.
Lorig is proud of the results. "We are reaching record numbers at every event," says Lorig, who, along with her fellow archers, enjoyed record TV viewership for her 4th place finish at the 2012 London Olympics—a burst in popularity owed to "Hunger Games," an NBC executive said.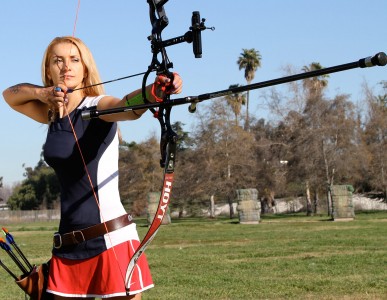 Letting fly
In working with Lawrence, "what you see is what you get," Lorig recalls. "She's really funny and full of life. It was very good to work with her."
The pair worked on Lawrence's stance and posture. "We worked on the basics of drawing the bow, aligning your face and the string, how to stand," Lorig recalls. "She got a nice big bruise on her forearm when she got smacked by the string."
Lawrence had never held a bow before, Lorig says. "With only 15 days, there was only so much she could do, but I wanted to make sure she looks professional even if she couldn't become a professional."
That drive was motivated, in part, by the fanciful portrayal of Legolas, the elfin archer in another blockbuster series you may have heard of. "That 'Lord of the Rings' drove me crazy," Lorig says. "You could never possibly hit anything the way they shoot in that movie."
A sport explodes
Neither Lawrence nor Lorig could have predicted the impact the movie would have on archery. Membership in USA Archery, the sport's Olympic-sanctioning body, has swelled 84% in the past year.
"We're very excited to see the tremendous growth of our sport. People are connecting with archery more than ever before, and we see that reflected in our membership numbers and event participation," Denise Parker, chief executive of USA Archery, told NerdWallet.
Movies like "The Hunger Games" and "The Avengers" have propelled the surge in interest, Parker says. "In the past 12 months especially, we've seen huge increases in female and youth participation, and we're excited to see that trend continue."
The U.S. National Target Championships saw a 28% increase in participation the past year and girls are leading the way—female membership of USA Archery has grown 130% in past two years, according to the group.
Wholesale purchases of archery equipment grew 10% in the past year, the fastest-growing category among competitive sports, according to the Sports & Fitness Industry Association.
"I'm so glad the movie has made archery more noticeable as a sport," says Lorig, who says she's "especially proud that girls find Katniss Everdeen a role model—a strong woman with a bow and arrow."
---
Image from "The Hunger Games" by Murray Close; courtesy of Lionsgate. Image of Khatuna Lorig by Lisa Donato; courtesy of Khatuna Lorig.