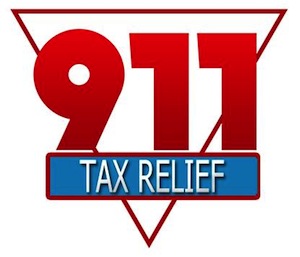 For many Americans, tax season is a cause for celebration—refund!—or just another pesky deadline. But for those who've gotten behind on their taxes and are facing wage garnishments, bank levies or other consequences, it can be a serious source of stress.
If you need more help than a tax preparer can give you, you might turn to 911 Tax Relief. Founded in 2010, the company serves those with more than $10,000 in back taxes, providing experienced and licensed tax professionals to represent them in negotiations with the IRS.
How does 911 Tax Relief work?
The company follows the same model as many other tax relief services. Once you make contact with the company—in its offices in Southern California, Chicago, Miami, New York and Dallas, or via phone or email—you'll receive a free evaluation. You'll be asked a series of questions about your tax situation, assets and ability to pay. Accuracy is essential, so be prepared with all of the relevant documents, including past W-2s, 1099s, receipts and other paperwork. By the end of the evaluation, you should know how 911 Tax Relief can help, and how much it'll cost you.
If you choose 911 Tax Relief, a representative will negotiate with the IRS on your behalf. While it's unlikely that 911 Tax Relief—or any other company—will eliminate your tax burden, it may be able to get your late-payment penalties waived, or suggest an offer in compromise, an agreement to settle your debt for less than you owe. Your representative will not only act as a middleman between you and the IRS, stopping any harassing phone calls or letters, but can make sure your paperwork is handled correctly, to avoid delays or rejection. He or she can also provide counseling to ensure you'll avoid future tax problems.
What is the difference between tax relief and non-profit debt relief?
You might want to investigate nonprofit debt relief, such as Lutheran Social Services, if:
You can't afford to pay. If you can demonstrate an inability to pay for their services, nonprofits may waive their fee. This doesn't mean you won't still owe back taxes, but it does make getting help that much more affordable.
You owe less than $10,000. If you don't qualify for for-profit tax relief, but are still having trouble with your bill, a nonprofit may be able to help.
Many debt-relief services offer more general expertise, so they may be less effective in reducing tax bills. If you're looking for an actual reduction in your payments, and not just a payment plan, keep this in mind. And a company isn't trustworthy just because it's a nonprofit. Do your homework, as you would for any other business. This list of consumer protection agencies is a good place to start.
What should I know about 911 Tax Relief?
The company is a bit cagey about revealing its fees, but many customers, reviewing the company on Yelp and other online forums, claim to have paid between $1,000 and $2,000 for the company's services. This could be a drop in the bucket if the company ends up reducing your tax bill, or it could be another stressful expense if it is unsuccessful.
Your odds of getting help with 911 Tax Relief are also hard to calculate. The company declines to publish statistics on its website, though many former customers say they've saved thousands of dollars. There are also those who claim they negotiated a better settlement with the IRS themselves, before involving 911 Tax Relief.

Who should sign up for 911 Tax Relief?
If you've tried to talk to the IRS and been unsuccessful, or if you suspect your tax problems stem from a mistake by a previous preparer, the experts at 911 Tax Relief may be able to help. However, if you've already negotiated a settlement with the IRS that you can afford, even if it's a bit of a stretch, you may want to avoid calling 911 Tax Relief. There's no guarantee that it, or any other company, will be able to help, and it might actually hurt: You could use the money you'd have paid them to take care of your existing debt faster.
Does 911 Tax Relief sound like the right solution for you? If so, visit their site to learn more or sign up for an account.