Advertiser Disclosure
Best Financial Advisors: Find the Right One for You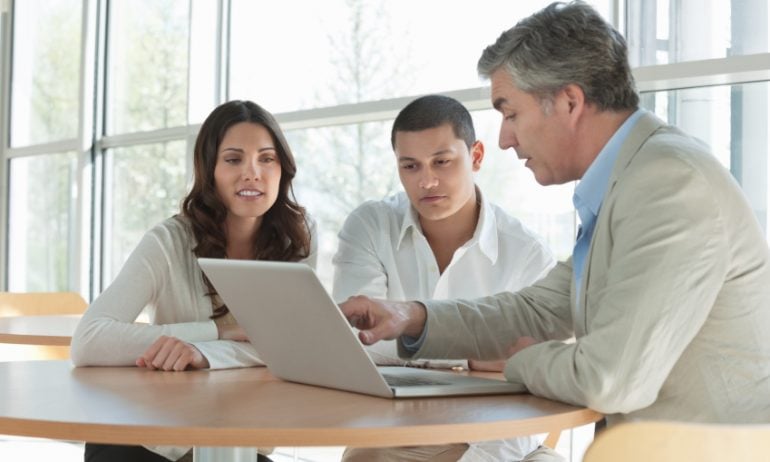 Financial advisors — also called financial planners — are like doctors for your money. The best financial advisors help you understand complex issues, diagnose potential problems and help you take steps to plan for the future. But these doctors can be costly, charging you fees for help you might not need.
For many people, robo-advisors are a good option. They manage your investments for you and offer financial planning recommendations at lower costs.
You want to find the right type of provider for your situation — and we're here to help.
Read more about how to find the best financial advisor, or jump ahead to our picks for best financial advisors.
Pick the best financial advisor for you
If your situation is complex or you want highly personalized planning, you may need a human advisor. But many people will find that robo-advisors, also called digital advisors, are a powerful alternative. Most importantly, they can help you avoid paying high fees for services you don't need.
Digital advisors help you choose from a handful of investment portfolios, based on your financial goals and how much risk you're willing to take. The best robo-advisors then maintain that portfolio for you, even working to lower your tax bill when possible. Since robo-advisors use computers to reduce overhead, they can take on smaller accounts and manage your investments for less than the cost of a human advisor.
If the digital advisors are too, well, digital, for your taste, some robo-advisors offer a hybrid solution, combining their services with access to human advisors. Some hybrid advisors cost more than a typical robo; others are low-cost but require a higher account minimum. Still, hybrid advisors are typically cheaper than a human advisor.
So which type is the best financial advisor for you?
Digital Advisor

Hybrid Advisor

Human Advisor

Fees: 0.25% to 0.50%

Fees: 0.3% to 0.89%

Fees: 1% to 2%

Choose and manage investments at low cost and with low or no minimum balance
Good when you're just starting out ($25K or less)

Blend investment management with access to experts when you have questions
Good when you have some wealth built ($25K-$250K) or want more interaction

Provide investment guidance and can offer holistic advice on topics like estate planning
Good when you have established wealth ($250K+) or more complex needs

Many human advisors who charge a percentage of assets won't take on clients with less than about $250,000 in assets. You could hire an hourly or flat-rate financial advisor, but it might make sense to start with a low-cost digital advisor.

Robo-advisors can be a solid fit at this stage, but if you want a human expert to weigh in, a hybrid advisor can provide the direction you need. Some have higher account minimums than typical digital advisors.
Your options for personalized financial services increase when your investments run north of $250,000. If you're not deterred by the management fee, a human advisor might be the right solution.
Choose a robo-advisor if …
You want someone to manage your investments — including advanced portfolio management such as tax-loss harvesting — but don't want to pay a lot for that service.
You're looking to get started investing for long-term goals. The best robo-advisors offer tools to help you get your future on track, including buying a house, saving for college and investing for retirement.
Choose a hybrid advisor if …
You like the assurance of having a human expert available for questions. You're ready to let a robo-advisor digitally manage your portfolio, but prefer having a person available if questions arise.
Choose a human financial advisor if …
You're about to make a big life change, like retiring or getting married. In that case, it might make sense to hire an advisor for a one-time consultation.
Best digital advisors
We reviewed the top robo-advisors to find the ones that offer the most robust tools and management for the lowest cost and lowest account minimums. Here are our picks for best overall robo-advisors:
Fees

0.25%

management fee

Account minimum

$500

Promotion

$5,000

amount of assets managed for free
The bottom line
Wealthfront has built client trust by offering free management on the first $5,000 — with NerdWallet's promotion — but the company's direct indexing service really shines, adding as much as 2% to annual investment performance for eligible accounts.
Show pros & cons

Pros

First $5,000 managed free (NerdWallet promotion).

Low ETF expense ratios.

Daily tax-loss harvesting.

Direct indexing on accounts over $100,000.

Automatic rebalancing.

Reader favorite

Cons

No fractional shares.

No large-balance discounts.

Read full review
Fees

0.25%

management fee

Account minimum

$0

Promotion

Up to 1 year

of free management with a qualifying deposit
The bottom line
Betterment has maintained its status as the largest independent robo-advisor for a reason: The company offers a powerful combination of goal-based tools, affordable management fees and no account minimum.
Show pros & cons

Pros

No account minimum.

Fractional shares limit uninvested cash.

Robust goal-based tools.

Reader favorite

Read full review
Best hybrid advisors
Hybrid robo-advisors use computer algorithms to manage portfolios but also provide clients direct access to human financial advisors. Here are our picks for the best hybrid advisors:
Fees

0.28%

management fee

Account minimum

$25,000

Promotion

None

no promotion available at this time
The bottom line
Charles Schwab brought some heat to the online advisor battle with its Schwab Intelligent Advisory, a hybrid service designed to be a middle ground between the online broker's financial consultants and its existing robo-advisor, Schwab Intelligent Portfolios.
Show pros & cons

Pros

Access to financial advisors

Wide ETF selection

Automatic rebalancing

Cons

$50,000 account minimum

High cash allocation

Tax-loss harvesting only available on $50,000 or more

Read full review
Fees

0.30%

management fee

Account minimum

$50,000

Promotion

None

no promotion currently offered
The bottom line
Vanguard Personal Advisor Services is an excellent choice for investors who can meet the $50,000 account minimum and want to use the computer algorithms of a robo-advisor while maintaining access to a human touch.
Show pros & cons

Pros

Low management fee for a hybrid advisor

Larger investment selection

Comprehensive management

Access to financial advisors

Cons

High account minimum

Some clients may incur transaction fees

Read full review
Best human financial advisors
If you're set on a human financial advisor, your best shot is one who charges by the hour or by the plan. Generally you want to avoid advisors who earn commissions, because unless they're fiduciaries, they may not have your best interests at heart.
If you work with a financial advisor who charges a fee based on assets under management, you can expect to pay the highest fee if you have about $250,000 — at that level, advisors charge a median of 1% of assets under management per year. It's not until you hit $1 million or more that the median fee drops to 0.85%.
To search for an advisor, check out organizations like National Association of Personal Financial Advisors, Financial Planning Association, XY Planning Network, Alliance of Comprehensive Planners and Garrett Planning Network.
» Still not sure which kind is the best financial advisor for you? Read our guide on what you need know to choose a financial advisor.