by Kevin Cimring, CEO of Jemstep
Here's a scenario I'd like you to think about. Let's say you're a hard working person who recognizes it's important to save for your retirement years. You invest your hard earned dollars as best you know how.  Maybe you appoint a broker who you feel has your back to manage your portfolio, or perhaps you try doing it yourself. You do this for 20 years or more. Then you discover that despite your best efforts, your nest egg isn't what it could have been, and you threw away hundreds of thousands of dollars over all those years. Hundreds of thousands of dollars. That's what's happening to millions of people in America, right now.
Let me explain. When it comes to managing your investments, not allocating your assets properly or paying high fees can have a massive impact on your portfolio over time. Not optimizing for tax efficiency means even more money is being left on the table. You owe it to yourself to take more control of what's happening in your retirement portfolio right now. In addition to an appropriate asset allocation, you need to become fee smart, fund smart and tax smart.
According to a poll Jemstep conducted with Harris Interactive, 50 percent of U.S. adults who have a retirement portfolio manage it on their own. However, 74 percent have little or no knowledge of how to actually create and manage a retirement portfolio.
The problem for many investors is that they do not have access to high quality, comprehensive advice–traditional investment advisers have high fees and high investment minimums. Brokers on the other hand earn commission on products and so aren't always completely unbiased. In either case, the advice seldom covers your full portfolio, often leaving your 401k out of the equation.
Jemstep's mission is to give people access to unbiased, high-quality, and comprehensive investment advice, regardless of their level of sophistication or the size of their portfolios. Its new easy-to-use online service, Jemstep Portfolio Manager, helps you lock in more money for retirement by showing you how to optimize your retirement portfolio across all your accounts, including 401(k) and other employer-sponsored plans. A registered investment adviser with the SEC, Jemstep has a fiduciary obligation to act in your best interests, and offers you the individualized advice that has traditionally been available only to wealthy investors.
Overview of How Jemstep Works
Jemstep begins by asking you questions about your age, your financial goals and situation, and your current investments.
Then, in just a few minutes, Jemstep analyzes your current portfolio and projects how much money it will give you to spend in retirement.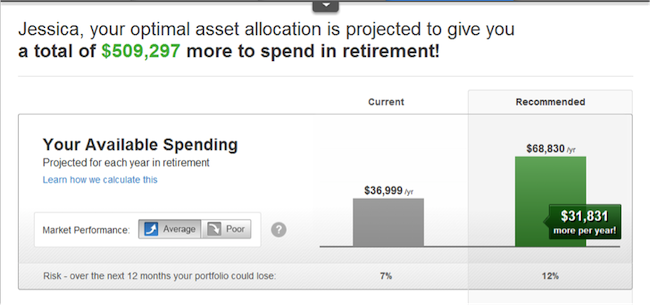 Jemstep shows you how your assets should be diversified among different asset classes with a recommended Target Asset Allocation and estimates how much more you are projected to have at retirement with that allocation.
And then, Jemstep tells you exactly what to buy and sell in each of your accounts to reach your recommended portfolio, paying attention to the quality of the fund, fees, tax efficiency, and more to help you get the most out of your portfolio. Jemstep even looks at the tax structure of your accounts, to make sure you're holding your funds in the optimal accounts for tax savings.
Jemstep also tells you why it recommends the funds that it does, allowing you to see the reasons behind each and every recommendation, should you want to drill deeper.
And it doesn't stop there. Jemstep is designed to stay with you, continually monitoring your portfolio and alerting you when it's time to rebalance your portfolio or make any modifications based on your changing circumstances.
To use Jemstep, you don't have to transfer your assets, change any of your accounts or break any existing relationships. You can even use Jemstep in conjunction with your adviser, if you have one, as a useful way to objectively validate your adviser's advice.
You've worked hard. Don't leave any money on the table when you don't have to. Jemstep offers high-caliber and unbiased advice that helps you better manage your investments and optimize your portfolio for retirement.
Get your step-by-step plan on how to better invest your retirement assets at Jemstep.com