An annuity is a way of placing a specific sum of money with an insurance company, which invests the principal and returns it (less fees, penalties, and other costs) to you. As shown in the charts that accompany this blog, there are many types of annuities, and many ways in which the money can be returned to you: immediately or sometime later, in small amounts or large. While the company has your money invested, you pay no taxes on any increase in the value of your investment.
Basic Annuity Facts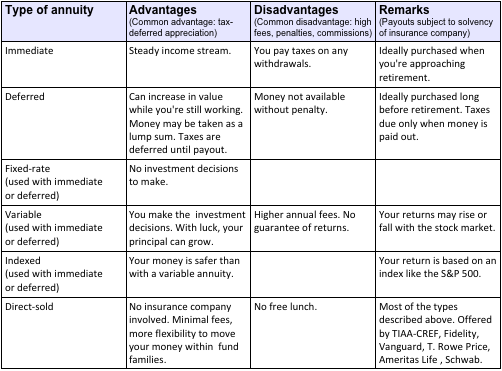 Contrary to popular belief, there is no annuity that is obligated to give you back more than you invested. Annuities that claim to "guarantee you income for life" guarantee that they will make payments to you, but not the size of those payments. Since this is the stock market we're talking about, however, if you invest early and your money's in the right instruments (some plans let you make the choice, some don't) you might well get more back than you initially invested. Salesmen sell some annuities, while others are offered directly by mutual-fund experts like Fidelity and Charles Schwab.
Savvy investors ask why they should buy an annuity if they and their spouse haven't maxed out their IRA's and 401-K's. After all, those plans are invested in the market too, and their fees (unlike those associated with annuities) are generally quite reasonable. The answer: You should invest all you're allowed to in those traditional tax-deferred retirement accounts before you even think about an annuity. Why pay a salesman's commissions to get into an annuity? If you're approaching retirement and have missed chances to invest in an IRA or 401(k), though, an annuity could give you a chance to catch up – there are no limits on how much you can invest, and the profits are tax-deferred. Even so, a plain old no-load mutual fund is a cheaper (and more flexible) place to park your money.
Accessing Your Money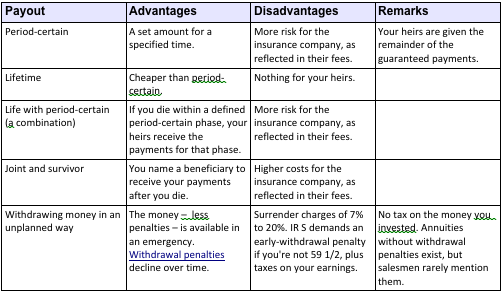 But a certain class of annuity salesmen aren't interested in savvy investors. They go for people in nursing homes, or elderly couples lured by the promise of a free-lunch seminar with a generous helping of investment advice. Annuities are complex products, with plenty of hidden fees and details, and no one should buy one without comparing several side by side and talking with a trusted investment professional or a lawyer. You won't find many of those on the free-lunch circuit.
Often, some of the most telling criticisms of annuities come from agents who want you to get out of the contract that someone else sold you and into one which will pay the hefty commissions to them. What they don't tell you is that switching could very easily cost you more in fees than you'll save with the new policy. Here are some arguments you could hear if you're in that situation:
The policy you have isn't really suited to a senior's needs.  Many of them aren't, but this new one may be no better – and you'll pay hefty fees to transfer your money between them.
The company that actually issues the policy might go broke.  It's happened, although the agent who's pressuring you will probably have his license suspended by the state insurance commission first. But you can look up credit ratings on insurers, which will give you an idea of their strength and reputation.
You can't get your money out of the annuity for many years down the line.  Happens all the time. Technically you can get it out, of course, but the surrender penalties may make you wish you hadn't. And if you die before your policy begins to pay out, the company keeps the money.
That last guy put you in a risky investment. True enough, if it was a variable annuity. Your profits depend upon the stock market. If you're willing to wait for the upside, that's fine, but most seniors want dependability.
As usual, the way to make sure your money is really working for you is to take your time, ask lots of questions, and rely on the advice of advisers you trust. Insist on a complete list of all charges, penalties, and fees, including ones for special codicils added on at the last minute to cope with concerns you have voiced. Those comforting guarantees may well be provided by special riders that come with own fees, which are renewed every year. Beware of free lunches that are actually sales presentations. AARP has some excellent tips – and instructional videos – that will help you avoid these money traps. You can also check out the company issuing an annuity online with the National Association of Insurance Commissioners website.
And if you haven't retired yet, consider what you'll gain by not claiming your Social Security benefits. As retirement expert Bud Hebeler (quoted on Bizrate.com) notes, "The very best annuity is Social Security." When you delay claiming benefits, "there is an 8 percent gain each year. Social Security, unlike many pensions and annuities, is inflation-adjusted and offers unmatched spousal benefits."