In December 2010, well-known financial industry analyst Meredith Whitney went out on a limb, arguing that there would be a big round of 50 to 100 "sizeable defaults" in the municipal bond world.  Her prediction was enough to spook the bond markets, but little ended up happening.
Indeed, despite the severe economic woes of the last five years, and the collapse of Stockton, California – the largest municipal bankruptcy in history – the number of municipal bankruptcies has not been extraordinarily high, as this chart shows: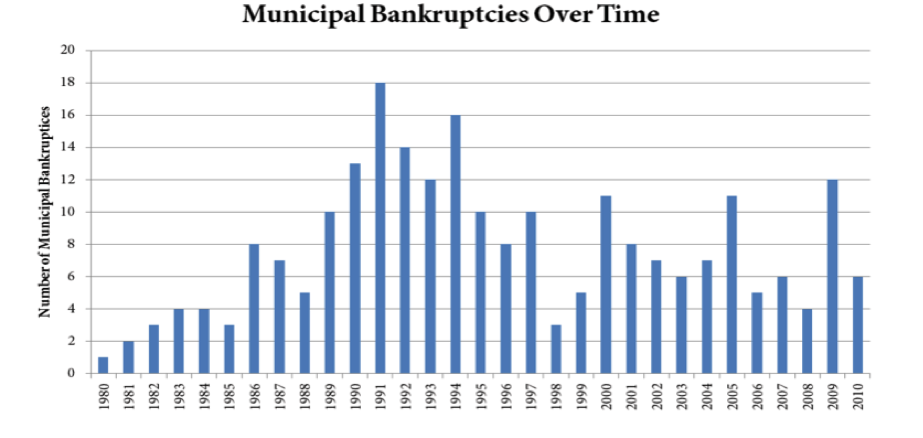 There were 13 more municipal bankruptcies in 2011, and 2012 wasn't much different.  Furthermore, only a handful of actual municipalities filed for Chapter 9 protection since 2008:
Gould, Arkansas (Dismissed)
Vallejo, California
Westfall Township, Pennsylvania
Village of Washington Park (Dismissed)
Town of Moffett, Oklahoma
Prichard, Alabama
Boise County (Dismissed)
Central Falls, Rhode Island
Harrisburg, Pennsylvania (Dismissed)
Jefferson County, Alabama
Stockton, California
Town of Mammoth Lakes California (Dismissed)
San Bernardino, California
The municipal bond market, still, is booming. Yields have fallen about 20 percent since Whitney made her prediction as investors have bid up bond prices. Higher federal income taxes make them even more attractive, since muni bond income is generally free of federal income tax.
Municipal bond bulls have been quick to pile on. But many of those people are invested in munis themselves. Attacking Whitney for her prediction is like getting beat up by your little sister until Daddy comes to intervene – and then bragging that your little sister can't beat you up.
Government Intervention Behind Municipal Bond Markets
The reality is that government did intervene – with a combination of massive federal aid to states and a large-scale quantitative easing by the Fed – in which they bought up hundreds of billions of dollars worth of troubled debt portfolios and flushed bondholders with cash.
There is still reason to be concerned about the future financial position of the states – and the cities and other muni bond issuing bodies downstream.
Consider: The federal government has just gotten done disgorging nearly a trillion in stimulus aid – most of which went straight to the states and enabled them to keep state workers on board for another year or two.  The states are, quite simply, addicted to federal aid:
In 2011, forty-two states received more than 1/3 of their general funds from the federal government. Mississippi received nearly half (49.01%) of their general revenue from the federal government, the highest percentage in the nation. Louisiana received the second highest percentage, relying on the government for 46.52% of general revenue. Alaska, the state receiving the lowest percentage of funding from the federal government, still relies on federal funds for 24.01% of funding for state programs. Comparatively, in 2008, Mississippi received 46.76%, Louisiana received 46.22%, and Alaska received just 13.53%.
The states, in turn, frequently provide significant aid to municipalities, and so on. But the cycle of economic easing must eventually come to an end – and the federal government is already being forced to tighten its own budget. Federal aid to the states will soon fall. Even the profligate spender Obama has already proposed slashing funding by 7.5 percent, or by $300 million for the Community Development Block Grant Program – a program that dates back to 1974 to help municipalities and the states are not well positioned to handle it.
The stimulus cash is running out, too: States got nearly $90 billion in 2011, but that's going to fall to just $14.3 billion in 2013.  Meanwhile, the combined debts of the 50 states now exceed $4.17 trillion. Half of that amount is in the form of underfunded pensions.
How does that come about? Sheer madness. In an environment in which the 10 year Treasury yield is around 2 percent, and banks are struggling to find opportunities to make long term investments on mortgage debt over 4 percent, many pension actuaries are still bending over to please state and local politicians by telling them they can assume they will achieve 7 or 8 percent returns on their pension investments over time. The Pew Center on the States estimated that the gap between states' pension promises and liabilities was $757  billion as of 2010.
Sooner or later, that shortfall must make its presence felt. The unions, of course, will fight ferociously to protect their pension benefits – and they organize very well. Taxpayers are beginning to revolt at higher tax burdens – especially as they increasingly see public employees retiring at age 50 and 60 on sweet pension cushions while they themselves must work into their 70s to fund them.
That leaves bondholders. They don't organize well, and aren't particularly sympathetic in a populist era. They have already taken the brunt of the beating when Obama rode roughshod over generations of established bankruptcy laws in the auto industry bailout.
The Laffer Curve, too, puts a limit on how high states and cities can raise taxes and fees. States with stronger fiscal positions and lower taxes will increasingly lure businesses from weak states like California, Michigan and Illinois – further depressing their tax base and creating a vicious cycle.  It is no coincidence that California cities seems to be the first to stand at the fiscal abyss, and Stockton, Vallejo and San Bernardino have already fallen in.
Protecting Yourself From Muni Bankruptcy
This is not a prediction of disaster. Even if we do have 50 to 100 bankruptcies in the coming years, as Whitney predicted, there are still 38,917 general-purpose municipalities. So if even under her worst-case predictions, reports of the death of municipal bonds will have been greatly exaggerated.
Still, you can protect yourself at the margins. Look for bonds with a claim on general revenue. That obligates issuers to raise taxes or cut spending elsewhere rather than raise their hands and surrender.
Also, you can favor bonds in states that do not allow Chapter 9 (municipal) bankruptcies. Specifically, that includes Georgia and Iowa, though some states do have some relatively tight requirements before they allow municipalities to file for bankruptcy.
States that specifically allow for Chapter 9 include Texas, Alabama, South Carolina, Minnesota, Arkansas, Missouri, Oklahoma, Nebraska, Montana, Idaho, Arizona and Washington, according to Governing.com.
Bankruptcy Court photo courtesy of Spirit of America/Shutterstock.com