I recently loaned my car to my grandson, who was in an accident. The boy's OK, but my car's totaled. At 66, I get to buy a new car – how do I know where to start?
 Your grandson is safe – that's the best part – and hopefully he'll more careful the next time. You're starting with a clean slate, and a nice check from your insurance company, but for a lot of us this is unfamiliar territory.
The first rule is not to make any quick moves that you could regret later. If your insurance policy helps with the cost of a rental car, you've got a couple of weeks to evaluate your options. Here are a few of them:
The car of your dreams: What about a new Lamborghini, or that bright-red Porsche Boxster that passed you coming home the other day? Your grandson would probably endorse that decision – even if he's currently relying on his friends for transportation. And if you're not going to spoil yourself now, just when do you plan to get around to it?

The car of your youth: Maybe now's the time to buy that '78 Camaro that you've always wanted. Or an early Mustang. Why not – it's free money, right? And those classics are much more interesting than these econoboxes they're building today.

The latest hybrid: That's the ticket: show your true colors, and get a free ride in the carpool lane. Everybody's getting one – and maybe you'd save enough on gas to make the car pay for itself.

A sensible sedan: Of course, there's always the choice that you'd suggest for your grandson – if he happened to ask you. There are a lot of very reliable cars with just a few thousand miles on them just waiting for a savvy buyer like yourself to snap them up and smile all the way to the bank. But which ones?
The Bottom Line
You're the final judge about what you'd be most happy with – and what price you can handle. You need enough to meet your current level of expenses, and have something in reserve for the unexpected. A sports car would definitely be an exciting way to go – although the purchase price would be only the first surprise. Since there are just a few of the more spectacular beauties around, parts (and competent repairmen) are pricey and hard to find. But you'd be a member of an exclusive club – and much of the conversation at club meetings revolves around questions of parts and repairs.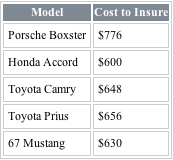 Data: Dennis Hagerty, State Farm Insurance, Novato, CA. Premiums vary with model, driver and options.
Have you thought about renting one of those exotic cars? It's not cheap, but you'd be out just a fraction of what you'd be committing to if you were to buy one. Let someone else worry about insurance and repairs! Club Sportiva in San Francisco will rent you a Lamborghini Gallardo Spyder for only $1495 a day – and a Bentley's only $899.Data: Denis Hegerty, State Farm Insurance, Novato, CA. Premiums vary with model, driver and options.
American classics have an undeniable aura, but reliability isn't part of it any more. As Tom and Ray from Car Talk told a reader who was eyeing a '63 Studebaker Avanti, at that point you're not buying a car, you're buying a hobby. "If what you really want is a daily driver," said Tom, "the cheapest, most bare-bones, brand-new Nissan Versa is going to be safer, cheaper to run and much more reliable, and will handle a lot better than the Avanti." One tip the brothers didn't mention: look for a popular model from Ford or Chevrolet, for which there are still a lot of spare parts.
Hybrids are attractive – but not if mileage is your only concern. It could take six years or more for some hybrids' improved mileage to compensate for their higher sticker price. A lot depends on how (and how much) you drive, of course, and which car you choose – not to mention the price of gasoline. The government's new website, Hybrid Compare, lets you enter that kind of information and compare any of 18 hybrids. A Prius reaches payback in 4.6 years – but there are hybrids that cost no more than a conventional model, which means instant payback!
Losing your old car also gives you a chance to move to something a bit smaller and more economical, but hopefully a few years newer. Something like a Toyota Camry, or a solid Volvo. If you've got a few ideas, start by looking them up on websites like Consumerreports.org and cars.com. Look for frequency-of-repair records; not only will this help steer you in the direction of a sensible choice, it also gives you something to ask about when you actually start looking at cars. At that point, think seriously about bringing a "coach" along – someone who knows cars inside and out and can guide you toward a good deal. If you have a mechanic you trust, ask them – or look under Automotive Services on craigslist for "Inspections." Happy hunting!
Senior citizen car image via Shutterstock