Editor's note: Swell has announced that it will soon close and has ceased accepting new clients and deposits as of July 24, 2019. You can find more information on this page on Swell's website. To review other options, see our list of the top robo-advisors or review some comparable providers below:
0.40% - 0.50%
0.40% - 0.50%
2 months free
2 months free
In the increasingly crowded field of robo-advisors, Swell Investing stands out for two important reasons: It's laser-focused on socially responsible investing (SRI), and customer portfolios are constructed entirely of stocks rather than the exchange-traded funds favored by other robo-advisors. For investors seeking to align their investment strategy with their values, Swell presents a compelling choice. Investors can choose from seven SRI-themed portfolios, with limited customization available.
But Swell lacks some features offered by many of NerdWallet's picks of the best robo-advisors, including access to certified financial planners, comprehensive digital financial planning tools and a broad range of asset types. Finally, while Swell's thematic portfolios have performed in line with the broader market, you'll pay a higher-than-average, all-inclusive management fee of 0.75%.
---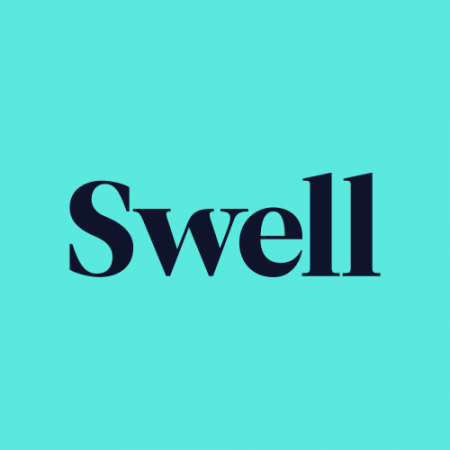 Quick Facts
Management fee: 0.75%.
Account minimum: $50.
Promotion: $300 bonus for every three friends who sign up and fund an account; up to 18 referrals.
---
Swell Investing is best for:
Socially responsible investors.
Investors seeking customizable portfolios.
Low account balances.
Swell Investing at a glance
Overall

Account minimum

$50
Account management fee

0.75%
Investment expense ratios

Swell's portfolios are made up of individual stocks, rather than mutual funds, which means there are no expense ratios to worry about.
Account fees

None
Portfolio mix

Seven different portfolio options, all SRI-focused and composed entirely of stocks.
Accounts supported


Nonretirement accounts.
Roth, traditional, rollover and SEP IRAs.

Tax strategy

Tax lot ordering sells shares with the largest losses first and largest gains last.
Automatic rebalancing

Semiannual, unless an event compromises integrity of the portfolio's underlying social cause.
Human advisor option

None.
Tools

Limited in scope; primarily SRI-focused.
Customer support options (includes website transparency)

Phone and email support available Monday-Friday, 9 a.m. to 5 p.m. Pacific; information is easy to find on website.
Promotion

None; $300 bonus for every three friends who sign up and fund an account (up to 18 referrals).
Where Swell Investing shines
Socially responsible investors: If socially responsible investing is your passion, Swell certainly merits consideration. Other robo-advisors offer SRI-themed portfolios — including TD Ameritrade Essential Portfolios, Wealthsimple and Ellevest — but Swell is unique in making it the sole focus. To put it another way, if socially responsible investing isn't your thing, this probably isn't your robo.
Swell offers three options for making asset allocation decisions:
Choose your theme(s). Invest in any combination of Swell's six portfolios focused on specific themes (green tech, clean water, zero waste, renewable energy, disease eradication and healthy living). Each portfolio contains roughly 40 to 60 different individual stocks that Swell's portfolio management team believes are well-suited to tackle the issue. You'll recognize many names — as of June 2019, Lululemon, Tesla and Merck were among stocks in these portfolios.
One-and-done approach. If you prefer a one-stop approach, Swell offers an Impact 400 portfolio. As the name suggests, the portfolio is made up of approximately 400 companies that all score highly for Environmental, Social and Governance (ESG) ratings, and also demonstrate strong diversity and inclusion practices. This portfolio is Swell's SRI answer to the S&P 500.
Theme(s) + Impact 400. Swell suggests a third allocation option combining the above — you'll get broad diversification but with whatever themes appeal to you. Be aware, however, there's some overlap between thematic portfolios and the Impact 400.
Investors seeking customizable portfolios. Other robo-advisors primarily construct portfolios with exchange-traded funds (ETFs), which offer plenty of advantages — chiefly, diversification and low costs — but also some downsides. That's one area where Swell shines. Because its portfolios are made up entirely of stocks, investors can more easily swap out ones they don't like — up to three total.
Swell's tax and automatic rebalancing strategies add another layer of customization. The robo does automatic rebalancing on a semiannual basis unless triggered to act earlier by an event compromising the integrity of the portfolio's underlying social cause. It uses what's called tax lot ordering — selling shares with the largest losses first and largest gains last to reduce the tax burden — and considers how long an investor has owned shares in order to avoid short-term capital gains taxes.
We'd be remiss not to mention Motif Investing here, which offers similar features as Swell — namely, theme-based SRI portfolios and the ability to customize a portfolio of ETFs or stocks. But Motif has a lower management fee for its robo-advisor services, about 0.25%.
Low account balances: To get started, you'll need to meet a quite-reasonable $50 minimum account balance. That's not the lowest in the game; several robo-advisors have a zero-dollar account minimum, including Betterment and Fidelity Go. Still, it'd be impossible to replicate Swell's all-stock portfolios on your own without a lot more money to start.
» Want to try your hand at buying stocks? Read about how to buy stocks
Where Swell Investing falls short
All-in pricing: The good news with Swell is you won't get nickel-and-dimed for various charges (like trading within your account or closing it), and you won't have to track down each portfolio's investment expense ratio to see if you're getting a good deal (with stocks, these don't apply). Rather, Swell has an all-in advisory fee of 0.75%, charged on a monthly basis. The company likes to boil that fee down to coffee terms: A $500 account balance will come out to $3.75 per year, or "less than a fancy coffee."
That pricing model offers simplicity, but not necessarily the best deal. For investors with higher account balances, the annual advisory proves more expensive than many other robo-advisors. A majority of the robo-advisors NerdWallet reviews charge advisory fees in the range of 0.25% to 0.5%, or $25 to $50 a year for a $10,000 account balance, compared with Swell's $75. Of note, SoFi Automated Investing charges no advisory or administrative fees, along with offering low-cost funds and having an account minimum of $100.
Access to human advisors: Swell definitely leans toward the hands-off side of the robo-advisor spectrum. It offers customer service by email and phone, but only during regular business hours.
Swell offers a 401(k) rollover option, and the company says customers who do so will get "white glove service" with human support to make the process easier. In 2018, Swell launched "Swell for Advisors," making it easier for financial advisors to bring SRI strategies to their clients. Still, that does little for the do-it-yourself investor.
Investors seeking more personalized guidance may be disappointed. At comparable minimum account balances, Wealthsimple and SoFi are standouts for offering customers free, unlimited access to certified financial planners.
Comprehensive portfolio management tools: Investors looking for a more comprehensive approach to financial planning, like calculators or budgeting tools, will be left wanting. Swell does provide weekly market analysis and a tool for investors to explore U.N. Sustainable Development Goals, but these are very much related to the robo's core mission. Finally, there's no option for investing outside that SRI focus — or in other assets, including ETFs and bonds — which makes Swell comparatively limited.
The bottom line
Swell Investing is designed for the socially responsible investor. The robo-advisor's simple, all-in pricing makes it attractive for beginner investors squarely focused on SRI, but its mission may be too simplistic for some investors because of its lackluster tools and a relatively hands-off approach. Ask yourself how much SRI matters to you. If it trumps all else, Swell may be a good fit. Otherwise, you may be able to find SRI options (albeit more limited) paired with more comprehensive features at other robo-advisors.