Internship experiences play a large part in how and where new graduates secure their first full-time job. Typically meant to help students evaluate their career goals and learn practical and professional skills, internships also are often the best way to break into entry-level positions. According to an Internships.com survey, interns at larger companies have about a 70% chance of being hired by the company they work with.
If you're looking to make the leap from intern to full-time employee, be sure you're ready to impress from day one. To help you start off right, NerdScholar asked college career experts to weigh in. Here are six tips you can use to take your internship to the next level.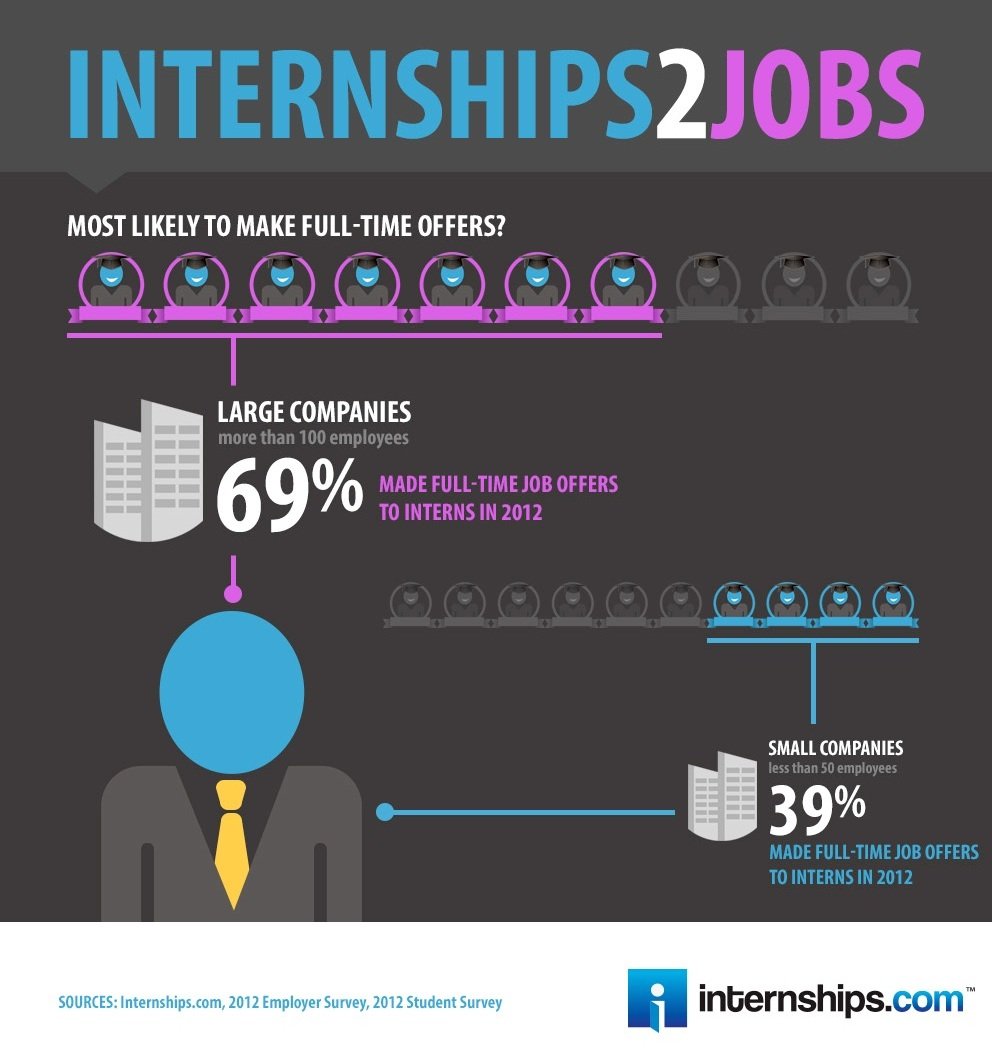 1. Consider how established the program is.
If you're looking for an internship that will turn into a full-time job, choose a program that has a history of hiring interns, says Sarah Alspaw, career services director at Capitol College. "An established, long-running internship program has worked out the 'kinks.' They likely have learning outcomes, projects and activities that they have used in the past that were successful." Alspaw adds that these companies also tend to have an "established system for informing [their human resources department] about interns they would like to keep."
Though it may be hard to determine your chances for employment at a company that is offering a newer internship, "the program may be creating new activities or projects that have not been previously completed or tested," Alspaw says, adding that "interns may be given greater [and] more dynamic responsibilities." If your manager has not worked with interns previously, you won't "be judged based on a previous intern's performance, which means [your employer] can see you as the best intern they've ever had," Alspaw says, and in turn will be more likely to recommend you for a full-time position.
2. Inquire about full-time employment during your interview.
Gene Wells, senior director at the University of Evansville's Center for Career Development, says, "One way in which a student can assess the opportunity for converting an internship to a full-time offer is to politely inquire during the interview." For instance, he suggests asking: "'What percentage of your current employees held internship positions with this company?'"
Alspaw advises students to be careful how they bring up this question with a potential employer. "Make sure it doesn't seem as though the only reason you are applying for the internship is to get the full-time job." Instead, she says, "this question should be paired with other questions regarding company culture and responsibilities."
3. Show initiative and a positive attitude.
"The student intern who shows initiative by asking good questions, seeking to expand learning experiences, and showing the willingness to go the extra mile is the student who is most likely going to receive an offer of a full-time position if one is available," Deborah Jones, director of career services at DePauw University, explains. "It is not unheard of for an employer to find a full-time spot for an intern who has shown outstanding initiative."
Kelly Guilbeau, internship counselor at the Center for Careers, Life and Service at Grinnell College, says, "If you're expected to transition from being an intern to a full-time employee, your coworkers and supervisors will have higher expectations of what you can accomplish. It is best if a student has an appropriate level of both confidence and competence when entering a position full-time. The internship period can be intentionally utilized to develop or strengthen these two areas, ensuring readiness to hit the ground running when hired full-time."
4. Volunteer to take on more responsibility.
According to David Rodriguez, a career counselor at the University of California, Riverside's career center, a great way to impress your supervisor is to offer to help on larger team projects, taking on the additional responsibilities you can manage. "Have a 'can do' attitude by taking on new challenges with a smile and not being afraid to make an occasional mistake." Rodriguez also suggests volunteering "to participate in additional functions where you can learn more about the field."
"It is often said that an internship should be viewed as an extended interview for full-time work. That is, an intern has the timeframe of the experience to actively demonstrate that they are the best candidate for the post-grad job," Guilbeau says. "Showing enthusiasm, interest and proactive engagement in individual and team assignments, as well as making an effort to fit in with the culture and mission of the organization, will go a long way to boosting the chances of advancing."
5. Network with your coworkers.
When looking to transition from intern to full-time employee, the connections you make at work could be your most valuable 'in' with the company. "Meet and learn from as many professionals as possible during your internship," Rodriguez advises. "This is important because if the employer does not have the ability to hire you after the internship is completed, your time was still well spent. In addition to all the skills and experience you gained, you now have a robust network of professionals who know you personally and can vouch for you during your future job search."
Building fruitful relationships with your coworkers will benefit you in more ways than one. According to Guilbeau, "hiring committees will often take note of how an intern interacts with multiple levels of people, such as front desk staff, visiting board members and potential clients. A company will want to keep an intern who knows the technical ins and outs of their industry, yes, but who also is a match with their mission, values and culture. They will hire an intern who will represent them well as a full-time employee."
6. Be indispensible.
Surpassing expectations at your internship will not only make you more impressive in the eyes of your supervisor, it will also show that your skills are valuable and can contribute to the growth of the company. "By displaying your positive attitude, excellent work ethic and proficient skills in the field on a consistent basis, your ultimate goal is to show the employer that there is no other option but to convert you to a full-time employee," says Rodriguez. "Make yourself an essential part of the team so that the employer recognizes that you are the right person for the job."
---
Sarah Alspaw is the assistant director of career services and graduate student support at Capitol College in Laurel, MD. She received her Master of Education from Western Carolina University. 
Kelly Guilbeau serves as the internship counselor at the Center for Careers, Life, and Service at Grinnell College in Iowa. She hails from Louisiana and finds constant inspiration when using her mental health counseling background to help interns turn their experiences into life-long careers.
Deb Jones is the director of career services at DePauw University in Greencastle, IN. She has worked in career services since 1990 at several liberal arts institutions and holds a B.S.B.A. from the Indiana University School of Business and an MBA and Ed.S. from Appalachian State University.
David Rodriguez serves as a career counselor and internship coordinator in the career services office at the University of California, Riverside.
Gene Wells has served as the senior director of the Center for Career Development at the University of Evansville in Indiana for 11 years. Prior to working in higher education, he spent 12 years in banking, education and management where he started two co-op and two internship programs.
Infographic courtesy of Internships.com.
Intern image courtesy of Shutterstock.