Most personal loans are unsecured, based primarily on your financial history: credit score, income and debts. But if your credit score isn't strong enough to snag an unsecured loan, lenders may offer a secured loan, also known as a collateral loan.
A secured loan is one that enables you to pledge something you own in return for a lower rate or a larger loan amount. The downside: If you don't make timely payments, the lender can seize your asset, and your credit score will suffer.
Here's what to know about secured personal loans and where to find them, including banks, credit unions and online lenders.
Secured personal loans
Banks, credit unions and some online lenders offer secured loans.
APR ranges
Loan amounts
Collateral required
LightStream*
at LightStream
3.99% - 16.99% (with autopay)
$5,000 - $100,000
None for unsecured loans; auto title for secured loans
OneMain Financial
at OneMain
16.05% - 35.99%
$1,500 - $30,000
Paid-off car with comprehensive and collision insurance
Wells Fargo
on NerdWallet
7.49% - 24.49%
$3,000 - $100,000
Savings accounts or CDs
Finova Financial at Finova
17.00% - 30.00%
$500 - $5,000
Paid-off car with comprehensive and collision insurance
Federal credit unions
Varies, up to 18.00%
Varies
Varies

Pre-qualify on NerdWallet and receive a personalized rate from multiple online lenders.



*Terms are for unsecured loans; may vary for secured loans.
What can you use to secure a personal loan?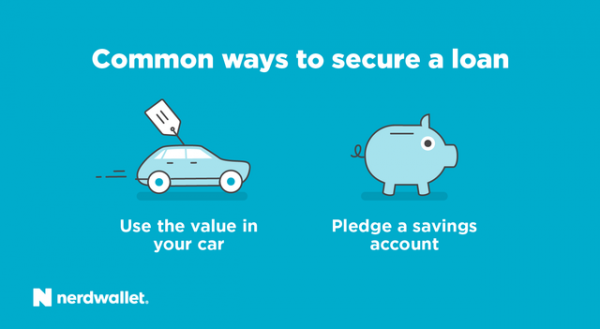 You can borrow against your car
The vast majority of secured personal loans use a car as collateral. These loans — known as auto equity loans — let you borrow money against the market value of your paid-off car.
A lender that accepts your car as collateral may require that you insure it for physical damage, naming the lender as loss payee in the event it's totaled. If you already dropped collision and comprehensive coverage on your paid-off car to save money, lenders may sell you optional credit insurance, which is often more expensive than the cheapest full coverage.
There are two other options to borrow against your car:
Auto refinance is an option if you still owe money on your car but have substantial equity. Refinancing replaces your original loan with a new loan at a higher amount. You keep the extra cash. (You're likely to qualify for a refinance if your credit has improved or interest rates have dropped.)
Auto title loans, which typically have annual percentage rates as high as 300%, don't require a credit check and carry a higher risk of having your vehicle repossessed. NerdWallet does not recommend auto title loans.
You can borrow against your savings
If you have money in a savings account, it's cheaper to use that money rather than get a personal loan that charges interest. If you must hang on to your savings or need more money than what's in your account, some lenders will make secured personal loans with savings accounts or certificates of deposits as collateral. You likely won't have access to your account or CD until you repay the loan.
It can make sense to secure a loan against a CD — instead of a savings account — because withdrawing money from a CD can incur an early withdrawal penalty. You'll want to compare that penalty with the interest charge on a personal loan.
Where to get a secured personal loan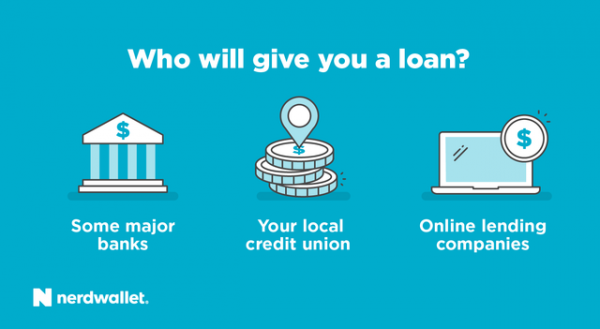 Secured loans from banks
Of the nation's five largest banks by deposits, only Wells Fargo allows those with savings accounts or CDs to use them as collateral to qualify for a loan or get a lower interest rate. The bank also offers CD-secured lines of credit that are different from loans. Borrowers cannot touch the money in their account for the duration of the loan.
The chances of qualifying for a loan still depend on a borrower's credit score, income and other debts, but pledging an account increases the likelihood of qualification significantly, says Jason Vasquez, a spokesman for Wells Fargo.
Secured loans from credit unions
Some credit unions offer CD-secured loans, typically to build credit or get cash quickly at a lower rate than other types of loans. Credit unions are a good first stop for most types of loans, because they consider borrowers with poor credit and provide affordable loans.
Federal credit unions offer a maximum rate of 18% APR to their members, although there may be extra application fees.
Secured loans from online lenders
A secured loan from a reputable online lender will carry a maximum APR of 36%. The rate, the amount borrowed and the length of the loan will be based on both your credit and the value of your collateral.
Some lenders let you apply for a secured loan upfront, but others may show you the option only after you've tried applying for an unsecured loan.
Most online lenders let you check your rate without affecting your credit, so it doesn't hurt to first apply for an unsecured loan at multiple lenders to see if you qualify. You can use NerdWallet's lender marketplace to compare rates in one place.
OneMain Financial offers secured loans at rates below 36% to car owners with poor credit scores. Nearly half of OneMain customers use their car or another asset to qualify for a larger loan amount or get a lower rate.
More about OneMain:
Offers lower starting rates on secured loans than unsecured loans.
Offers auto equity loans and cash-out refinancing loans. The average APR on an auto-secured loan is 20%, according to the company.
Requires proof of comprehensive and collision car insurance.
Doesn't accept some types of cars, such as those that carry branded titles or are used commercially.
Information below provided for unsecured loans; secured loan terms may vary.

• APRs: 16.05% - 35.99%
• Loan amount: $1,500-$30,000
• Loan terms: 2 to 5 years
• Minimum credit score: None, but borrowers average 600 to 650
• Time to funding: Same day
• Fees: Origination and late fees; both vary by state
Finova Financial is an auto equity lender with lower rates and longer repayment periods than traditional car title lenders. The car needs to be paid off. Borrowers are required to either prepay a year's worth of comprehensive and collision insurance or buy credit insurance from the lender.
LightStream offers unsecured loans at rates comparable to secured loans to those with excellent credit profiles. The lender cares more about your credit history and the reason for borrowing money than it does about your car. Rates vary based on the loan purpose.
More about LightStream:
The lender offers secured auto loans, but all other loans (for boats, RVs, etc.) are unsecured
For auto loans, LightStream will hold the lien to the vehicle
Information below provided for unsecured loans; secured loan terms may vary.

•APR: 3.99% - 16.99% (with autopay)
•Loan amount: $5,000 - $100,000
•Loan terms: 2 to 7 years
•Minimum credit score: 660
•Time to funding: As soon as the same day
•Fees: None
---
Before you shop for a personal loan:
---
NerdWallet's ratings for personal loans award points to lenders that offer consumer-friendly features, including: soft credit checks, no fees, transparency of loan rates and terms, flexible payment options, accessible customer service, reporting of payments to credit bureaus, and financial education. We also consider the number of complaints filed with agencies like the Consumer Financial Protection Bureau. This methodology applies only to lenders that cap interest rates at 36%, the maximum rate financial experts and consumer advocates agree is the acceptable limit for a loan to be affordable. NerdWallet does not receive compensation of any sort for our reviews. Read our editorial guidelines.