Mortgage Market Roundup: Interest Rates (9/3/15)
Buyers hurried to snag home loans as mortgage rates moved slightly higher in the past week, according to Freddie Mac's weekly market survey.
"The 30-year mortgage rate increased five basis points, but don't read too much into that," Sean Becketti, chief economist for Freddie Mac, said in a release. Becketti referenced last week's annual economic symposium hosted by the Federal Reserve Bank of Kansas City: "The Fed took great pains at the Jackson Hole conference to keep all their options open and to avoid making too much — or too little — of the situation in China and the volatility in global equity markets…. There won't be a clear direction for mortgage rates until the Fed makes its September decision, at the earliest."
Favorable rates spurred home loan and refinance volume to rise sharply, as reported by the Mortgage Bankers Association. Mortgage applications increased 11.3% for the week ending Aug. 28, while refinance activity gained an even higher 17%.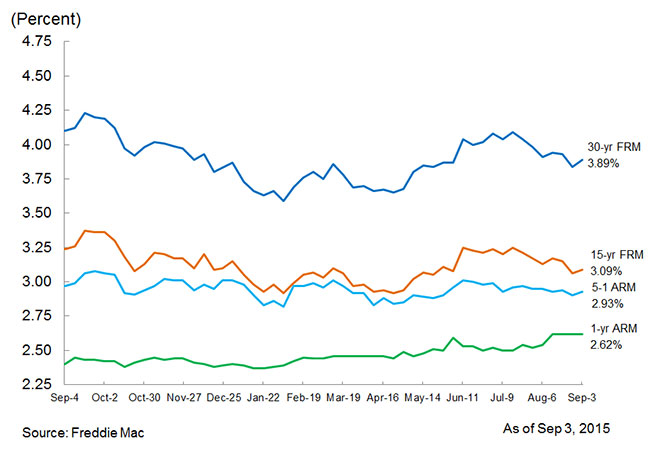 More than 35 million homes at high risk of natural disaster
Many of the homes with the highest prices in the nation also face the highest risk of natural disasters, according to a new study by RealtyTrac. The report estimates that 35.8 million single family homes and condos in the U.S. stand on dangerous land, threatened by hurricanes, wildfires, flooding or other natural hazards.
Analyzing 2,318 counties nationwide, the report found 43% of the 83.4 million American homes studied were located in counties facing high or very high natural disaster risk.
"In most cases learning about natural disaster risk will not stop a home sale, but it will help buyers make a better-informed decision about where to buy and also be prepared in terms of appropriate insurance coverage and family contingency plans depending on the type of natural disaster risks most affecting the home they end up purchasing," Daren Blomquist, vice president at RealtyTrac, said in a release.
States with the most at-risk homes include California, Florida, New York, New Jersey and North Carolina, according to RealtyTrac.
Qualifying for a mortgage not getting any easier
After a year and a half of lenders easing borrowing standards, the mortgage market may be entering a new normal. Zillow's Mortgage Access Index, a measure of credit availability, has stalled over the last six months. That means qualifying for a mortgage is not getting harder, but it's certainly not getting any easier.
"Credit is much looser now than it was in the wake of the housing collapse, but stricter than during the bubble years," Jamie Anderson, a Zillow data scientist, says in the report. "The days of rapid credit access improvement may be behind us, but despite the recent stall, it remains a good time to buy for those who can find an on-budget home and qualify for a loan."
For nearly two years, mortgages have been getting easier to qualify for, according to the index — but for the past two quarters, lending standards have been "roughly flat."
More from NerdWallet:
Hal Bundrick is a staff writer at NerdWallet, a personal finance website. Email: [email protected]. Twitter: @halmbundrick