Mortgage Market Roundup: Interest Rates [June 18, 2015]
Mortgage rates eased off of their yearly highs this week, according to Freddie Mac's weekly market survey — though they still hovered at 4%.
30-year fixed-rate mortgages fell to 4.00% with an average 0.7 point for the week ending June 18, 2015. A year ago, the rate averaged 4.17%.
15-year fixed rates dipped to 3.23% with an average 0.5 point. The same term priced at 3.30% a year ago.
5-year adjustable-rate mortgages edged down to 3.00% with an average 0.4 point. Last year at this time the same ARM averaged the same 3.00%
"Mortgage rates were down this week while housing data were generally positive," said Len Kiefer, deputy chief economist for Freddie Mac, in a release. "Although housing starts dropped 11.1% to a seasonally adjusted pace of 1.04 million units in May, housing permits surged 11.8% to its highest level since August 2007. Reinforcing this positive momentum, the NAHB [National Association of Home Builders] housing market index rose five points in June, suggesting home builders are very optimistic about home sales in the near future."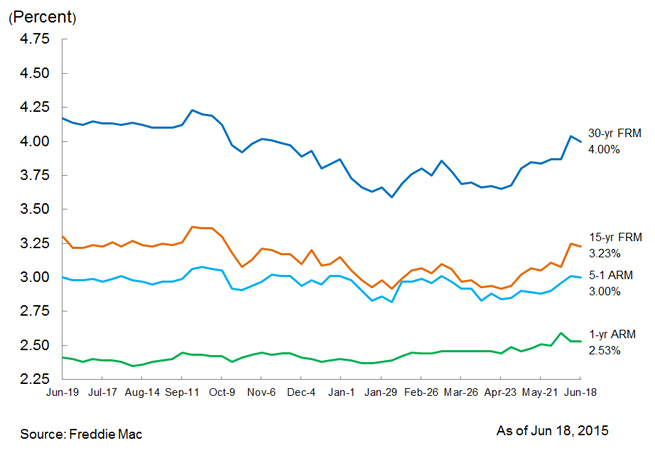 Hope for buyers in hot markets
New housing starts fell 11% in May, but only compared to April's enormous 22% increase in construction. Meanwhile, building permits surged to their strongest level since the beginning of 2007, according to a government report. One analyst says the wave of new construction may bring relief to hopeful homebuyers in hot markets.
"The increasing level of new construction is entirely consistent with the strong demand and corresponding price gains we have been seeing in both rents and home prices. Given the tight supply conditions in many major markets, signing a contract on a to-be-built home is one of the ways consumers can avoid being outbid in the quest to buy a home," said Jonathan Smoke, Realtor.com chief economist, in a statement.
Single-family home building is 5% higher than a year ago.
Recent rising interest rates spook buyers
Prospective homebuyers shied away from rising interest rates as mortgage applications fell 5.5% from a week earlier, according to data for the week ending June 12 compiled by the Mortgage Bankers Association. Refinance applications were also down 7% from the prior week.
"Rising rates continue to create volatility in weekly mortgage applications activity. The refinance index dropped to the lowest level since January 2015 as rates continued to increase," Mike Fratantoni, MBA's chief economist, said in a release. The association says its weekly survey of lenders covers over 75% of all national retail mortgage applications.
Happy lenders can mean more homebuyers
In its quarterly survey of mortgage lenders, Fannie Mae finds optimism and a positive outlook for profit margins. And happy lenders can mean good news for potential homebuyers.
The report finds lenders with an upbeat outlook for both profit margins and purchase demand. While a majority of mortgage executives believe home prices will rise over the next 12 months, they also believe loan demand will remain strong, in spite of rising interest rates.
Perhaps even more important for potential homebuyers: Lenders are continuing to ease their credit standards.
"This quarter's results showed that the growing optimism of lenders has been rewarded," said Doug Duncan, senior vice president and chief economist at Fannie Mae. "We expect a continued housing expansion in 2015 after an uneven and disappointing 2014."
Hal Bundrick is a staff writer at NerdWallet, a personal finance website. Email: [email protected]. Twitter: @halmbundrick
---
Image via iStock.