Mortgage Market Roundup: Interest Rates [June 11, 2015]
Mortgage rates have exceeded 4%, marking a new high for the year, according to Freddie Mac's weekly market survey. On the heels of the Memorial Day holiday — and perhaps in fear that rates would ratchet even higher — potential homebuyers raced to lenders to begin the application process.
30-year fixed-rate mortgages rose to 4.04% with an average 0.6 point for the week ending June 11, 2015. A year ago, the rate averaged 4.20%.
15-year fixed rates edged up to 3.25% with an average 0.6 point. The same term priced at 3.31% a year ago.
5-year adjustable-rate mortgages climbed to 3.01% with an average 0.4 point. Last year at this time the same ARM averaged 3.05%
"Mortgage rates rose above 4% for the first time since November 2014 as Treasury yields surged," said Len Kiefer, deputy chief economist for Freddie Mac, in a release. "Markets are responding to strong employment data. In May, the U.S. economy added 280,000 jobs. Moreover, job openings surged to 5.4 million in April, up over 20% from a year ago."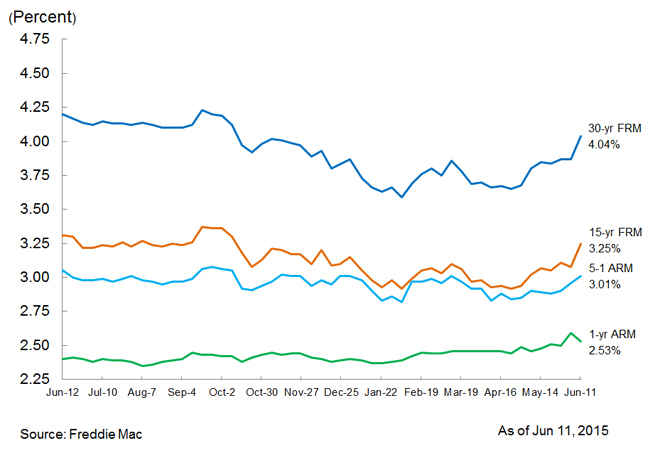 Buyers are back
Homebuyers rushed back into the market last week, according to data from the Mortgage Bankers Association. Home loan applications through June 5 were up 8.4% over the prior week.
"Mortgage application volume rebounded strongly in the week following the Memorial Day holiday, indicating that the holiday had a larger impact on business activity than originally assumed," Mike Fratantoni, MBA's chief economist, said in a release. "Comparing volume over the past two weeks, purchase activity is up over 6% while refinance activity is down 5%. Strong job gains in May and initial signs of wage growth are supporting the purchase market."
Foreclosures continue to fall
The housing market is still recovering from the 2007 crash but has a way to go to gain full strength. Foreclosure inventory declined nearly 24.9% while completed foreclosures were down 19.8% in April, compared to the same period a year ago. CoreLogic reports there were 40,000 completed foreclosures for the month, down from 50,000 in April 2014 — 65% lower than the peak in September 2010.
"The percent of homeowners with a mortgage that have missed three or more monthly payments or are in foreclosure proceedings dropped to 3.6% in our April data; while well below the record peak of nearly 9% and the lowest in more than seven years, it remains about double the pre-2007 rate," said Anand Nallathambi, president and CEO of CoreLogic, in a statement.
More than 1.5 million homes were in some stage of foreclosure by mid-2011.
A positive sign for the housing market
Last Friday's May Jobs Report is a good sign for the housing market, according to Jonathan Smoke, Realtor.com chief economist.
The tally of 280,000 jobs for the month was above expectations, marking a total of 3 million jobs created in the last 12 months. Smoke notes that 1 million 25- to 34-year-olds have entered the national workforce in the past year.
"Why is that group critical? That is the age range for the typical first-time buyer household, which despite its depressed levels in recent years still represents the largest age cohort of home buyers," Smoke said in a statement. "As that group's economic situation continues to improve, their housing activity follows and has a material impact on both existing and new home sales. With more jobs, more people in the labor force, and higher wages materializing, this spring's strong pace for home sales will continue."
Shop and compare rates with NerdWallet's mortgage comparison tool.
Hal Bundrick is a staff writer at NerdWallet, a personal finance website. Email: [email protected]. Twitter: @halmbundrick
---
Image via iStock.