Mortgage Market Round-Up: Interest Rates (8/27/15)
Mortgage rates eased lower as market volatility pushed Treasuries down.
"Events in China generated eye-catching volatility in equity markets worldwide over the past week," Sean Becketti, chief economist for Freddie Mac, said in a release. "Given the recent volatility, mortgage rates could change up or down significantly by the time this report is released. There are indications though that the unsettled state of global markets will make the Fed think twice before taking any action on short-term interest rates in September. If that's the case, the 30-year mortgage rate may remain subdued in the short-to-medium term, providing support for continued strength in the housing sector."
The number of borrowers seeking home loans in the past week remained steady, according to the Mortgage Bankers Association. Mortgage applications increased 0.2% for the week ending Aug. 21, though refinance activity declined 1%.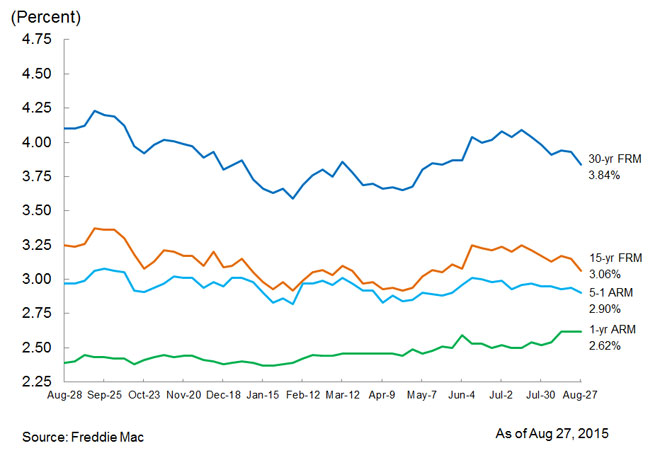 Coming: A record-setting decade for homebuying
Some 14 million to 16 million households will be formed by 2024, a catalyst for one of the strongest decades in U.S. housing history. A new study by the Mortgage Bankers Association forecasts the demand will be driven by millennials, Hispanics — and even baby boomers.
"When it comes to starting new households, age 35 is the new 25, as younger Americans are spending a longer time in school and delaying major life events like getting married and having children," Jamie Woodwell, MBA's vice president of commercial real estate research, said in a release.  "As Millennials age and create more housing demand, these long-term social trends will mix with demographic changes and the waning hangover from the Great Recession with a net outcome of increased demand for housing."
Additional growth will come from aging baby boomers, with some 12 million to 13 million more households age 60 and over in 2024 than there are today, the MBA report says.
U.S. housing markets are the strongest since 2008
Over half of all states have housing markets that have improved significantly — to the point of stability — with a key measure of the state of the industry at its highest since 2008. Freddie Mac's Multi-Indicator Market Index, comprising four economic indicators, monitors the housing markets of all 50 states, the District of Columbia and the top 100 metro markets.
"While home prices are still 7% below peak values nationally, price indices in many markets are at all-time highs and current low interest rates are helping to support homebuyer affordability," Len Kiefer, deputy chief economist of Freddie Mac, said in a release. "Mortgage delinquencies are coming down rapidly but are still high in many markets. Housing markets are the strongest they've been in years with the National MiMi above 80 for the first time since 2008."
An index score below 80 represents a weak market, while a measure above 120 would indicate an "elevated" market. A MiMi index between the two benchmarks would signal a "stable" market.
More from NerdWallet:
Hal Bundrick is a staff writer at NerdWallet, a personal finance website. Email: [email protected] Twitter: @halmbundrick
---
Image via iStock.