Mortgage Market Round-Up: Interest Rates (7/9/15)
Mortgage rates continue to confound — up a bit one week, down slightly the next. This week is no exception. Freddie Mac's weekly market survey finds the cost of a home loan eased marginally for the week ending July 9. Last week, rates creeped higher.
"Yields on Treasury securities declined this week in response to investor concerns about events in Greece and China. Mortgage rates fell as well, although not by as much as government bond yields," said Sean Becketti, chief economist for Freddie Mac, in a release. "Overseas volatility is likely to persist for some time, providing some restraint on potential U.S. rate increases. As a result, mortgage rates may remain in the neighborhood of 4% for a while."
Americans entered the Fourth of July holiday motivated to move. Mortgage loan applications were up 4.6% from a week earlier. The Mortgage Bankers Association's weekly survey of lenders also reported refinance activity increased by 3% for the week ending July 3. Results were adjusted for the holiday.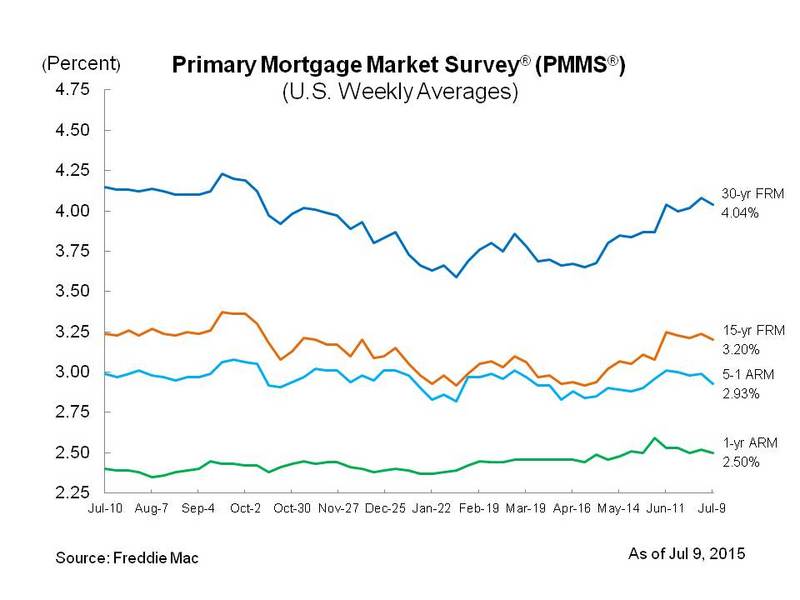 More sellers may ease home-inventory crunch
More Americans are seeing now as a good time to sell their home, and that could be good news for markets suffering from tight inventory. Fannie Mae's June Housing Survey found 52% of respondents believed their local market was favorable for a sale. That's the largest margin since the survey began in June 2010.
Those surveyed also said they expected rental rates to continue to rise, perhaps another catalyst for first-time homebuyers to enter the market.
"The expectation of higher rents is a natural outgrowth of increasing household formation by newly employed individuals putting upward pressure on rental rates," Doug Duncan, chief economist at Fannie Mae, said in a statement.
"A complementary rise in the good time to sell measure suggests that limited inventory, which is putting upward pressure on house prices, gives an increasing advantage to sellers. Together, these results point to a healthier home purchase market, with more renters likely to find owning to be more cost-effective than renting and more sellers likely to put their homes on the market."
Refinancing could net big savings for half-million homeowners
More than 6 million homeowners could see substantial savings by refinancing — and some 550,000 Americans could bank $500 or more a month with a refi. Black Knight Financial Services studied the loan profiles of refinanceable borrowers and found despite two and a half years of rising home prices, payment-to-income ratios are still far below those seen at the peak of the housing market.
The research firm also determined that the monthly payment on a median-priced home is $400 less today that in 2006. Ben Graboske, Black Knight senior vice president, says 6.1 million borrowers could save an aggregate total of nearly $20 billion a year by refinancing.
"It's important to remember how rate-sensitive this population is, too; if rates go up just half a percentage point, 2.6 million people fall out of that refinanceable population," Graboske added.
Home prices up more than 6% in 1 year
Nationally, home prices have risen 6.3% year-over-year through the end of May, according to CoreLogic. It's the 39th month of consecutive year-over-year price increases.
Excluding distressed sales, the five states seeing the highest home price appreciation were: South Carolina (+9.6%), Colorado (+9.2%), Florida (+8.9%), Washington (+8.5%) and Oregon (+7.9%).
The property research firm forecasts home prices to continue to swell another 5.1% through May 2016.
More from NerdWallet:
Hal Bundrick is a staff writer at NerdWallet, a personal finance website. Email: [email protected]. Twitter: @halmbundrick
---
Image via iStock.