For the first time in two months, mortgage rates edged higher, but they remain well below 4% as the housing industry prepares for the spring selling season.
Meanwhile, house flipping is at its highest level in eight years, causing at least one economist to express concern that the "housing market is in trouble."
Freddie Mac's just-released weekly survey of lenders shows the following average rates for the most popular home-loan terms:
30-year fixed-rate mortgages averaged 3.64% with an average 0.5 point for the week ending March 3, 2016.  A year ago, the rate averaged 3.75%.
15-year fixed rates averaged 2.94% with an average 0.5 point. The same term priced at 3.03% a year ago.
Five-year adjustable-rate mortgages were priced at 2.84% with an average 0.5 point. Last year at this time, the same ARM averaged 2.96%.
"The market turbulence that kicked off the year subsided at the end of February, providing at least a temporary break in the flight to quality," Sean Becketti, chief economist for Freddie Mac, said in a release. "Despite this welcome breather, [Federal Reserve] officials have been highlighting the downside risks to the economic outlook, and the market expects the Fed to refrain from any further short-term rate increases for now."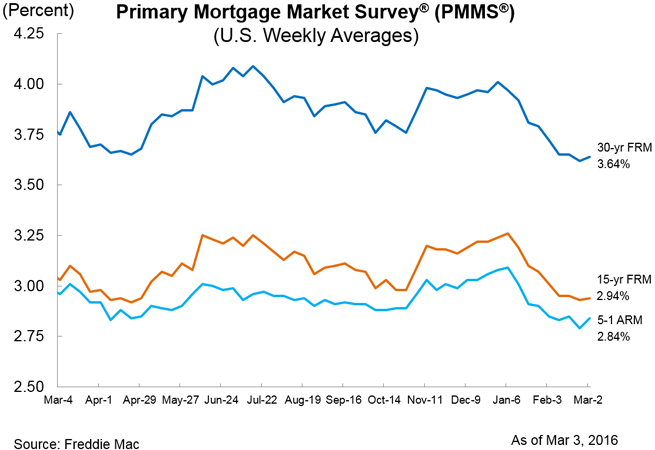 Mortgage applications fell 4.8% for the week ending Feb. 26, according to the Mortgage Bankers Association weekly report, led by lower refinance demand.
Purchase applications were off 1%, as refi applications fell 7% from the previous week.
Overall, home-purchase loan applications remain 27% higher than the same week one year ago.
Economist: A new sign that the 'housing market is in trouble'
House flipping is back, big time. In a new report, RealtyTrac says there were more investors attempting to turn a quick profit on real estate in 2015 than in any year since 2007.
RealtyTrac defines a house flip as an arms-length sale of a home for the second time in a 12-month period.
"Not only is the share of home flips on the rise again, but we also see the flipping trend trickling down to smaller investors who are completing fewer flips per year," Daren Blomquist, senior vice president at RealtyTrac, said in a release.
But the entry of more inexperienced players into the market leaves at least one economist concerned.
"When home flipping numbers go up, it is usually an indication that the housing market is in trouble," said Matthew Gardner, chief economist at Windermere Real Estate in Seattle. "The problem with a rise in home flipping is that these sales artificially inflate home prices, making housing even less affordable for buyers and increasing the risk of a bubble."
Average gross profits on home flips were impressive, topping $55,000, a 10-year high, RealtyTrac says.
Metro areas with the biggest year-over-year increase in house flipping were Lakeland, Florida (up 50%); New Haven, Connecticut (up 45%); Jacksonville, Florida (up 41%); Homosassa Springs, Florida (up 40%); and Akron, Ohio (up 37%), the report says.
More from NerdWallet:
How much house can I really afford?
Hal Bundrick is a staff writer at NerdWallet, a personal finance website. Email: [email protected]. Twitter: @halmbundrick
---
Image via iStock.