Mortgage Market Roundup: Interest Rates (9/10/15)
Mortgage rates remained largely unchanged in the past week, according to Freddie Mac's weekly market survey.
30-year fixed-rate mortgages averaged 3.90% with an average 0.6 point for the week ending Sept. 10, 2015. A year ago, the rate averaged 4.12%.
15-year fixed rates averaged 3.10% with an average 0.7 point. The same term priced at 3.26% a year ago.
5-year adjustable-rate mortgages priced at 2.91% with an average 0.5 point. Last year at this time the same ARM averaged 2.99%.
"Following a shortened week, mortgage rates were virtually unchanged, inching up one basis point to 3.90%," Sean Becketti, chief economist for Freddie Mac, said in a release. "The employment report released last Friday provided mixed signals, adding one more note of uncertainty prior to the Fed's September meeting."
After a surge of home loan volume last week, mortgage applications declined 6.2% for the week ending Sept. 4, according to the Mortgage Bankers Association. Refinance activity also fell sharply, down 10% from the week before.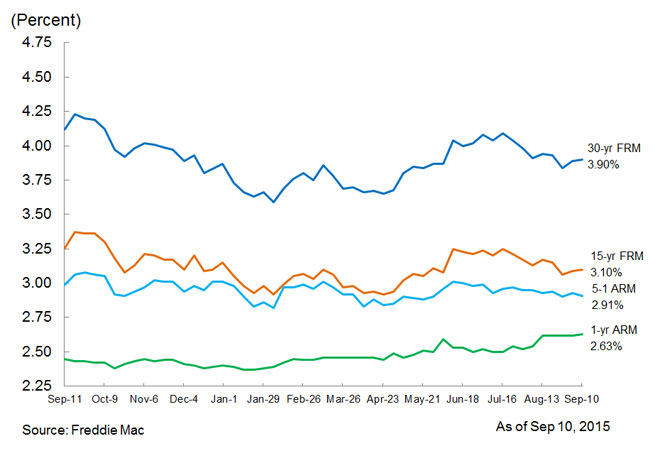 New home construction falling behind job growth
A rebounding housing industry continues to be stalled by lagging new home construction, according to a just-released study by the National Association of Realtors. NAR analyzed the volume of new home construction compared to job growth over the past three years in 146 metro areas, finding homebuilding falling behind in about two-thirds of the cities considered.
"Our research shows that even as the labor market began to strengthen, homebuilding failed to keep up and is now contributing to the stronger price appreciation and eroding affordability currently seen throughout the U.S.," Lawrence Yun, NAR chief economist, said in a statement.
Yun says the gap between new home starts and employment is widening, exasperating inventory issues in metro areas of all sizes. Builders face rising construction and labor costs, as well as some credit-availability issues, all of which Yun says are likely to continue to challenge an industry struggling to "make up for lost time."
Total home equity nears $8 trillion, highest since 2007
Rising property values have put more equity on the balance sheets of homeowners, up $1 trillion from a year ago. A new Black Knight Financial Services Mortgage Monitor Report says total home equity is at its highest level since 2007, with the average borrower gaining $19,000 in home equity in just the past year.
"When we look at the amount of equity available on each home with a mortgage — using an upper limit of 80% total combined loan-to-value (CLTV), including first and second liens — we see that 59% of total net equity could be accessed by borrowers before hitting that limit," said Ben Graboske, Black Knight data and analytics senior vice president. He claims more than 37 million borrowers currently have "tappable" equity available in their homes.
"That runs from an average of about $42,000 in equity for those whose homes are in the bottom 20% of property values all the way to $267,000 for those in the top 20%, with a nationwide average of $120,000," Graboske said.
More from NerdWallet:
Hal Bundrick is a staff writer at NerdWallet, a personal finance website. Email: [email protected]. Twitter: @halmbundrick
---
Image via iStock.