Reversing gains made last week, mortgage rates dropped slightly this week while mortgage applications, particularly refinance loans, also fell. Meanwhile, if you're in one of the busier housing markets in the country and have been struggling to find a home, some relief in home prices and inventory might be headed your way, according to a new report.
Freddie Mac's just-released weekly survey of lenders shows the following average rates for the most popular home loan terms:
30-year fixed-rate mortgages averaged 3.61% with an average 0.6 point for the week ending May 5, 2016. A year ago, the rate averaged 3.8%.
15-year fixed rates averaged 2.86% with an average 0.5 point. The same term priced at 3.02% a year ago.
5-year adjustable-rate mortgages priced at 2.80% with an average 0.5 point. Last year at this time, the same ARM averaged 2.9%.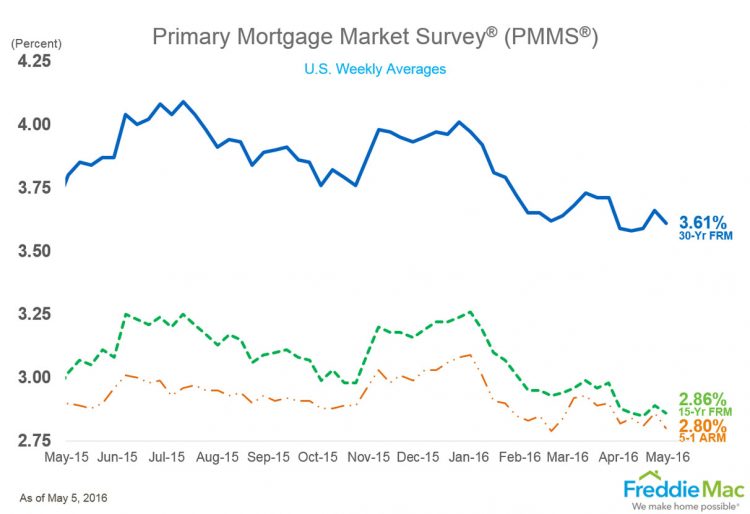 "The Fed's decision to stand pat followed by a week of assorted unsettling news drove Treasury yields lower," Sean Becketti, chief economist for Freddie Mac, said in a release. "As a consequence, the 30-year mortgage rate drifted down to 3.61%, just three basis points above the low for the year. Since the start of February, mortgage rates have varied within a narrow range, providing an extended period for house hunters to take advantage of historically low rates."
Meanwhile, new home loans are flat as mortgage applications fell 3.4% for the week ending April 29, 2016, according to the Mortgage Bankers Association.
Purchase applications increased infinitesimally by 0.1%, as refi applications dropped 6% from the previous week. Overall, home purchase applications remain 13% higher than the same week one year ago.
Trulia: Hot markets slowing, Bargain Belt rebounding
It's no secret that some of the nation's hottest markets have created a conundrum for homebuyers faced with fewer affordable options and shrinking inventory. But there are some promising signs that some of the fastest-paced markets on the East Coast and West Coast may be slowing down while sluggish post-downturn markets are (finally) picking up speed, according to the latest Trulia Fastest Moving Markets Report.
The report, released Wednesday, analyzes how fast homes are selling and how those particular markets have fared in the past year. Overall, if you look at the national picture, homes are moving off the market faster today than this time last year.
Nearly 67% of homes are still on the market after 30 days, which is a dip from 67.8% in 2015, Trulia found. Although San Francisco saw a 41.3% slowdown in year-over-year time on market, it's worth noting it also has a median asking price of $1.05 million — one of the highest in the country.
But in some areas, homes are moving off the market slower today than a year ago. Below is Trulia's breakdown of the top 10 U.S. metros, followed by the percentage change of homes on the market after a month from April 2015 to April 2016:
Houston, TX — 66.3%
San Francisco, CA — 41.3%
North Port-Sarasota-Bradenton, FL — 72.4%
Madison, WI — 75.2%
Miami, FL — 75.1%
Phoenix, AZ — 65.6%
Cape Coral-Fort Myers, FL — 72.0%
Oakland, CA — 39.8%
Sacramento, CA — 58.7%
Fort Lauderdale, FL — 69.6%
Trulia also lists the fastest- and slowest-moving housing markets. It's no surprise that the greater San Francisco Bay Area is king when it comes to fast-paced regions, even with the slowdown in San Francisco proper, and it has plenty of company on that list, including other Western cities like Seattle, Denver, Salt Lake City, and Portland, Oregon.
The biggest pickups are being seen in the South. The top 10 markets where houses are selling faster than a year ago include Charlotte and Raleigh, North Carolina; Louisville, Kentucky; and Atlanta. These markets also have median prices at or well below $220,000, making them more affordable markets for first-time buyers who might be outpriced in costlier metro areas.
Deborah Kearns is a staff writer at NerdWallet, a personal finance website. Email: [email protected]. Twitter: @debbie_kearns.