A combination of low mortgage rates and the promise of an easier-than-ever loan process may be enough to spur potential homebuyers to make the move. As home loan interest rates slipped a bit from last week, a major national lender rolled out a "revolutionary" online mortgage application service.
Freddie Mac's just-released weekly survey of lenders shows the following average rates for the most popular home loan terms:
30-year fixed-rate mortgages averaged 3.95% with an average 0.7 point for the week ending Nov. 25, 2015.  A year ago, the rate averaged 3.97%.
15-year fixed rates averaged 3.18% with an average 0.6 point. The same term priced at 3.17% a year ago.
5-year adjustable-rate mortgages priced at 3.01% with an average 0.5 point. Last year at this time, the same ARM averaged 3.01%.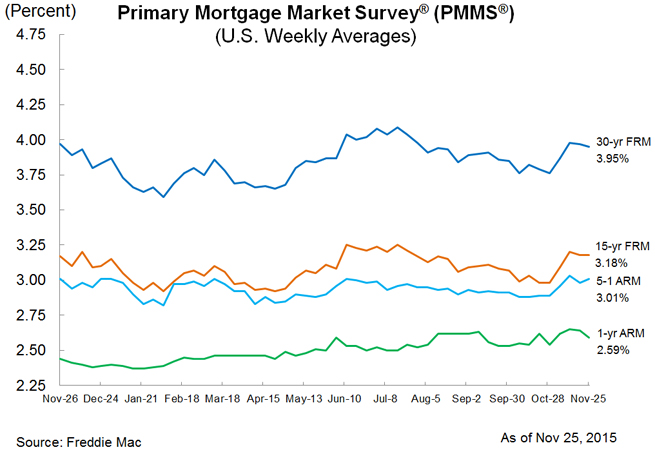 "Economic releases over the last week contained no major surprises, and none are expected in the next few days.," Sean Becketti, chief economist for Freddie Mac, said in a release. "The year is winding down, and the only remaining market dates of note are Dec. 4 — the last employment report of the year — and Dec. 15-16, the long-awaited Federal Reserve meeting."
Mortgage demand softened for the week ending Nov. 20, according to the Mortgage Bankers Association weekly report. Home loan applications fell 3.2% from the previous week while refinance applications dropped 5%.
Lender looks to transform the home loan process with an '8-minute mortgage'
Every aspiring homeowner is a bit intimidated by the mortgage loan process. You don't know what to expect, but you know it won't be easy. One lender is working to simplify home loan procedures — so much so that they're promising an online application that yields an approval and an interest rate lock within minutes.
Quicken Loans says its "Rocket Mortgage" took three years and more than 500 developers, designers, technicians and analysts to create. But the lender claims the mortgage service "brings simplicity and clarity to the home loan process like never before."
Users can compare and customize an interest rate and mortgage terms, as well as a monthly payment and fees. After inputting or importing property and financial information, mortgage rates for various loan options are presented in real time.
Full approval and a locked interest rate are offered in "as little as eight minutes," the company says.
More from NerdWallet:
Hal Bundrick is a staff writer at NerdWallet, a personal finance website. Email: [email protected]. Twitter: @halmbundrick
---
Image via iStock.