Mortgage rates are clinging on a flimsy perch just below 4%. After two weeks of climbing higher, Freddie Mac's latest survey of lenders shows rates mostly unchanged  for the most popular home loan terms:
30-year fixed-rate mortgages averaged 3.97% with an average 0.6 point for the week ending Nov. 19, 2015.  A year ago, the rate averaged 3.99%.
15-year fixed rates averaged 3.18% with an average 0.5 point. The same term priced at 3.17% a year ago.
5-year adjustable-rate mortgages priced at 2.98% with an average 0.5 point. Last year at this time, the same ARM averaged 3.01%.
"Treasury yields stabilized about 5 basis points below last week's level as the market shrugged off economic data and world events and turned its attention to the minutes of the October Federal Reserve meeting," Sean Becketti, chief economist for Freddie Mac, said in a release. "In response, the 30-year mortgage rate ticked down a basis point to 3.975."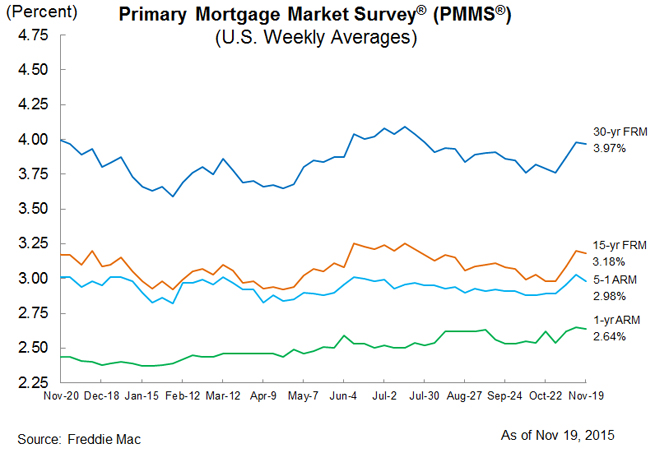 Even though home loan rates have been trending up the past few weeks, mortgage applications rose 6.2% for the week ending Nov. 13, according to the Mortgage Bankers Association. Loan refinance applications were also up 2% from the previous week.
Home down payment a low priority for renters
While housing experts contend that adults under 40 — millennials — will dramatically move the real estate market forward in the coming years, it seems the generation has other priorities when it comes to savings plans. And Gen Xers are more likely than millennials and baby boomers to buy a home in the next three years.
In a new poll commissioned by FreddieMac, renters of all ages are placing a higher priority on emergency savings (59%), retirement (51%) and children's education (50%) than saving for a down payment on a home (39%).
And two-thirds of all renters carry debt each month but are optimistic about managing what they owe.
"We know rents are rising faster than incomes and now we have data to show that many renters don't have enough to pay all their debts each month, which is forcing them to make tradeoffs, such as cutting spending on other items," David Brickman, executive vice president of Freddie Mac, said in a statement.
Still, the survey found that 58% of Gen X renters expect to purchase a home in the next three years, compared to 42% of millennials and 33% of baby boomers.
More from NerdWallet:
Hal Bundrick is a staff writer at NerdWallet, a personal finance website. Email: [email protected]. Twitter: @halmbundrick
---
Image via iStock.