Mortgage Market Round-Up: Interest Rates (7/23/15)
Home loan interest rates continue to fluctuate within a tight range, as mortgage pricing fell slightly from the week before, according to Freddie Mac's weekly market survey.
"U.S. Treasury yields dropped following announcements that many blue chip companies' earnings failed to meet expectations. This drove the 30-year fixed rate mortgage down 5 basis points to 4.04% this week," said Sean Becketti, chief economist for Freddie Mac, in a release. "Housing continues to be the bright spot in the economic recovery."
[Read More: Compare Mortgage Rates]
Real estate sales remain steady as mortgage applications notched only an incremental increase (0.1%) over the previous week. However, application volume remains well improved year over year, up 8% from the same period in 2014. The Mortgage Banker Association's weekly survey for the period ending July 17 also found that refinance activity declined 1% from the week before.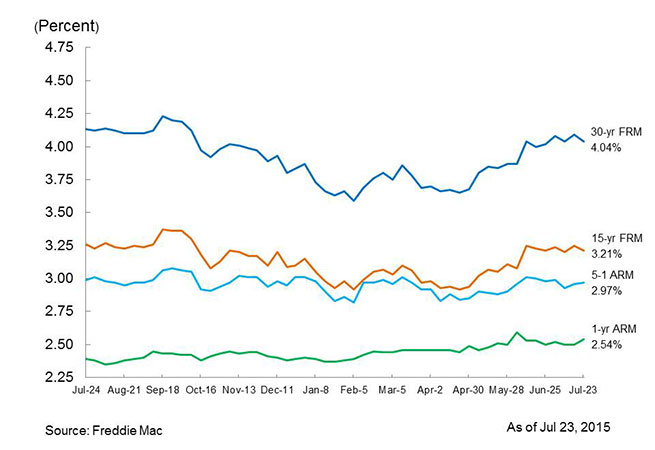 Mortgage paperwork changes delayed
The real estate industry got a bit of a break this week as the Consumer Financial Protection Bureau delayed implementation of new disclosure rules until Oct. 3. The CFPB's "Know Before You Owe" initiative revises required closing forms while providing borrowers more time to review cost details before signing for a loan. The new rules had been set to take effect Aug. 1.
"August is a busy time for Realtors, as home buying and selling picks up around the summer season," said Chris Polychron, president of the National Association of Realtors, in a statement. "CFPB's recognition of the challenge that an August implementation posed for the industry is a big win for Realtors, for lenders, for consumers, and for everyone involved. An October 3 implementation will help ensure that our industry has time to prepare for the changes ahead while helping consumers get to closing without delay."
Existing home sales highest in 8 years
Sales of existing homes exceeded expectations in June, to a seasonally adjusted annualized rate of 5.49 million. That's an increase of more than 3% over May and the fastest sales pace since February 2007, according to the National Association of Realtors.
Realtor.com chief economist Jonathan Smoke says it's another indication that 2015 is turning into the best housing market in at least eight years.
"We've now surpassed the strong level of activity in 2013 that was investor-driven and composed of 90% more distressed sales than exist today," Smoke said in a release. "This is, therefore, the biggest and healthiest year for existing home sales since 2006 when speculation was rampant."
Smoke believes sales will continue to gain momentum through the end of the summer, but available inventory remains an issue.
"Whereas inventory increased for the fourth straight month to 2.3 million units, and this higher level of supply is enabling more sales, it's not enough to dramatically change the months of supply, now at five months," Smoke said. "Marking the 34th straight month of supply under six months, real relief from supply pressure has to come from new construction. Further, with relatively tight supply, the year-over-year price appreciation is now at 6.5%, still well above normal."
The economist believes higher prices might spur more sellers and additional construction in the months ahead, easing the tight supply and moving the market to a solid finish for the year.
More from NerdWallet:
Hal Bundrick is a staff writer at NerdWallet, a personal finance website. Email: [email protected]. Twitter: @halmbundrick
---
Image via iStock.