Thirty-year fixed rates were firm for the third day in a row, while 15-year fixed and 5/1 ARM rates moved lower Friday, according to a NerdWallet survey of mortgage rates published by national lenders this morning.
Lenders may still be digesting today's U.S. jobs report, but at least one observer said the employment situation is teeing up a short-term interest rate hike by the Federal Reserve next month.
"We believe that today's firm jobs report seals the deal for a rate increase in December," Doug Duncan, chief economist for Fannie Mae, said in a statement. "The ammunition for a rate hike includes a solid job gain in October, meaningful upward revisions for the prior two months, and the biggest annual wage gain since June 2009."
Duncan said there are only slight blemishes in the jobs report, but all signs are pointing to the first increase in rates since December 2015.
"As always, a few things can throw a monkey wrench into the Fed's plan, but the bar for inaction this year is now extremely high," Duncan added.
---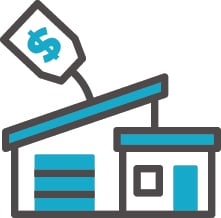 Lending standards ease in October
It was just a bit easier to qualify for a mortgage last month, according to the Mortgage Bankers Association's Mortgage Credit Availability Index.
The MBA said credit standards loosened the most for jumbo mortgages.
"Credit availability loosened in October, driven by several different factors," Lynn Fisher, MBA's vice president of research and economics, said in an analysis. "The index was pushed up by an increase in the number of investors, as well as an uptick in the availability of jumbo and high-balance loan programs. We are also seeing greater availability of conventional conforming loan programs that are designed to provide home ownership to a greater number of consumers."
An increase to the MBA index means credit standards are easing, while a decrease would indicate a tightening of credit.
Homeowners looking to lower their mortgage rate can shop for refinance lenders here.
NerdWallet daily mortgage rates are an average of the published APR with the lowest points for each loan term offered by a sampling of major national lenders. Annual percentage rate quotes reflect an interest rate plus points, fees and other expenses, providing the most accurate view of the costs a borrower might pay.
More from NerdWallet
Calculate your mortgage payment
Compare mortgage rates
How much home can you afford?
Hal Bundrick is a staff writer at NerdWallet, a personal finance website. Email: [email protected]. Twitter: @halmbundrick.