Thirty-year and 15-year fixed mortgage rates as well as 5/1 ARM rates were all lower again this morning, according to a NerdWallet survey of mortgage rates published by national lenders Friday.
Rates on 30-year fixed home loans are at their lowest level in two weeks, according to the NerdWallet Mortgage Rate Index.
---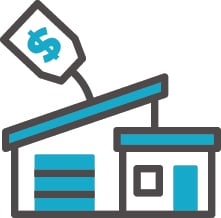 Mortgage rates likely to move higher by year-end
The Federal Reserve left short-term interest rates alone this week, but that doesn't mean mortgage rates won't move higher. Steve Hovland, director of research for HomeUnion, an online real estate investment management firm, sees the potential for mortgage rates to rise, despite the Federal Open Market Committee's decision to stand pat.
"Rates are almost certain to move by year-end, barring any catastrophic economic news. The capital markets are expected to lift borrowing costs well ahead of December's meeting, once again leaving the FOMC catching up to the market rather than setting it," Hovland said in an analysis. "Last year, average mortgage rates drifted up approximately 25 basis points (0.25%) between the September and December meetings."
Although a lot of attention is given to Fed policy decisions, it is important to remember that mortgage rates remain extremely low by historical standards, Hovland added.

Homeowners looking to lower their mortgage rate can shop for refinance lenders here.
NerdWallet daily mortgage rates are an average of the published APR with the lowest points for each loan term offered by a sampling of major national lenders. Annual percentage rate quotes reflect an interest rate plus points, fees and other expenses, providing the most accurate view of the costs a borrower might pay.
More from NerdWallet
Compare online mortgage refinance lenders
Compare mortgage refinance rates
Find a mortgage broker
Hal Bundrick is a staff writer at NerdWallet, a personal finance website. Email: [email protected]. Twitter: @halmbundrick.