Thirty- and 15-year fixed mortgage rates inched down again today, while 5/1 ARM rates held steady, according to a NerdWallet survey of mortgage rates published by national lenders on Thursday.
Freddie Mac released the results from its Primary Mortgage Market Survey this morning, showing that for the second week in a row, rates have fallen. Sean Becketti, Freddie Mac's chief economist, said in the release that the 30-year mortgage rate has fallen, along with the 10-year Treasury yield, which fell 8 basis points "after absorbing a mixed December jobs report."
"The December jobs report showed 156,000 jobs added, barely meeting many experts' expectations, while wage growth was at the high end of expectations, at 0.4%," Becketti said. "If strong wage gains persist, they may push inflation and interest rates higher."
The decline in mortgage rates is a reverse of the sudden increase that started after President-elect Donald Trump's win last November.
---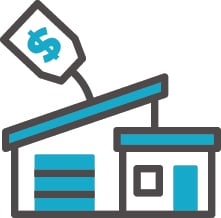 MBA: Mortgage applications up 5.8%
The first week of the new year saw a pickup in mortgage applications, according to the Mortgage Bankers Association's Weekly Mortgage Applications Survey for the week ending Jan. 6, 2017. The 5.8% increase in application volume includes an adjustment for the New Year's Day holiday, while the previous week's results were adjusted for the Christmas holiday. Without the holiday adjustments, the Market Composite Index increased 42% compared with the previous week.
» MORE: Calculate how much house you can afford
The seasonally adjusted Purchase Index increased 6% from the previous week, while the Refinance Index increased by 4%. Unadjusted, the Purchase Index increased 45% compared with the previous week and was 18% lower than the same week in 2016, according to the survey.
The share of adjustable-rate mortgage activity rose to 5.5% of total applications. FHA loan applications increased to 11.7% from 11.6% the previous week, and VA loans increased to 12.8% from 12.3% the previous week.
USDA loan applications decreased to 0.9% from 1.1% the previous week. Refinance application activity was down as well, decreasing from 52.2% the previous week to 51.2% of total applications.
Homeowners looking to lower their mortgage rate can shop for refinance lenders here.
NerdWallet daily mortgage rates are an average of the published APR with the lowest points for each loan term offered by a sampling of major national lenders. Annual percentage rate quotes reflect an interest rate plus points, fees and other expenses, providing the most accurate view of the costs a borrower might pay.
More from NerdWallet
The pros and cons of home equity lines of credit
Calculate how much house you can afford
Best lenders for FHA loans
Michael Burge is a staff writer at NerdWallet, a personal finance website. Email: [email protected].